The task of designing a master bathroom addition for your Portland, Oregon, home involves as much thinking about your lifestyle as planning of plumbing features. If two of you are living in the master suite, do you each need your own sink? Do you really think you'll spend a lot of time soaking in a tub? Would you make use of a sitting area to rest or visit with another occupant of the bath? Assuming you like the trend toward spa-like master bath retreats, here are some layouts to consider.
1. Sleek and Modern
There's more to your bathroom than just a shower, tub, and sinks. Keep a bigger picture in mind as you plan out your space. How does the Master Bathroom relate to the whole Master Suite? If you're adding a Master Bath, think about allowing extra space for a walk-in closet off the bath. You can see from this view that this bathroom makes it easy to get ready for work (or bed) by providing easy access to a well-lit walk-in closet.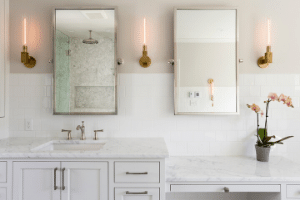 This long and narrow modern bathroom doesn't have the acres of space that you'll sometimes see in a spa-like bathroom, with a seating area or fireplace, but it definitely still says "luxury." Its Victoria + Albert tub, digital shower valve, curbless shower with hidden drain, frameless glass shower doors, flat-pebble shower floor, white square ceramic sinks with wall-mounted faucets, and LED lighting in the panel above the tub and under the vanity all contribute to a "wow" factor. Although the toilet isn't hidden in an enclosed water closet, it is tucked behind the vanity. For more, take a look at our blog: Design Ideas for a Sleek, Modern Bathroom
2. Farmhouse Luxury
Farmhouse bathrooms make use of soaring ceilings and plentiful windows. Often, you'll see glass-enclosed shower areas with ample room for a sitting bench. You'll also find long vanities- often with double sinks and custom cabinetry. Farmhouse features often consist of wood flooring and/or exposed beams. Popular farmhouse style bathrooms may also contain a reclaimed barn door- creating a true farmhouse feel.
3. Spacious Luxury
This huge Mediterranean master bath exudes opulence, with its barrel-vault ceiling, beige marble floor, and wide-open spaces. An island with undermount tub and fireplace divides the two vanity areas, which feature granite countertops, separate sinks, lots of storage in recessed-panel cabinets, and a separate makeup area with seating and task lighting.
While it's true that bathrooms are private places, that doesn't mean they have to be dark or uninviting. Taking advantage of natural light can make your bathroom feel open, airy, and more luxurious. In addition to that, it can also make the space feel larger and less cramped.
The Master Bathroom you see here uses a combination of large windows and strategically placed mirrors to maximize the amount of natural light in the room. In addition to providing an open and uninhibited feel, the windows provide relaxing views from the soaking tub. You'll also notice privacy shades that can be accessed from the tub whenever you feel the need. And while the clear glass windows are probably a second-story bath option, you can get a similar effect with frosted or pebbled glass in a first-floor bathroom.
Looking for more luxury design inspiration? Take a look at our blog: 14 Secrets to a Luxurious Bathroom Design.


4. No more Boring Flooring
Who says that bathroom flooring has to be boring? You can turn a boring bathroom floor into a work of art. These homeowners chose Carrara marble flooring (with coordinated tile and countertops) to create an exquisite look in their bathroom. It's not just the materials that make the flooring, it's the intriguing and artistic way that the flooring was laid that makes this bathroom floor unique.
Click here for more photos of this stunning bathroom.
Sometimes, it's what you don't do that can make the biggest difference in how your bathroom addition turns out—and how much you enjoy it. If you can avoid common Master Bathroom regrets, you'll be much happier.
For example- we know it's easy to get caught up in the latest trends and styles. But just because something is new and exciting doesn't necessarily make it right for you. Sure, the soaking tub you see above is elegant and stylish. But if you don't enjoy a leisurely soak in the tub, don't include it. Put your efforts (and your money) into something you'll actually use.
Everybody needs to keep an eye on costs, and nobody wants to spend more than they have to for a bathroom addition. But don't lose sight of the balance between cost and value. Your goal isn't to finish your bathroom as cheaply as you can—it's to get the greatest amount of value for the money you spend. If you cut corners to save money there's a great chance that you'll end up with less than what you really want. Don't overspend, but don't cheat yourself of the benefit of a quality result.
---