Polls continue to show that most older Americans want to age in place, preferring to stay in their homes and their communities rather than move to a retirement home, assisted-living facility, or nursing home. To make that possible, Baby Boomer homeowners are turning to remodeling professionals to make their houses safer and easier to occupy as their vision and mobility decline. The 2019 U.S. Houzz Kitchen Trends Study showed that 37 percent of Baby Boomers doing a kitchen remodel address aging-in-place issues. Here are some ways to remodel the kitchen in your Portland, Oregon, home to help you age in place.
Safety
The kitchen is the room where most of us, regardless of age, spend lots of time. And it's a place that can be fraught with danger, such as slips and falls on a wet floor, burns at the stove or sink, and cuts. So aging-in-place modifications focus on safety as well as making it easier for residents to move around, handle things, and see what they're doing.
Movement
With the thought that an aging homeowner will eventually need a walker or wheelchair to get around, aging-in-place experts say a kitchen needs to be modified to accommodate such aids. So passageways that normally are only 24 inches wide need to be modified to 42 to 48 inches, to allow people to pass each other, and doors must be at least 36 inches wide. Additionally, doorways should have no thresholds or curbs that are hard to roll over or that will trip up someone with reduced vision or agility.
Floors
It's easier to roll a wheelchair or slide a walker over a smooth floor than one that's carpeted or has bumpy tile. It's also easier to clean up a spill on a wood, vinyl, or linoleum floor. Those floors, however, can be slick, so they should be treated with a non-slip coating.
Countertops
There are a number of modifications that you can make to countertops to help people with limitations. To accommodate someone in a wheelchair or who needs to sit while working, include counters that are 30 inches high, plus 42-inch-high countertops for people who can't stoop, in addition to the standard 36-inch counters. To help people with limited vision, put a strip of contrasting color along the edges of the counters. Round the corners and any sharp edges to limit the possibility of bruising. And build in grab rails in multiple places along the countertops. You'd rather grab the bar than a hazardous appliance if you lose your balance.
Approachable Sink
Believe it or not, motorized sinks are available that will rise or lower with the push of a button to the level best suited to a person in a wheelchair or someone standing. Additionally, to allow room for the legs of someone using a wheelchair, a space should be left under the sink. That opening can be covered by cabinet doors if desired. Even if you don't spend the money on an adjustable kitchen sink, experts advise installing a shallow sink—6 or 8 inches deep—so you won't have to bend over so much to reach dishes in the bottom. To make it easier to turn the water on and off, install a hands-free or lever-handled faucet as well as an anti-scald device.
Cabinets
Upper cabinets should be installed 3 inches lower than normal, to make it easier to reach the items inside. You also can raise lower cabinets 6 inches off the floor to reduce bending. Pull-down shelving systems in upper cabinets bring items into easy reach, and pullout shelves in lower cabinets achieve the same result. Large drawers hold all sorts of kitchenware, in an easier-to-access place. For hands that can't easily grasp knobs, install D-shaped handles on doors and drawers. Some aging-in-place designers recommend including some open shelving in the kitchen for frequently used items, eliminating the need to open cabinet doors and making it easier for people with memory or vision impairments to find things.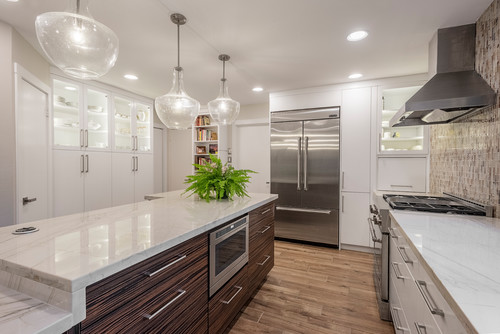 Lighting
Be sure to incorporate as much natural light as possible, using windows, skylights, and solar tubes. And when the sun isn't shining, you'll need plenty of ambient lighting as well as adequate task lighting in every work area. Under-cabinet lights help, as do lights inside the cabinets to make it easier for someone with limited vision to find items. Light switches—rocker style—should be installed at the entrances to the kitchen. Motion-activated lights are even better.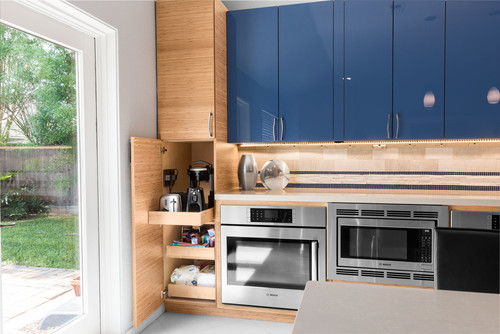 Appliances
For ovens, the name of the game is appropriate height. So a wall oven that you don't have to bend over to reach into makes handling hot dishes safer, as does a microwave at or just below countertop height. Additionally, an oven with a door that swings sideways is safer to access. Slide-out counters are available to install under the oven on which to set hot dishes before moving them to another place. Cooktops with controls at the front are easier to use, and large displays are easier to read. Cooking appliances should have auto-shutoff features. A dishwasher installed several inches off the floor reduces bending, and drawer-style dishwashers are available for installation just under the countertop. Side-by-side refrigerators with deep doors put more items within reach without your having to reach deep inside.
All of the Above
If you're going to the trouble and expense to design a major kitchen remodel that will be safe and accessible for your golden years, don't skimp on the modifications. Try to incorporate as many of the above ideas as possible.