We're going to give you permission to break a few rules in your kitchen design. Because, really, everything doesn't have to match everything else. Using mixed finishes in your kitchen can give it a more organic feel, and everyone knows that contrast generally is a good thing in design.
Mixing it up with the finishes on your kitchen cabinetry also can make things more affordable: You can buy one or two expensive pieces to contrast with the rest of the less costly cabinets. In this traditional-style kitchen, the stained wood on the island contrasts with the painted cabinets all around. Also accentuating the difference are the darker cabinet pulls on the island.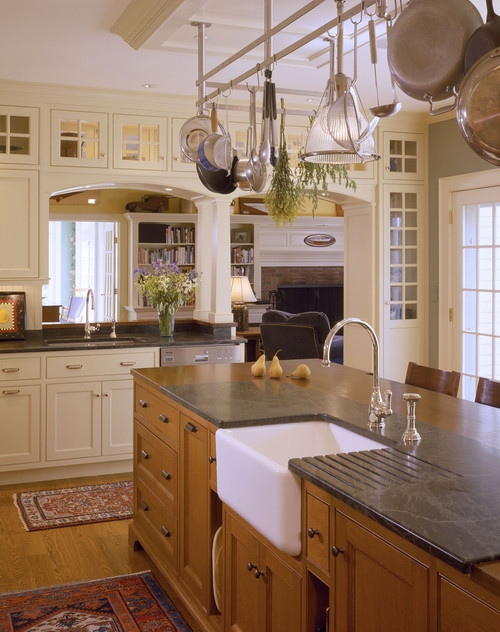 In this Asian-inspired kitchen, the dark color of the large vent hood is set off from the lighter colored cabinets, backsplash, and walls, but it ties in with the dark island.
Someone obviously was having fun with this shockingly pink paint. But the white on the walls and ceiling take the edge off the strong color, and the natural wood floor adds a soothing touch.
Once more with a strong color, just for fun. In this kitchen, without the accent wall of red cabinets, the white-whiteness of almost everything else might have been too much.
Note the mixed finishes of the metal in this kitchen: dark light fixtures, dark pulls on the cabinets, yet stainless steel appliances, and brighter finishes on the kitchen faucet and island cabinet pulls.