Remodeling your kitchen is not just about functionality, but it's also about your personal style. Research shows that families spend the most amount of time at home gathering in the kitchen. Thus, a creative work space for cooking, mingling, and all the other things we do in the heart of the home is essential. Allow yourself to be inspired by five design ideas for your kitchen remodel.
Light It Up
Let your kitchen shine with a little extra lighting mounted beneath the upper cabinets. This added touch can not only help to highlight and accent your backsplash tile, but serve to illuminate your workspace any time of day, as well as provide the evening glow of a nightlight after all the dishes have been cleared and you're ready to settle in for the night.
Creative Shelving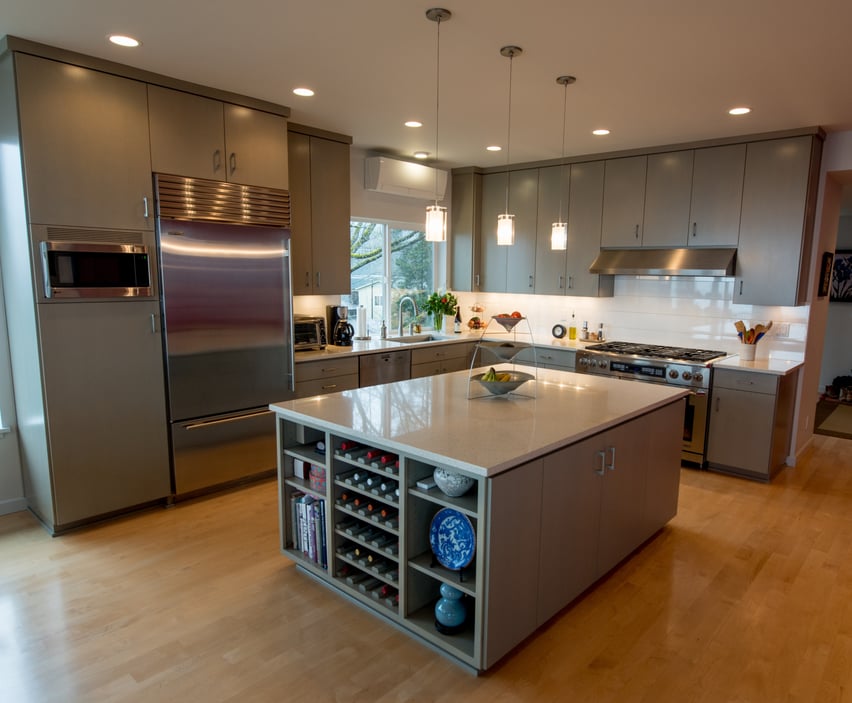 Gorgeous custom cabinetry throughout the kitchen can be broken up with a little creative shelving. Under island shelf space for cookbooks and knick knacks is important, but upper shelving amidst the cabinetry also lends itself to both the feeling of home, and the minimalist trend. This too provides you with the opportunity to display some of your favorite serving platters and colorful bowls up at eye-level!
Mix and Match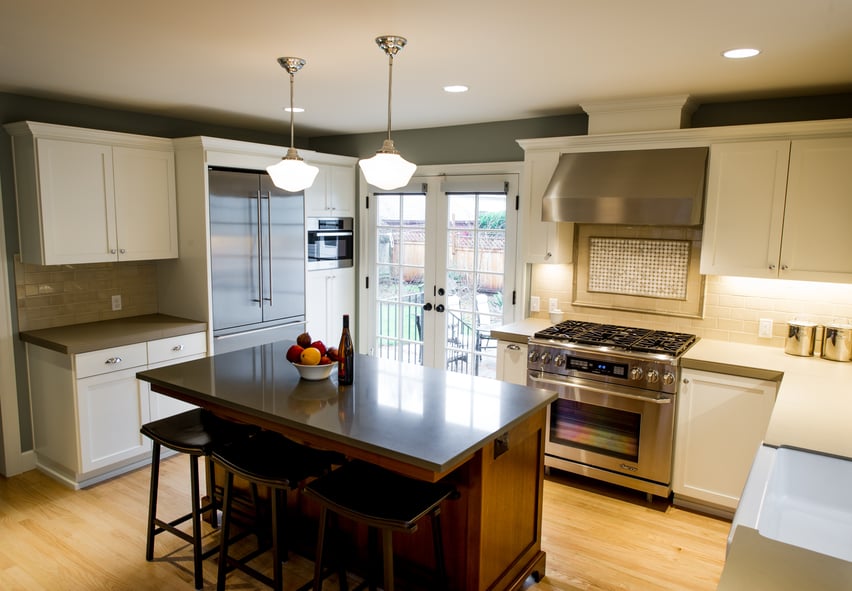 Monotone kitchen cabinets are always the standard, however, a fresh kitchen take on kitchen design encourages mixing and matching cabinetry, specifically with the addition of complementing islands. Whether you choose a bold color to make your island a focal point or a more subtle hue to tie in with the rest of your kitchen design, a different tone for the center island cabinets or even just the lower cabinets all around is both eye catching and creates a more personalized,
Round It Out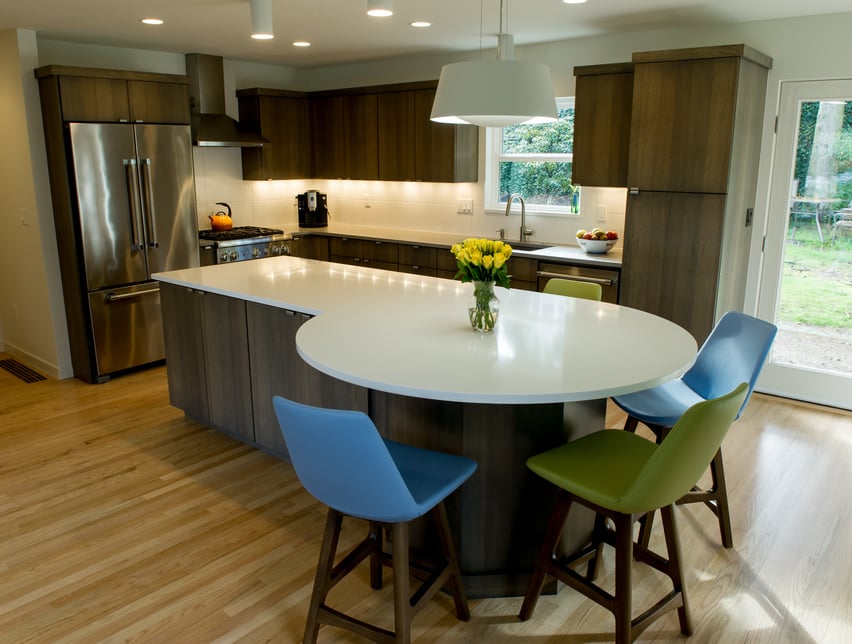 Kitchen islands and bars need not conform to the standards of straight lines. Rounding out your countertop space and bar can add the element of flow to your kitchen design, visual interest, and even some practicality. There's no reason to limit yourself to right angles – allow yourself to think outside the box in terms of shape and design.
Build It In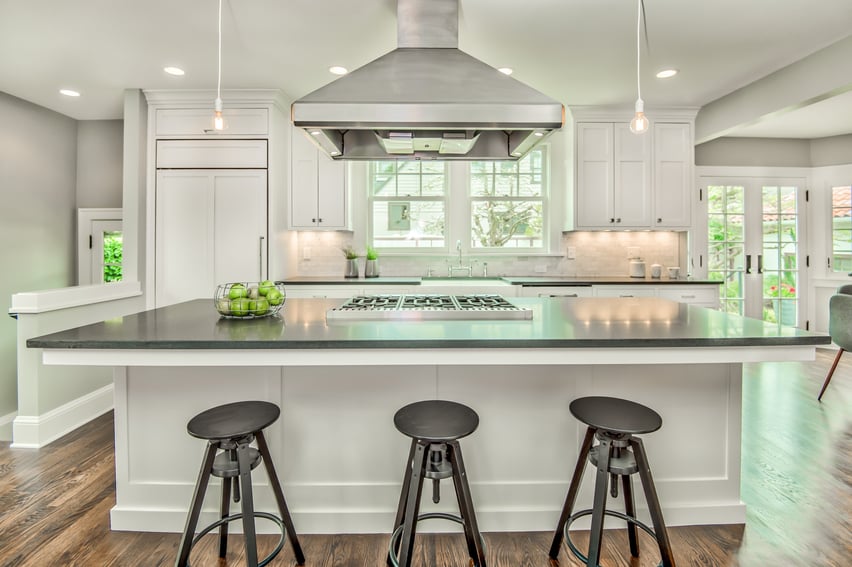 Concealing large appliances is always an appealing option to give you the look and feel of a completely custom, seamless kitchen. It also eliminates the tough decisions selecting the style and finish of your appliances – plus no more stainless steel fingerprints!
Bonus Ideas: Add Some Personality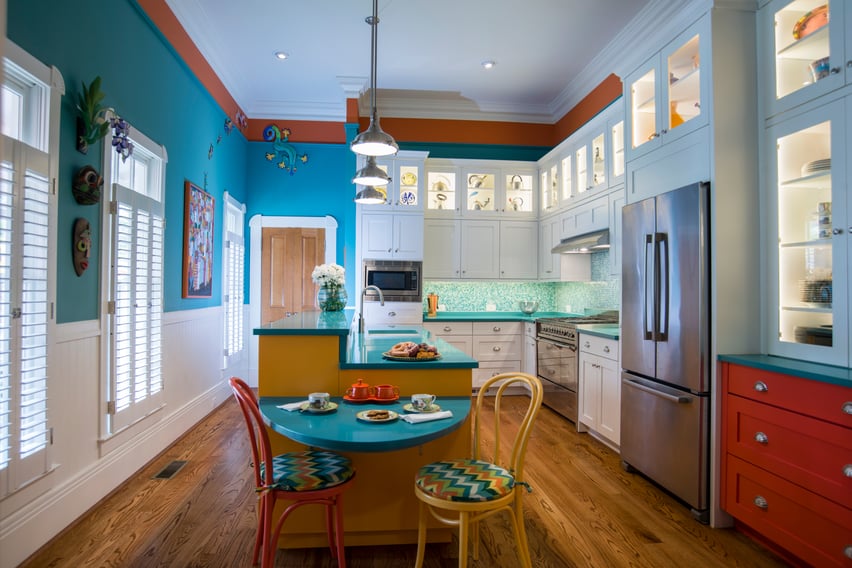 When we first started writing this blog, we only intended to write about 5 ideas. However, we just had to add this one bonus idea to the blog: add some person