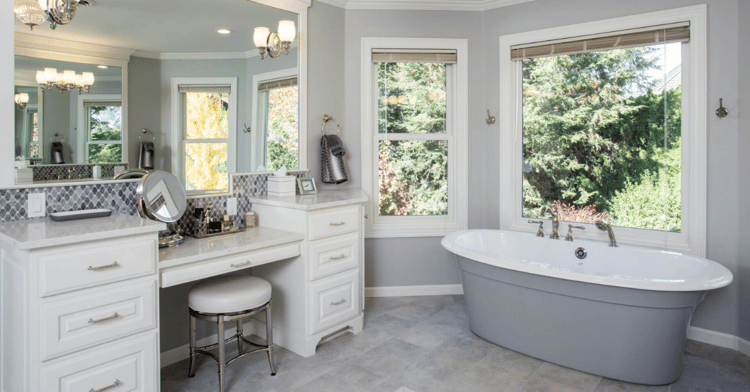 Imagine yourself in a large, sumptuous spa. You're soaking in a bubble-filled bath, maybe listening to music, and gazing out at your surroundings. Luxury features dot a spacious room; rivulets of black and gray run down a marble accent wall; moisture-loving plants sprawl up fixtures and peek around corners. It's natural and serene, a man-made oasis of sorts.
Normally, you might have to travel to a spa for this type of experience; but that's changing in 2022 as bathroom trends center on creating this type of a spa-like environment in the home.
While these trends are a great source of inspiration for your 2022 bathroom remodel, keep in mind your ultimate priority shouldn't be to just keep up with the latest fads; it should be to adopt styles that fit your design preferences and enhance your bathroom long term. To help you with this, COOPER Design Build will break some of these trends down for you below and explain why they might be a valuable addition to your bathroom. And, of course, we'll also touch on a few outdated bathroom trends you should leave behind in 2022.