It's January and that means that the kitchen design prognosticators are out in full force! Of course, many of the kitchen design trends you can expect to see in 2020 are already in evidence. And while the opinions of various designers often vary—or even contradict one another—here's a look at 10 of the trends that already appearing in homes across the country.
1. Not-So-White Kitchens
While some designers have sounded the death knell for the all-white kitchen, others see a more subtle shift. First of all, there appears to be a strong trend away from having everything in the kitchen match. One approach is to paint the kitchen island a different (and even bold) color to offset the dominant white in the rest of the kitchen. Another popular trend is to paint upper and lower kitchen cabinets in different colors. The picture you see here—from a remodel we did in Alameda Foursquare—gives you an idea of how adding a splash of color to the kitchen island adds interest to an otherwise mostly white kitchen.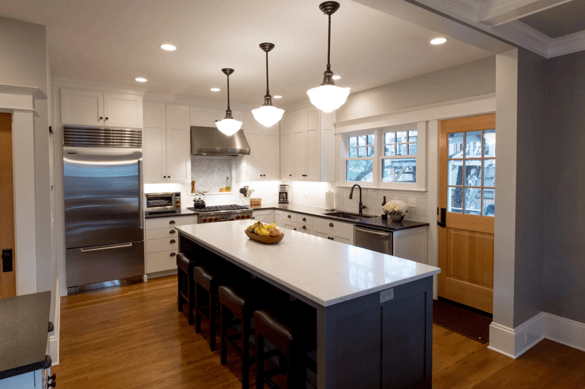 2. Using Your Ceiling as a Fifth Wall
Kitchen ceilings have been largely overlooked when it comes to interior design. That is beginning to change. Some homeowners are drawing attention to this space by painting the ceiling a contrasting color to the walls. Sometimes it's a bold contrast and sometimes more subdued. In other cases, wood paneling or even wallpaper is being used to create this new visual experience.
3. The Metals in Your Kitchen Don't Have to Match
It used to be that homeowners wanted things in their kitchens to match. As mentioned above, that's no longer the case with cabinets and colors. That trend also seems to be spilling out into the use of varied metals for fixates inside the kitchen. Designers and homeowners are mixing metals such as nickel (for knobs and pulls) and cool brass or matte white for faucets. Some are bringing in yet additional choices for metal light fixtures.
4. Kitchen Larders and Pantries
There was a time (before massive refrigerators) when homes relied on larders and pantries for storing food. Those spaces were often overlooked as refrigerators and freezers enabled people to store significant amounts of goods. Today, however, storage in the kitchen has become an increasingly significant focus, and larders and pantries are a popular option for storing dry goods and bulky kitchen appliances that are only used on occasion. A walk-in pantry or a reach-in larder can help keep kitchens uncluttered. One thing to keep in mind if you're thinking about either option is to plan for adequate lighting so that you won't be searching for items in the gloom.
5. Reclaimed Wood
Reclaimed or recycled wood isn't really a new trend. It's popularity, however, continues to grow. It has a unique, rustic look that is perfect for some homes. It's not a look for every home (and some designers associate it closely with Industrial style). Still, it holds an intriguing appeal that hints at the past. There is even a new way to get this "old" look. Pecky cypress is a type of wood that has a grainy texture thanks to long, narrow burrows or cavities. Some designers see this as an alternative to reclaimed wood.
6. Butcher Block Countertops
In this Atlanta kitchen, a savvy couple replaced linoleum with warm wood for a durable upgrade. Butcher block is virtually maintenance-free—it just needs an occasional coating of mineral oil—and the natural material is the perfect neutral to break up the sterility of an all-white palette.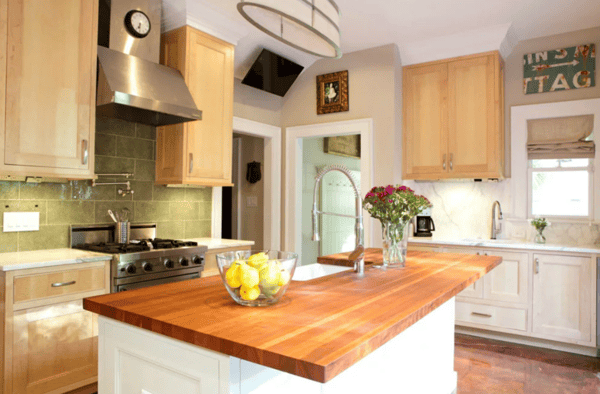 7. Stark, Dark Floors
Your choice of flooring can make a dramatic statement in your kitchen. One popular trend is to offset light kitchen cabinets and walls with dark wooden flooring. The dark floors add a deep warmth to the kitchen. You can also soften that look with a few strategically placed throw rugs. You don't necessarily have to replace your existing flooring. If you already have lighter-colored wood flooring, you can have it stripped and then stained. If you're not sure about the look, you may want to go to a local flooring store or home improvement store and purchase a few pieces of flooring to give you an idea of what the overall effect will be before you make a big jump to replacing or refinishing your existing floors.
8. Out with the Stainless and In with the Black?
For a number of years, some designers have been heralding the death of stainless-steel appliances. Despite their predictions, stainless remains a popular standby. Once again, some interior design experts are predicting a move to black. There are a number of different "shades of black" from which to choose for refrigerators, stoves, dishwashers, and microwave ovens. Not all are midnight black. Some are actually what's called "black stainless steel" which is almost translucent or gray.
There is little question that adding a black stove, oven, or refrigerator can make a bold statement. However, it's worth considering that it is much easier (and cheaper) to re-paint a wall or a kitchen island than it is to replace a major appliance. In addition, there is another kitchen trend that seems to be growing in popularity: Hiding your appliances (especially refrigerators) behind cabinet fronts.
9. Open or Closed Shelving?
Some designers continue to stand by open shelving as an ongoing trend. Other designers claim that they are passé. Homeowners themselves come down on both sides of the issue. Some love the open, airy feel of open shelves. Others feel like they expose too much (and present an untidy appearance). Some kitchens use both open and closed cabinets. Other kitchens make use of open, closed, and glass-enclosed cabinets.
One thing you'll want to consider is that open space design is still a big trend. That means your cabinets will likely be visible from other rooms in your house (notably the dining area and the family room). And whether or not you like the look of open shelving, one common complaint is that the items stored on them need more frequent dusting that closed cabinets. The kitchen in this Alameda Tudor we recently remodeled is a good example of how a combination of open and closed shelving can work well together.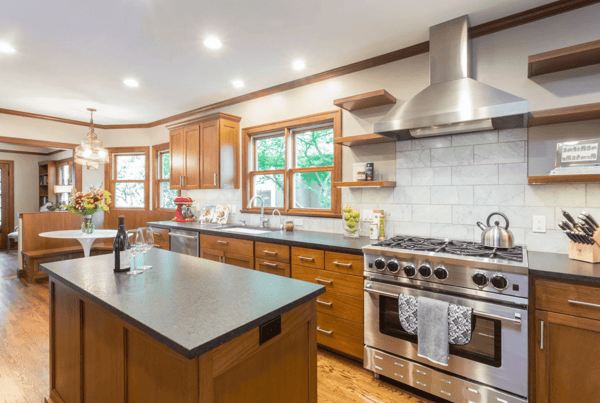 10. What's the Emerging Countertop Material?
For years, granite has been the "go-to" countertop material for upper-end kitchen remodels. And while granite remains very popular (it is beautiful and durable), some designers and homeowners are longing for something lighter and less "busy." Light-colored countertops have been growing in popularity—with quartz positioned as the heir apparent to granite. While it's probably too early to say that granite is "out," the trends in design appear to favor a lighter, less busy look. Some granite tops can provide that, but it may be easier to find in engineered quartz.