The temperature is dropping, and you're climbing the walls. Don't go stir-crazy at home; plan a wintertime adventure in magical Portland. From the weird and uniquely wonderful niches Portland occupies alone to big city culture, sports, and shows, there's plenty to do in Portland during the winter.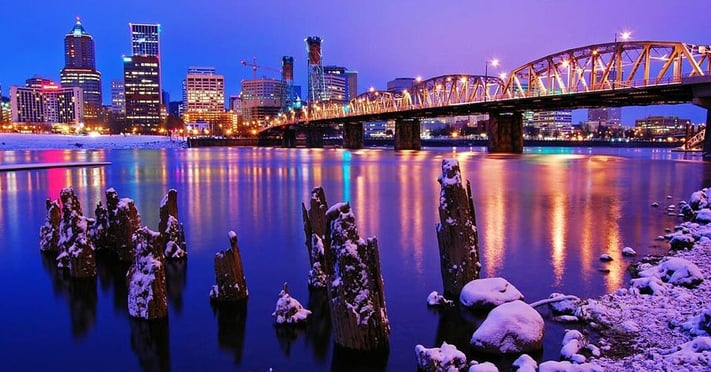 Best Winter Shopping in Portland
Visitors to Oregon often enjoy the happy sales tax surprise. We don't have one! Stretch your dollar further during your winter shopping.
Small Shops, Big Hearts- Patronize local small businesses this season for a chance to win big. Purchases at participating Small Shops Big Hearts retailers earn digital raffle tickets for cash and prizes.
Pearl District- Visit icons like REI or other local favorites, grab a bite, and make a day of people-watching in this vibrant area.
Pioneer Place- Enjoy big-name brands at this bustling shopping center. Connected by an impressive sky bridge, Pioneer place offers a fantastic food court and movie theater to break up your day.
Winter Sporting Events to Watch in Portland
Winterhawks Game- Hockey is underway in Portland! The Winterhawks are currently leading the league, but the fun doesn't stop no matter what happens on the scoreboard. Call ahead and score a ride for up to 10 kids or 8 adults on the "Fanboni" for a memorable intermission experience.
Trailblazers Game- Gear up, Rip City! The NBA brings a whole new level of sporting entertainment to Portland. Enjoy world-class basketball and the amenities of the Moda Center.

Take in a Show Near Portland
Portland draws top-tier touring talent. Whether you're taking in a musical act, or a Broadway show, there are plenty of bright lights and big dreams to offset a dreary day. Head to some of Portland's best auditoriums and theaters for a show this winter.
Theater and Concert Venues We Love:
Things to Do in the Winter with Kids in Portland
The Grotto's Festival of Lights- This beautiful holiday tableau features an impressive array of lights, carolers, puppet shows, and other festivities. Expert to walk a quarter mile or more to take in the splendor.
Zoolights at the Oregon Zoo- From illuminated splendor to tasty food truck treats, the Oregon Zoo morphs into a winter wonderland every year. Walk or drive to take in the sights and enjoy this one-of-a-kind yearly offering.
Cinnamon Bear Cruise- This holiday cruise features music, costumes, storytelling, and absolute magic. A family favorite, join the fun for a plated breakfast and a 2-hour cruise in the Willamette River.
Portland Hipster Santa- Santa has a man-bun because even he is doing his part in keeping Portland weird. Head to the Pioneer Place Mall for a visit, and consider a reservation. Hipster Santa draws a crowd.
Culture and Art in Portland
Portland's Annual Winter Lights Festival- This decentralized city-wide event includes spectacles, art, technology, and more, all for free. Soak up the weird vibe with this Portland winter favorite, celebrating its 8th anniversary in 2023.


Visit A Museum:
Portland Art Museum- Closer to the cutting-edge, Portland Art Museum offers traveling exhibits and experimental art to expand your horizons.
Portland Museum of Art- Portland's largest and most well-known museum offers rotating exhibits and fantastic opportunities to try something new.
Oregon Museum of Science and Industry- Though the educational offerings make OMSI a fantastic stop for kids, after-dark events and the planetarium offer fun for adults too.
Outdoor Winter Recreation in Portland
Winter Races in Portland- Stay in shape and keep up with your training by signing up for a winter race in Portland. Here are some of our favorites:
Holiday Half Marathon and 5K
My Muddy Valentine
Polar Plunge 5K
Flight for Air Stair Climb
Tubing on Mt Hood- You can be a speed demon and enjoy the mountains without a ski trip. Purchase your tickets in advance and head out to enjoy this Oregon tradition.
Ice Skating- Portland offers a variety of indoor and seasonal outdoor ice skating options for kids and adults of all skill levels.
Whale Watching at Depoe Bay- During a narrow and magical window in December into January, residents can watch gray whales make their majestic migration to warmer Mexican waters. Take a boat tour, or plant yourself at an observation station to get a great view.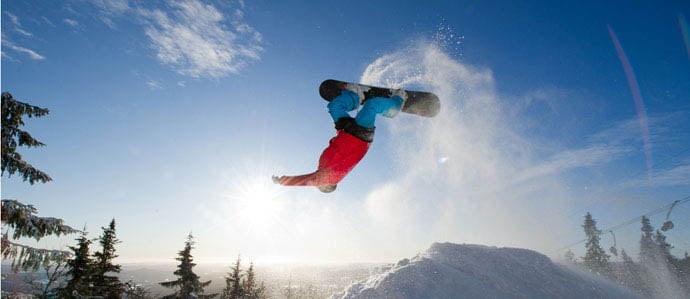 Take a Weekend Getaway Near Portland
1. Sauvie Island
Let's begin with a look at a place that's just 30 minutes north of Portland. Sauvie Island is both a wildlife refuge and a farming community. If you're into birding at all, this is a great spot to visit. The Sauvie Island Wildlife Area hosts more than 150,000 geese, ducks, and swans that migrate or winter over.

You can also observe sandhill cranes and great blue herons among the 275 species that call this nearly 12,000-acre spot home. Not far away, about 14 miles north on Highway 30, Scappoose Bottoms and the Crown Zellerbach Trail in Columbia County are part of rich farmland and favorite stomping grounds for numerous raptors and songbirds. You can also stop by Sauvie Island Lavender Farm to pick up exquisitely crafted lavender products.


2. Columbia River Gorge
A mere 40 minutes outside of Portland, you can hike among the moss-covered trees in the Columbia River Gorge. From watersports to wonderful vistas, the Columbia River Gorge provides just about every type of outdoor recreation you can imagine. There are gorgeous waterfalls (the bridge across Multnomah Falls is a prime example) and easy or difficult hikes for every fitness level.

Click here for additional information or to plan your visit.


3. Cannon Beach
In addition to being one of the premier art towns in the United States, Cannon Beach is also one of the top 10 romantic coastal destinations in the country, according to USA Today. It's a windy, scenic, 90-mile drive to the coast. There the view of the iconic Haystack Rock formation (pictured above) gives you an idea of why this is considered by National Geographic as one of the 100 most beautiful places in the world.
There are lots of interesting places to eat (grab lunch and a beer at Cannon Beach Hardware & Public House, nicknamed Screws 'n' Brews by locals—a functional hardware store that also makes great catch-of-the-day fish sandwiches). You'll also have your choice of several fantastic oceanfront resorts at which to stay (including Stephanie Inn).


4. Astoria
Located just two hours from Portland is the area where Lewis and Clark wintered. You can trace their steps where the Columbia River meets the Pacific Ocean. Then you can stroll the downtown strip to peruse the town's vintage and antique stores. Consider grabbing an early lunch at Bowpicker Fish & Chips ("early" is recommended because this one-item food truck is only open until they run out of the day's catch). After lunch, you can grab a beer at the Fort George Brewery and choose from the dozen or more craft beers that you won't find anywhere outside of the Pacific Northwest.
COOPER Design Build Does Everything Better
From planning your recreation in our favorite city to planning to pamper you in your new custom home, COOPER Design Build is a leader in fantastic fun and function. We can't wait to hear more about your Portland residential project.