Wondering what to do with your basement next year? Wishing you could solve all your space problems by rethinking your basement layout? With a good design, almost anything is possible. Check out these eight basement remodeling projects for 2021.
1. HOME OFFICE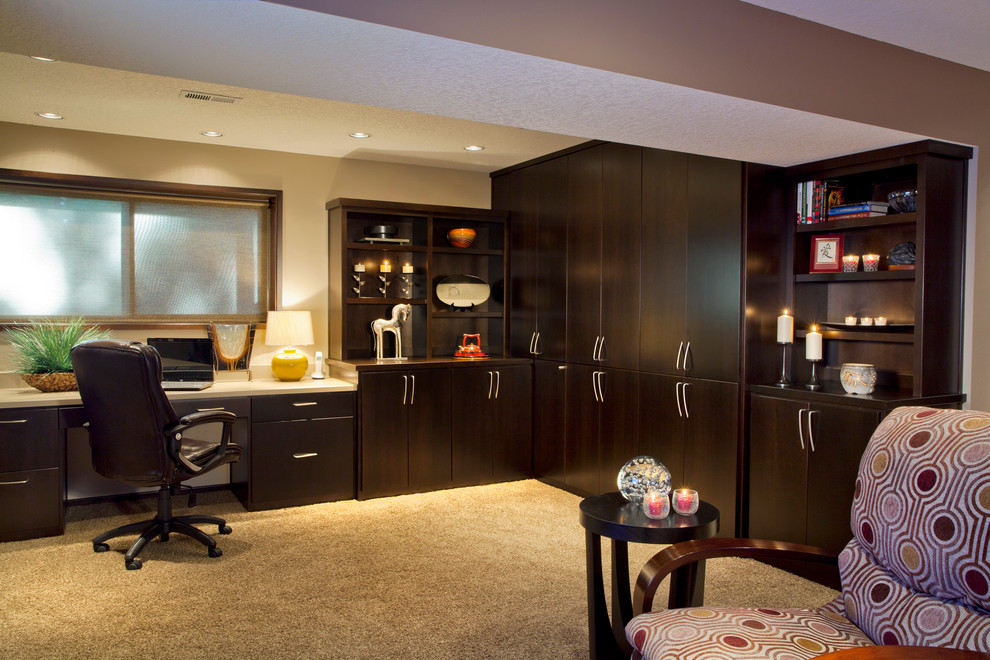 If you run your own business, having a dedicated home office is not just a handy tax deduction. It is also an ideal place to work, keep business records, and conduct meetings with clients. Even if you don't run a business, a home office is an excellent choice for the days that you work from home. You can install everything that you need for maximum productivity, such as:
A desk that is just the right size
Comfortable seating that supports your back
Built-in shelving for supplies and books
Technological equipment on the wall, to save space
Flooring that looks great on a Zoom call and doesn't make noise
By creating the right layout, you can get the most out of the space and your time.
2. HOME GYM
Some people like to roll out of bed and get in a quick workout before they start their day. Others prefer to use exercise to unwind and allow them to shift gears from work to home. If you have a home gym in the basement, you can do either of these without having to leave the house. With modern gym equipment, you may be able to do a variety of workouts from one machine or a couple of stations. You need to make sure that you have enough space if you're planning to buy a system, but you have a lot of flexibility. Install mirrors so you can check on your form. Add a sound or TV system for entertainment while you exercise. A few racks on the wall for your weights and you'll be ready to go.
3. TEMPERATURE-CONTROLLED STORAGE
Many homeowners keep an unfinished room or two in the basement as a place to store food. An unfinished basement is likely to stay a little cooler in the winter so that you can keep fall produce in better condition for a longer period of time. If your basement is completely finished, you might think that this option is unavailable, but that's not true. With a zoned HVAC system, you can set a very precise temperature for specific zones or rooms in the home. You might set up zoning for food storage, but it also works very well for a wine cellar. Keeping the temperature cooler than the rest of the house is the ideal way to preserve an older vintage for as long as you need it.
4. TEEN'S BEDROOM
As children get older, they tend to take up more space. Teens in particular have a way of spreading out all over the house. Relocating their bedrooms downstairs is a great way to help them build their own individual style that doesn't clash with yours. When your bedroom is on one floor and their rooms are on another, you both get a little more privacy and quiet when you need it. Fortunately, teens don't need a ton of space. So if your basement is fairly modest in size, you can still add a reasonable bedroom without losing the rest of the basement to it. Add a bed, closet, and desk. If your teen plays a musical instrument, you might want to add additional soundproofing so they can practice without disrupting the rest of the household.
5. BONUS ROOM FOR THE KIDS
Kids need a living space that isn't confined to their bedrooms. Unfortunately, the activities children want to do often conflict with the way that the adults in the house prefer to relax. A bonus room is a simple solution. Bonus rooms don't have to count as a bedroom. While your kids are young, a bonus room may be a more practical choice because you can hear them playing while you fold laundry or do other tasks in the basement. Start with a layout that can accommodate all your kids' home activities, from video games to craft projects. Consider built-in shelving and cabinetry to keep things organized. Add furniture that is comfortable for both children and adults, and you'll have a space that is a delight for everyone.
6. MODERN LOUNGE
Some people long for the days when homes had a better way of distinguishing between rooms. If your great room on the main floor feels so large that it swallows you up, consider heading to the basement for the ideal modern lounge. A lounge is no family room or second living room, however. This style is designed for the supreme comfort of the adults in the house. Imagine having the opportunity to build a custom wet bar or even a small second kitchen. Luxurious seating and a large TV on the wall could provide you with an excellent place to unwind from the busy day.
7. IN-LAW SUITE
If you are already considering creating a guest bedroom in your basement, you might as well take it to the next level with an in-law suite. An in-law suite is a project that converts part of your home into a second living space that is partially separated from the rest of the house. It includes at least one bedroom, one bathroom, and a functional kitchen. In-law suites are great for multi-generational living, as well as visitors who stay for longer periods of time. It's also ideal for your resale value since these suites are in high demand. If you're thinking about the potential of turning the in-law suite into a separate apartment you can rent out, it will need its own entrance.
8. MASTER BEDROOM SUITE
Sometimes, you go downstairs and realize that you have a treasure trove of available space for the perfect master bedroom. Master bedrooms tend to be larger than most traditional bedrooms, especially those with walk-in closets and luxurious bathrooms. If you don't have enough space on your main floor or second floor, your basement could be the ideal candidate. By taking over the basement for your master bedroom suite, you have hundreds of square feet to work with. If you wanted to convert an entire bedroom into a walk-in closet or build a spa-like master bathroom, you'll have all the room you need.
Turning your basement into a useful space takes time and a little creativity. The right team for the job makes all the difference. Contact Cooper Design Build today to discover what we can do for you.