A beautiful home needs beautiful, comfortable furniture to complete the look. So, when COOPER Design Build works with a client on a whole home remodel, we help them achieve every aspect of their vision, from the layout to the lighting and, yes, the furniture.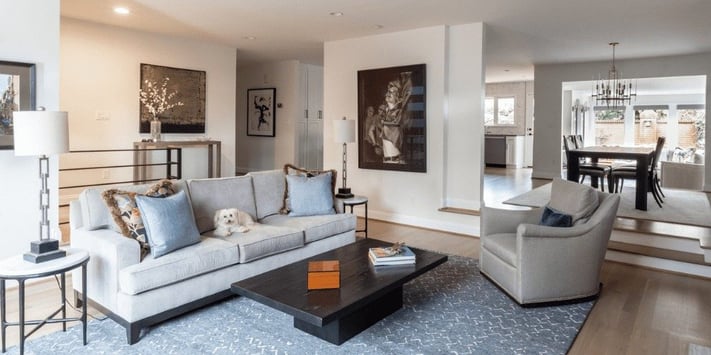 It turns out that the city has a wealth of local furniture makers and stores selling a broad range of new and vintage items for your home, much of them made in Oregon. Here's a sampling of 10 of the best furniture stores in Portland with a local flair that we recommend our clients check out!
Are you looking for more custom furniture in Portland? The good news is that you have plenty of options, including this furniture boutique at 908 NW 23rd Ave. Here you can buy custom-made sofas, sectionals, chairs, and beds, plus a wide array of accent tables, rugs, lighting, art, and accessories. The store also provides interior design services. Its manufacturers include Biltwell Furniture, a Portland manufacturer, and all furniture is made in the United States.
This family-owned showroom at 923 NW 10th Ave. features custom hand-built sofas, sectionals, chairs, and other cushioned seating. As a Portland custom furniture design studio, Perch Furniture works with the customer to design each piece. Once you settle on your design, family-owned manufacturers make your custom piece in Los Angeles.
Get your retro on at City Home. This locally-owned business sells vintage finds, new furniture, and home décor inspired by midcentury modern design. You can visit one of two sites within the city: their showroom at 1101 SE 3rd Ave. or their outlet at 217 SE Taylor St.
If none of their in-store options do it for you, create your own! With one-hour on-site consultations available, you can get ultimate personalization and a chance to connect with their team in your home. If you have no idea how you want to furnish your space, this is an excellent option because City Home's designers can visit your space and make recommendations accordingly.
Another family-owned business, What's New? Furniture, at 439 SE Grand Ave., sells both modern Oregon-made sofas and unique consigned pieces. They emphasize midcentury furniture and décor, antiques, contemporary and modern designs, and local artwork. What's New's sofas are made in Woodburn, Oregon, by Dan Frederick Furniture and are guaranteed to last for life.
This "lighting and house parts general store" had its roots as an architectural salvage shop in Portland but now has high-end stores across the country. Rejuvenation still makes most of its extensive selection of reproduction light fixtures at its Portland facility, and the store at 1100 SE Grand Ave. also carries furniture for every room. The furniture is heirloom-quality, and the vintage pieces Rejuvenation carries are high-end. Their 10,000-square-foot brick-and-mortar location also features pop-up shops where you can peruse goods from local artists.
If you're looking for vintage furniture in Portland, Hawthorne Vintage Modern is a must-stop destination. They buy and sell furniture, so their inventory is one-of-a-kind and constantly changing. Their primary focus is
mid-century modern furniture and decor. You'll find plenty of teak and Scandinavian design in this shop. The store is located on the second floor of the Memory Den Vintage Mall at 499 SE 2nd Ave, which hosts a variety of local vintage sellers. Stop by Hawthorne Vintage Modern, then check out wares from other vendors!
This store at 1205 SE 7th Ave. brings together fine vintage furniture and décor from across the United States and around the world. Explore inside, and you'll find anything from original Stickley chairs and tables to a World War II-era runway spotlight from Germany to 1960s Danish teak credenzas.
A self-declared "eclectic emporium," this charmingly named shop has a vintage inventory that is constantly in flux as new pieces come and go. The website boasts an extensive collection of reclaimed wood furniture — many with midcentury-modern flair — as well as patterned 50s-inspired lamp shades. You can get a sampling of their goods online, but to get an accurate picture of what they have in stock, visit their store at 1426 SE Hawthorne Blvd.
The Good Mod will put you in a good mood! The showroom and workshop of this midcentury furniture house grace the fourth floor of 1313 Burnside St. The Good Mod does it all. They carry classy vintage art, lighting, and furniture pieces. They also restore and reupholster old or damaged furniture, giving the pieces new life in the twenty-first century. They also design and build their own line of Danish-inspired furniture. You can also work with their in-house wood shop, metal shop, and upholstery studio to create custom furniture to your exact specifications.
Midcentury furniture and décor for home and office, reclaimed and restored, are this store's specialty. The Red Snapper, at 11049 SE Main St. in Milwaukie, in the southern part of the Portland metro area, also offers interior design services.
Custom Design Services
Many of these stores offer custom furniture-making services. Don't you want the same level of personalization and care in your home design? That's what we offer at COOPER Design Build: intentional, client-driven design and construction services. We've created beautiful living spaces in Portland for over thirty years. Let us help you create yours today.