If you're feeling seriously cramped in your Portland-area home, you might be wondering how much it would cost to add on, rather than go through the upheaval of moving to a larger house. Each year, Remodeling magazine compiles its Cost vs. Value Report, which lists the average prices for certain remodeling jobs in cities across the country. Take a look here at some typical home-addition projects and what the average price would be in the Portland, Oregon, market.
Cost of a Bathroom Addition [Midrange]
The report calculates that adding a bathroom with midrange finishes and fixtures would cost an average of $48,758.
For the purposes of the Cost vs. Value Report, such a project is described as adding a 6-by-8-foot bathroom over a crawlspace, which would have poured concrete walls. The bathroom would have a cultured-stone vanity top with a molded sink fitted with standard chrome faucets; a mirrored medicine cabinet would be attached to the wall.
The 30-by-60-inch white fiberglass tub with shower would have a ceramic tile surround and a single-lever temperature- and pressure-balanced faucet. The bathroom would have a white, low-profile toilet and general and spot lighting. A linen storage closet or cabinet would be installed, the door and window trim would be painted, and the floor would be of ceramic tile.
[Read More: Do's and Don't of a Master Bathroom Addition]

Cost of an Upscale Bathroom Addition
For an upscale bathroom addition, the report doesn't calculate the cost of adding a new bathroom but of expanding an existing bath and boosting the level of luxury. For such a project, you could expect to pay $89,978, according to Remodeling.

Here are the details of such a bathroom expansion: Expand an existing 35-foot-square bathroom to 100 square feet within the existing footprint of the home, relocating all the fixtures. Install a 42-by-42-inch neo-angle shower with ceramic-tile walls and an accent strip, a recessed shower caddy built in, body-spray fixtures, and a frameless glass enclosure. Install a freestanding soaker tub with high-end faucets, stone countertop with two sinks, two mirrored medicine cabinets with lighting, a separate commode area with a one-piece toilet, and a humidity-activated exhaust fan. All the fixtures are to be colored. Floor tiles would be larger matching tiles, laid on a diagonal with ceramic-tile base molding and electric under-floor heat. Install general and spot lighting including a waterproof shower fixture. Include cabinetry with custom drawer bases and wall cabinets.
Cost of a Master Suite Addition
If you need more than just a new or bigger bathroom, here are two options for adding an entire master suite. The master suite addition with midrange finishes would cost about $134,286, according to the report.
Such a 24-by-16-foot master bedroom-bath suite would be built over a crawlspace. It would have a walk-in closet and dressing area, a freestanding soaker tub, a separate 3-by-4-foot ceramic-tile shower, and a double-bowl vanity with solid-surface countertop. The bedroom floor would be carpeted and the bath would be tiled. The walls, ceiling, and trim would be painted. The suite would include general and spot lighting and an exhaust fan in the bathroom.
[Related: Home Additions Permitting in Portland]
Cost of an Upscale Master Suite Addition
The sample upscale master suite addition would be larger—32 by 20 feet—and, of course, more expensive: an average of $277,953.
That addition would look like this: A spacious sleeping area with a lounging or sitting area warmed by a high-end fireplace with a stone hearth and custom mantel. The bedroom would have a walk-in closet and dressing area with natural light, mirrors, and linen storage. Near the bathroom, a 5-foot-long hospitality center would feature a bar sink, under-counter refrigerator, custom cabinetry, stone countertop, and microwave.
Through a set of French doors, the master bath would have a walk-in shower with a dual-head system, stone walls and floor, and custom frameless glass enclosure. Also in the bath would be a freestanding soaker tub and two sinks in separate custom vanities with stone countertops and large mirrors. A partitioned area would hold the luxury one-piece toilet. The master suite would include soundproofing, under-floor heating, custom wall finishes and hardware, and general and spot lighting with high-end controls.
Cost of an Outdoor Addition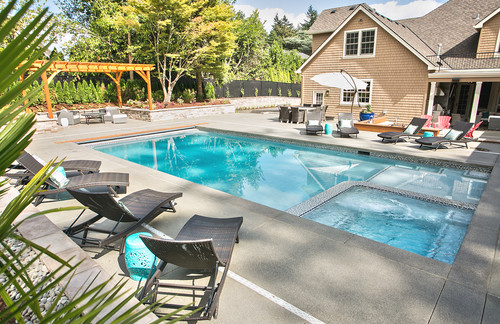 In addition to a bathroom and master suite, you could add a deck built of wood: $15,556; a deck made of composite materials: $20,053; or a backyard flagstone patio with low-voltage lights, a pergola, and an outdoor kitchen: $57,433.
Complete data from the Remodeling 2019 Cost vs. Value Report can be downloaded free at www.costvsvalue.com. © 2019 Hanley Wood Media Inc.