Preparing for the holidays is a whole affair. There are guests to invite, presents to buy, meals to cook, family traditions to uphold, and then, there's the matter of getting your house holiday-hosting ready. All these chores can feel overwhelming and suck your joy out of the most wonderful time of year. But don't worry; COOPER Design Build is here to help!
Take it one task at a time, using our tips on getting ready for the holiday and how to prepare for guests.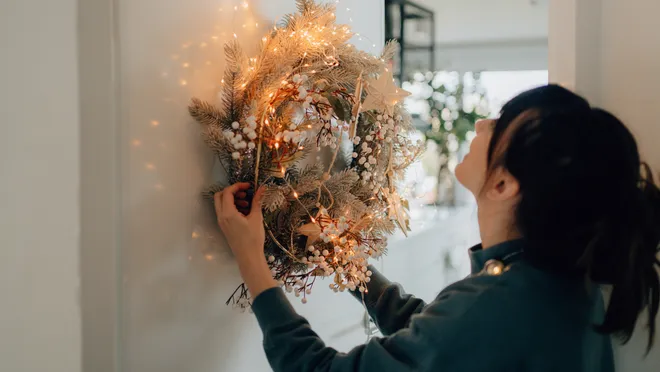 How Do I Get My House Ready for the Holidays?
Looking around your home, you may wish you could make major changes like expanding your living room, remodeling the kitchen, or adding a guest bath for the holidays. Unfortunately, it's too late in the season to accomplish such significant home remodeling before the festivities commence.
Save those bigger projects for next year and, instead, focus on small home improvements for the holidays that you can easily accomplish.
Deep Clean
Ever found yourself thinking, "All I want from Christmas is a clean house?"
Know that you're not alone. Keeping up with household chores is challenging, and as soon as you fall behind, messes begin to accumulate tenfold. If you can, give yourself the gift of a clean house by hiring professional cleaners to do the dirty work for you. The satisfaction of a sparkling abode feels even better when you don't have to do any of the work yourself! It may feel frivolous to hire someone else to do work you could do yourself, but you'll be saving time, stress, and energy that you can devote to your other holiday tasks.
Otherwise, break out your vacuum, mop, dust cloths, and sprays, and get to work. We recommend dividing your cleaning efforts by room. Start from the top of the room and work your way down so any dust you knock loose doesn't settle on freshly cleaned floors or tables. It may help to write a list for each room to prioritize your efforts.
Create a Cozy Entryway
First impressions are always important. Ensure your guests feel welcomed and full of holiday cheer by greeting them in a cozy, well-lit entryway. Set up lights or yard decorations in your yard to beckon them inside. Then, fill your front entrance with happy decor, a comfortable rug, soft lighting, and a delicious-smelling candle or wax burner. You should also empty out your guest closet or set up wall hooks so you have plenty of places to hang coats. While you're at it, set aside a basket or cubby for hats, gloves, and scarves. Be sure to have a place for your guests to leave their snow-covered shoes and a mat they can wipe their feet on.
Rearrange the Furniture
You don't have time to expand your living room before the parties start, but you can create the illusion of more space by rearranging your furniture. Try clumping your furniture together to make quaint conversation zones. Be sure to face your furniture towards each other, rather than the T.V., to encourage conversation and make catching up with out-of-town relatives easier. You can consider removing extraneous items like extra side tables to free up more space. As you move things around, keep in mind the flow of traffic. Your furniture should have enough space between them for guests to move around without feeling cramped.
Make Cosmetic Changes
Before your guests arrive, you may have time to make a few cosmetic upgrades. You can touch up scratched paint or even repaint a room if you can't stand the color anymore. For an extra bit of sparkle, try replacing your hardware on cabinets and doors. Refresh the kitchen with a new backsplash and upgrade your guest bathroom with an updated faucet and shower fixtures. You can also restain your hardwood floors or add crown molding if you get started soon.
Anticipate Your Guests' Needs
If you want to know how to be a good host for house guests, the key is anticipating their needs. Make your guests comfortable by ensuring they have a place to set down their things, comfortable furniture to relax on, and food that matches their tastes and dietary restrictions. For guests spending the night, give them a bedroom with fresh sheets, plenty of blankets, a dresser to put away their clothes, and a bathroom where they can get ready in privacy. Go above and beyond by providing your guests a warm, cozy robe, slippers, special shampoo and conditioner, and other small luxuries. It's also a good idea to keep extra toothbrushes, toothpaste, floss, and other necessities on hand, in case your guests forget theirs at home.
Prepare for Next Year: 2023 Remodeling GOALS
It may be too late for remodeling before the 2022 holidays, but now is the perfect time to start thinking about the changes you want to make to your home in 2023. If you begin now, your remodeling can finish in plenty of time for next year's holidays.
Here are a few remodeling for holiday entertainment ideas you may want to include in your 2023 remodel.
Refresh the Kitchen
Kitchens are one of the most important rooms for holiday hosting. Ensure yours is ready by adding extra counter space for cooking, investing in new appliances, and upgrading your flooring and cabinets. If you don't have an island, consider adding one; they provide extra counter space and can give you additional seating.
Think about what changes will make the holiday cooking craziness easier. Maybe you want an extra sink so you can rinse vegetables at one while your helper washes dishes at the other. A pot filler is a popular choice in modern kitchens and means you'll no longer have to lug heavy water-filled pots from the sink to the stove. You could even add a butler's pantry, so you can do your prep work and make messes where your guests can't see them!
Add or Remodel a Bathroom
Bathrooms are always in short supply when lots of guests are around. It may be prudent to add a half bath or guest bath to reduce bathroom traffic jams. If you already have enough bathrooms, it may be a good idea to remodel the ones you have. Bathrooms take a lot of abuse; a remodel refresh can do wonders to make the space more comfortable and welcoming for guests.
Increase Your Entertainment Space
You'll never find yourself wishing you had less entertainment space. But, you may regret it if you try to host a large party in your small living room. Consider expanding your living room or adding a second living space, such as a sunroom or formal living room. You could also finish your basement or convert your attic to give the younger crowd a place to hang out while the adults take up the main areas. If you really want to make an impression, invest in a wet bar for a drink and conversation station. Or, put a wine cellar in for holiday tastings.
Wow with a Whole-Home Remodel
Want your guests' jaws to hit the floor? Blow them away by completely revamping with a whole-home remodel. You can change your home's layout (inside and out), pick a new aesthetic, update your exterior, add on a new room, and pretty much anything else you can think of!
A whole home remodel is a great conversation piece, and it will be so fun to show it off to all your family and friends. If you want your remodel completed before the 2023 holidays, the time to get started is now!
Remodel YOUR PORTLAND HOME with COOPER Design Build
Begin by learning about the design build remodeling process to understand your options and see if COOPER Design Build could be the right fit for you.