Everything you need to know about remodeling your kitchen in Portland in one place.
---
Table of Contents
---

Portland Kitchen Remodeling Cost:
Kitchen remodels with COOPER Design Build typically start around $125,000. We approach remodeling a kitchen as an opportunity to turn our clients' needs into beautifully designed, highly functional dream kitchens. We recognize that everyone's needs are different, so we've provided more information below on what you can expect to pay for different scopes of kitchen remodeling.
Minor Kitchen Remodel Cost
If you're looking for a minor overhaul to your Portland kitchen without making significant changes, you could expect to spend between $20,000-$25,000. A minor kitchen remodel assumes that you have a kitchen with "good bones" that needs some updates at the surface level. This means that you won't be changing the layout, and you'll be keeping most of the cabinetry. For the price, you get new appliances; efficient, but not flashy. This project opts for the inexpensive laminate for countertops, which now come in a variety of designs to mimic natural stone. Vinyl is the preferred choice for budget flooring that still looks sharp.
Major Kitchen Remodel Cost
If the layout of your kitchen just isn't working for you, or the cabinetry is very old and needs replacement, you can expect to pay a bit more than the project listed above. For around $65,000- $75,000+, you could remove all the existing appliances and cabinetry and create a new layout for improved function.
Islands have become all but a requirement in modern kitchens. A good portion of the total expense goes into improvements like this, especially if you decide to add a dishwasher or stove that needs new plumbing or electricity. Wood cabinets offer long-term durability and some ability to customize sizes and designs. This estimate also includes laminate countertops, so you'll need to pay more if you want natural stone.
Upscale Kitchen Remodel Cost
Do you have an ancient kitchen that needs to be redone in almost every way? Did you get an awesome deal on an older house with a plan to turn the kitchen into a chef's haven? An upscale kitchen remodel is meant for you. At $125,000-$150,000+, you're going to get a kitchen that is both timeless and trendy in every way. With this budget, you're free to choose your dream backsplash, flooring, appliances, and other materials.
Average kitchen remodeling Matieral costs:
Custom Cabinets - $30,000+
Countertops - $95+/SQ FT
Flooring - $30+/SQ FT
Lighting - $1,000-$3,000
Appliances - $18,000-$22,000
We invite you to take a look at our kitchen remodel projects and discover the customized, intelligent designs that we have had the pleasure of building for our clients.
---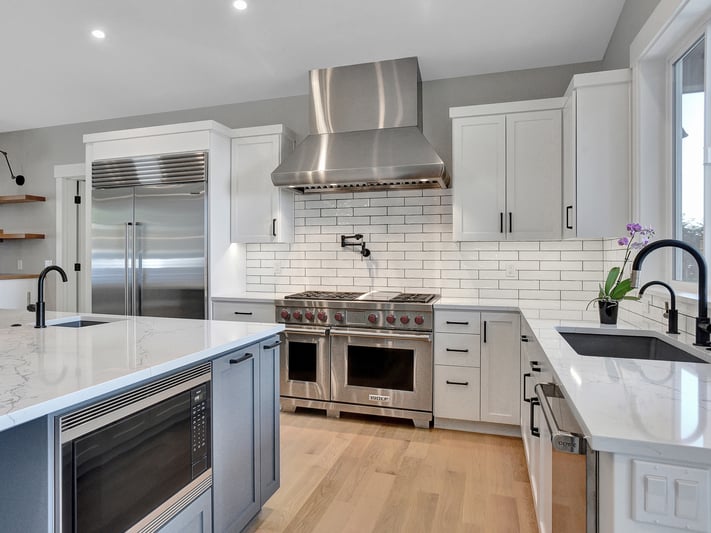 Finding The Right Portland Kitchen Remodeler
Finding the right Portland kitchen remodeler is the most important step in ensuring your project's success and overall satisfaction. Here are our recommendations to help you decide on the right remodeler for you.
WHERE DO YOU

START?
Talk to friends, family members, and co-workers who have completed remodeling jobs and get their recommendations. Take the names of the builders who sound most promising and do some online research. Visit sites that you trust and read the reviews. Go to the Home Builders Association of Metropolitan Portland website to see if the builders are members. Read the reports on the Better Business Bureau and Oregon Constructors Contractors Board websites.
DESIGN BUILD Or Design-Bid-Build?
Depending on the scope of your kitchen remodel, you might be considering hiring an architect or a design build firm.
Design build, as the name implies, combines the design of your project — the architectural, engineering, and interior design work — with the actual general-contractor function. You will meet with the team to communicate your vision for your kitchen remodel, work with the designers on the overall scope and specific details, and agree to a construction contract.
Design-bid-build entails hiring an architect or designer to create the design and the plans for your remodel. You then put your project out for bids from builders and select a contractor based on price and your research into the builder's work.
Finding an architect or designer to visualize and design your project, and then separately selecting a builder, can take longer, cost more, and involve more work on your part. Using the design-build approach can save you time and money because the process is streamlined, and pre-construction work can get started even before the design is complete. Quality control is under one roof, and the design-build company holds full responsibility for the project, minimizing finger-pointing between the two sides if the job hits a snag.

A design-build company gives you one point of contact, and the company's designers and construction team work together throughout the project, saving you the trouble of coordinating between the two aspects of the project. Also, the design-build architect knows the builder and won't design a project that can't be built within your budget.
PICK UP THE PHONE
Narrow your list to about three remodelers or design-build firms, and then call each one. Ask them how long they have been in business, how many projects similar to yours they have completed, how their schedules match up with your preferred start and finish dates, whether they can provide names and contact information of previous clients, and if you could visit the site of a job that's underway.
FACE TO FACE
The next step is to set up in-person consultations with the most promising options. Bring along a list of questions, and be sure to get answers. Here are some things you should ask:
What is your practice when it comes to deciding on the quality of materials?
How will you come up with the price for my project?
How much experience do you have on projects of the scope, style, and quality that I envision for my remodel?
Would I have a regular contact person during the course of construction, and how do you handle communication with homeowners?
How do you select skilled subcontractors, and do you stick with the same ones over the years? Do you ensure that they are licensed and insured?
If we make changes to the design of our remodel, or if you come across something unexpected during the job, how would you deal with those changes? How are the resulting costs calculated?
How long would my remodel take? Do you provide any assurances that you would stick to the schedule?
Do you provide a warranty on your work?
What size down payment do you require; what forms of payment do you accept, and at what points during the project?
Can you provide a sample contract, budget, construction schedule, change order request, and warranty?
Do you carry insurance for personal liability, workers' compensation, and property damage? Can you show me proof of your insurance and bond?
Could my envisioned project be accomplished within the budget I have in mind?
GAUGE THE FIT
During your discussions with each company, pay attention to how well they listen. Do they answer your questions fully? Are you confident that you could communicate well throughout the project? Are you comfortable with their personality, professionalism, and integrity?
After a detailed interview with the remodelers, it's time to call or visit references and ask such questions as:
Are you happy with the remodel this builder did for you? Would you use this company again?
How accurate was the price estimate?
Was the project finished on time?
Did the builder deal with any problems satisfactorily?
Was the work site kept clean and organized during construction?
Did the builder employ any subcontractors that you weren't happy with?
Did the contractor communicate regularly and clearly with you during the project?
DECISION TIME
At this point, you will be armed with plenty of information, impressions, and proof to help you make your decision. Instead of focusing on who promises to do it for the lowest price, focus on qualities such as:
Quality of craftsmanship
Communication style
Satisfaction of past customers
Scheduling
Experience with projects similar to yours
---
Kitchen Remodeling Mistakes To Avoid
Not communicating your Budget
Before you reach out to contractors, you need to decide how much you're willing to spend on your kitchen remodel.

#2 Changing Your Mind

Tweaking a few things here and there is normal during a kitchen remodel, but completely changing your mind about the design – adding a full wine cellar to the basement or moving the laundry room to a different level -- is a costly mistake. So is making wholesale changes to your materials choices, especially if the job is well along in the build stage. About two-thirds of contractors surveyed say that changing your mind once construction has begun is the biggest, most costly mistake you can make when remodeling.

#3 Skipping the Pre-Inspection

Another way to blow your remodeling budget is to neglect a pre-inspection. It only makes sense to have an expert check for hidden problems that would cause costly delays, remedial work, and even design changes. Your inspector will alert you to rotten support beams, mold, water seepage, inadequate structural engineering, bad plumbing and wiring, and other unpleasant surprises. Being aware of such issues from the start will help your design team plan for them, and the remediation will be cheaper than if you stumble upon the problems once construction has begun. A reputable design-build firm will insist on such an inspection, and you should, too.

#4 Overlooking the Obvious

Homeowners often have the idea of adding a space such as a bedroom or a bathroom without considering the rooms at the heart of the home -- the kitchen and living room. It's important to prioritize these spaces, which will improve your lifestyle while you live in the home and get you the highest return on your investment when you sell it. Focus on remodeling these areas first, and then see whether you can swing upgrades to bedrooms and bathrooms now, or tackle those projects in the future.

#5 Choosing the Cheapest Contractor

The most economical choice is almost never the best. Sometimes the lowest bid means the contractor will be cutting corners on quality and materials or even skipping essentials such as permits, licenses, and liability insurance. So the most important step in the process of remodeling your Portland home is choosing the right builder. Be sure you do your homework.

That homework should include talking to friends and family members who have used architects, builders, and design-build companies in the Portland area. Then call several companies and ask how long they have been in business, whether they have completed jobs like yours recently, and if they would be available during the time you want your project built. Then go meet with the builders who sound the most promising. Listen to how they talk about their work and your project, and try to envision spending as much as ninth months in close contact with this company and its people. Find out if the company is licensed and insured. Ask for two or three homeowners they have worked with recently, and then talk to those customers and ask if you could go see the builder's work. You can't be too careful when you're making such an important decision.

#6 Failing to Plan for the Upheaval
Thinking ahead to your new and improved home, and seeing that transformation unfold, can be exciting. But, honestly, living in a construction zone can be unpleasant, and you should take steps to lessen the discomfort. If you don't have the resources to completely move out of your home while the work is being done, at least find ways to separate your family from the work zone and the paths of the crews and their equipment.

Agree with your contractor on acceptable work times and how much the crews will clean up at the end of each day and how they will ensure the security of your home when. If you're remaking your kitchen, you should set up a temporary place to cook and store food. Make sure any valuable possessions are kept out of harm's way and do the same with your children and pets. On top of all these precautions, keeping a positive attitude will get you to the end of the journey in good shape.

Make sure you think carefully and make wise choices as you launch your home-remodeling project. Avoid these common mistakes and choose a design-build firm with a great reputation that you can trust absolutely with the job.
---
Get Inspired By Some Of Our Favorite Portland Kitchen Remodels
Alameda TRansitional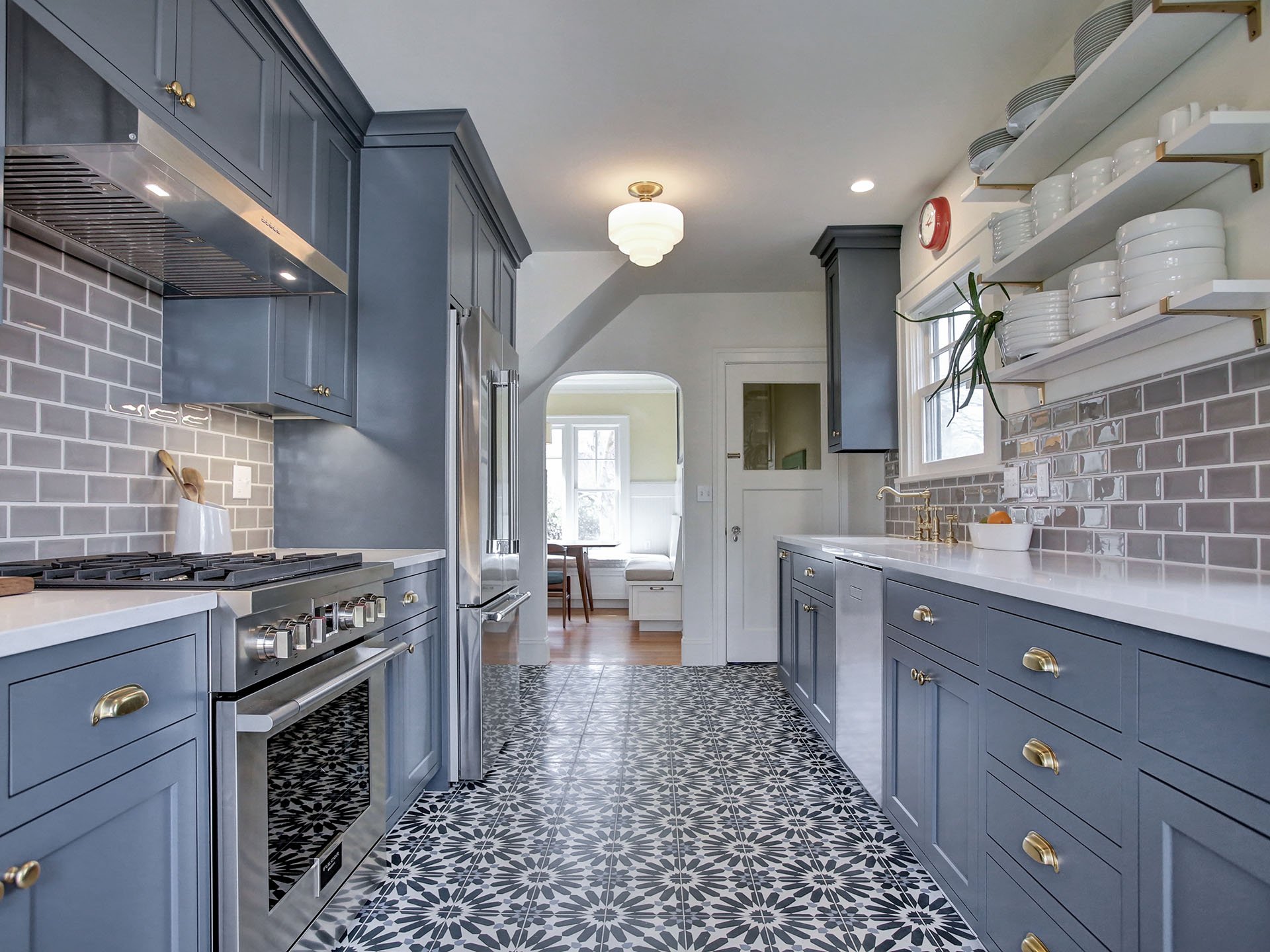 Alameda Tudor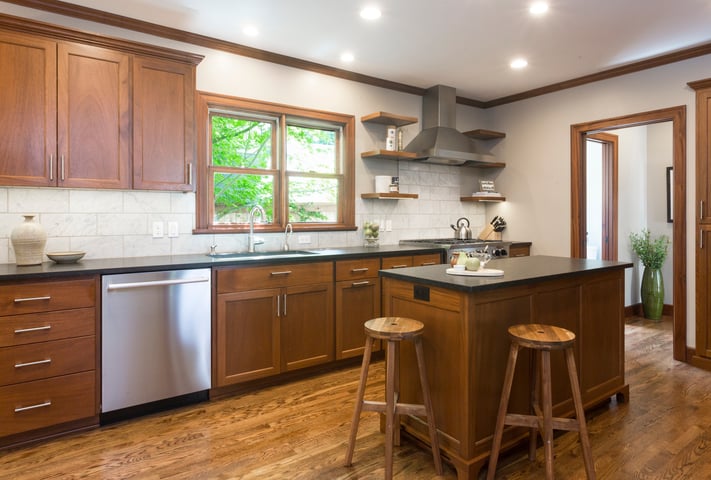 Grant Park Craftsman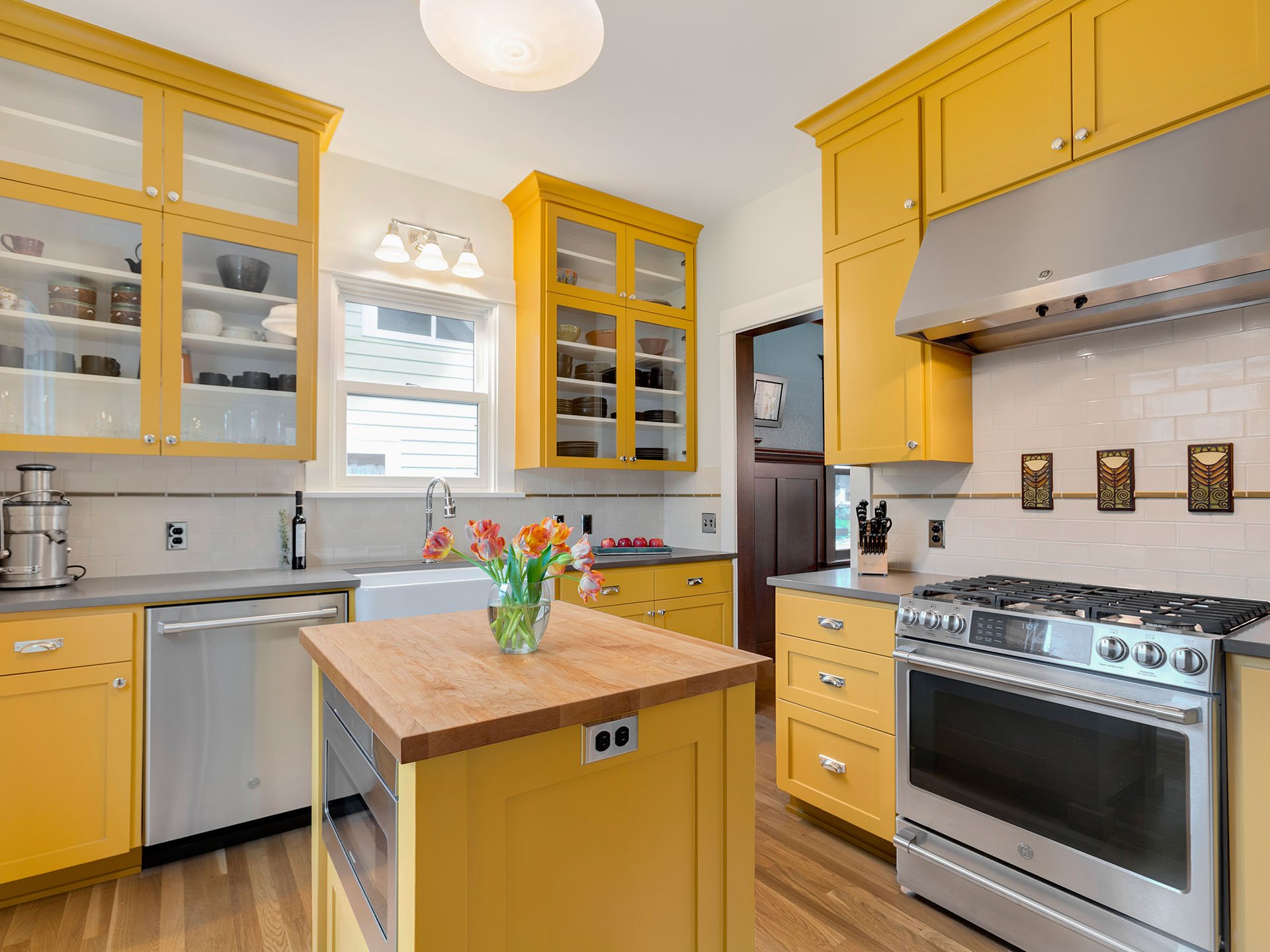 BONNY SLOPE TRANSITIONAL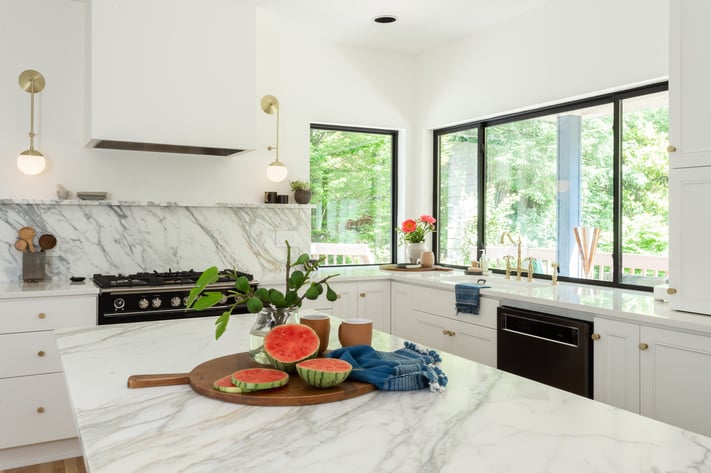 ---