You look around your kitchen, and all you see are needed improvements. Scratched cabinets and floors require replacing, your faucets have water stains, and past-their-prime appliances rattle in protest every time they're in use. Whether you want to fix up your kitchen for your family — or future buyers — the number of possible kitchen upgrades is almost limitless. But the same isn't true for your wallet. So, you need to prioritize.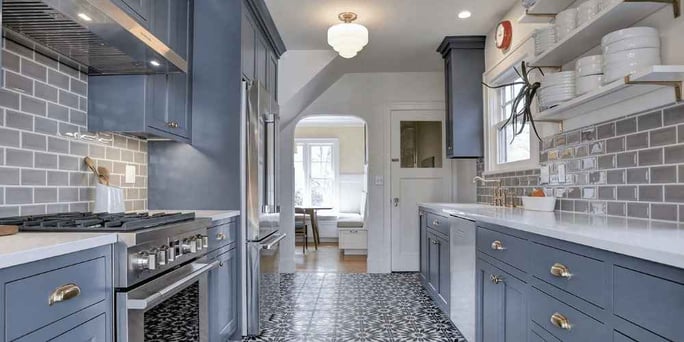 Meaningful Value
Prioritize upgrades by considering what you really need, what changes add value, and why you're remodeling your Portland-area kitchen. As you think about a kitchen remodel, be honest about your actual needs. Just because a "gourmet kitchen" sounds impressive, putting out the money for commercial-grade equipment isn't worth it if you're not spending significant time cooking, you have a small family, or you don't entertain much. If you're getting ready to sell your house, it doesn't make sense to pour buckets of money into top-of-the-line upgrades that you never get to use. On the other hand, well-thought-out improvements make your life in the kitchen less stressful and more enjoyable over the long haul; when you eventually sell, these improvements increase your kitchen resale value too.
Review these practical kitchen upgrades that add value for inspiration!
1. Open & Expand
Everyone enjoys a roomy kitchen - make yours more appealing by enlarging your floor plan. Enlarging isn't always an option due to spatial limitations; in this case, you can accomplish a similar effect by opting for an open layout. Open floor plans continue to be popular, and you can gain space by removing walls between your kitchen and other rooms without adding to your house. A good designer or architect can help you figure out how to improve the flow of your kitchen and expand its usable space to fit your lifestyle.


2. In-Kitchen Dining
Many of us use our kitchens for quick or casual meals. It might be to grab a cup of coffee and a bagel on the way to work or school. Or it might be a quick sandwich for lunch. Other times we might have a full sit-down dinner together that's simply easier and faster to serve in the kitchen. That makes both serving and clean-up a lot more convenient.
Think about remodeling your Portland kitchen to accommodate your various dining needs better. You'll want to ensure you create those options in your kitchen without sacrificing valuable floor space. Here are a few options you might consider.
Design Around a Conventional Kitchen Table: The picture you see above is one option you could choose. It allows a conventional seating arrangement around a table conducive to conversation. But it also keeps things casual and makes serving and clean-up easy. You'll want to keep the positioning of light fixtures in mind and allow enough space for chairs (and scooting them back).
Island Seating: Another option is adding a kitchen island with an overhanging countertop to accommodate chairs. An advantage of this option is that the space you create can serve multiple purposes. It can be an extra kitchen workspace and double an eating area.
A Built-in Booth: Another option could be building a booth in the corner of the kitchen. Booths are great natural conversation areas. That also makes them a great place to grab a cup of coffee with friends or family members. Plus, a booth takes advantage of awkward corners, which might otherwise go unused.
The option you choose, of course, depends on the layout of your current kitchen and how much you're willing (and able, due to structural limitations) to make significant changes, such as eliminating existing walls.


3. update floors, cabinets, & countertops
After about 10-15 years, most of the finishes in your kitchen have reached the end of their life. Wear and tear leave your floors, cabinets, and countertops shot. Plus, the aesthetic preferences you (or previous homeowners) had a decade or more ago might be out of style. Remedy these issues by focusing your kitchen remodel around updating.
For elements like flooring or countertops, you may need a complete replacement. We recommend marble or the increasingly popular engineered quartz for their ease of care, long life, and classy look. For floors, your upgrade choices include solid or engineered hardwood, luxury vinyl tile, stone, and ceramic tile. To maximize your storage and function, custom cabinetry is the way to ensure a kitchen that is perfect for you and your family!


4. Add an island
A kitchen island upgrade is almost necessary to achieve a desirable kitchen nowadays — everyone wants one! With room for extra seating, storage, appliances, and preparation space, adding an island is one of the best kitchen upgrades you can make. If you're lucky enough to have one already, you can update a kitchen island with new countertops or upgrade by installing a built-in microwave, sink, bar stools, or other helpful features.


5. Put in a pantry
Installing a pantry in your kitchen can be a real game-changer. By allowing you to store larger quantities of food easily — and bulky, seldom-used kitchen appliances — the rest of your kitchen will be less cluttered and feel more spacious. You have a couple of options when it comes to a pantry. Space permitting, you can install a walk-in pantry or add a pull-out pantry that's easily accessible. Whichever option you choose, make sure you include adequate lighting. More on that below!


6. Lots of light
Lighting is an essential factor in any kitchen remodel. Flood your kitchen with daylight, if you can, using windows, skylights, and solar tubes. And install enough lights to give you full illumination at night, plus task lighting in every area where you work. Under-cabinet lights make a big difference when working at a countertop. Lights inside the cabinets give a classy look and help you find what you're looking for. Finally, pendant lights and unique chandeliers add beauty and visual interest that instantly elevate your space.


7. trash & recycling
With recycling now ubiquitous, it makes sense to have a place to separate your discards as soon as you can. A three-compartment recycling and trash center that's hidden but easy to open — and clean — is invaluable in a remodeled kitchen.


8. Create your own Café
Coffee bars are showing up more and more in new and remodeled kitchens, matching people's insatiable desire for a caffeinated cup. Having a separate niche outside the main kitchen area allows you to keep all the paraphernalia in one place and keeps caffeine fiends from dominating the space.
start your Kitchen Remodel in Portland, Oregon
When you're ready to take the next step, start with COOPER Design Build.