The international recognition of Oregon as the producer of world-class wines over the past four decades has confirmed what Oregonians already knew: that the 725-plus winemakers in their state bottle some really great wines. If you're one of those aficionados of Oregon wine who has moved beyond buying a couple of bottles for the weekend into serious collecting, you might be considering having a custom wine cellar built as part of your planned home remodel.
At COOPER Design Builders, we have built a reputation over the past 25 years of turning the dreams of Portland-area homeowners into reality. Creating a custom wine cellar in your home would fall under our area of expertise.
Assess Your Needs
As you think about the possibility of adding a wine cellar to your home, determine what your true needs are. Do you just need a climate-controlled place to store a modest amount of wine? If so, you should research the high-quality free-standing wine refrigerators, the under-counter coolers, and small modular "wine rooms" that are on the market. COOPER could install such a unit in a kitchen, pantry, dining room, or bar.
If, on the other hand, your appreciation of Oregon Wine Country wines, as well as vintages from around the world, has led you to become a serious collector, we can design and build a custom wine cellar in your home.
How Will You Use It?
The type of wine cellar you create depends on how you want to use it. Will it be entirely utilitarian, or do you intend to use the room for entertaining? If your expectation is the latter, you will need counter space to pour the wine, attractive storage for glasses, and a sink for cleanup. You'll also want the room to be aesthetically pleasing; do a little research to see the beautiful wine rooms and cellars that have been created in people's homes.
Basics of a Wine Cellar
In general, the experts who know and love wine say that the ideal conditions for storing and aging wine are a consistent temperature between 55 and 60 degrees, although 45 to 65 is acceptable. The main point here is to avoid a lot of fluctuation. Additionally, the humidity should stay between 60 and 70 percent, although 50 to 80 percent is OK.
The room should be kept dark when not in use, and it should be built in a part of your home where vibrations are minimal. The room should be well-insulated, especially if it has outside walls, and fairly airtight.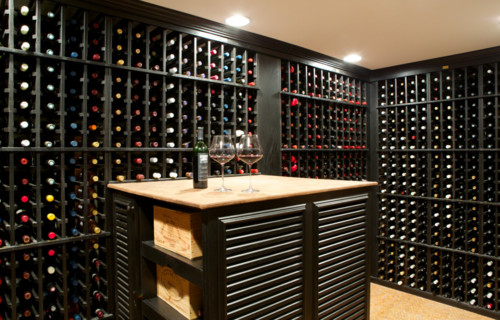 Cooling Options
There are three basic ways to keep your wine cellar at the cool temperature the wine will like. The option you choose will depend on your budget and the size of your wine cellar.


Self-contained, through-the-wall units
This smallest option is mounted through a wall in your wine room, with the back side exhausting into an adjoining room. That room should be roughly the same size as your wine cellar, a place where you wouldn't mind the noise and heat from the cooling unit, and a room that typically doesn't get warmer than 80 degrees—such as a furnace room, mechanical room, or unfinished basement area. A through-the-wall unit also could be installed on an exterior wall, but make sure it is rated to be effective in outdoor temperatures up to 105 degrees.
Ductless split system. A "split" system has two parts, like your home's central air conditioner, with the condenser and its heat and noise situated away from the room, possibly outdoors. The two units are connected by small copper tubing and electrical wiring, which feed the coolant to the evaporator mounted in the wine room's wall.
Ducted split system. This system is in two parts, like the ductless split system, except that the cooled air is delivered to the wine cellar through installed ducts, and the evaporator part of the system isn't in the room. You also can buy a ducted self-contained cooling unit that isn't split; it also delivers the cool air to your wine room through air ducts.
Other Considerations
The possibilities for racking systems seem endless, and you can really create a beautiful room with the wine racks you choose to buy or build. Here are some things to think about:
Much of the racking should keep the bottles horizontal, to keep the corks from drying out (and it's an efficient use of space, too).


Plan racks for different size bottles, from a 187.5 ml piccolo or split all the way up to a 4.5-liter Jeroboam or even a 6-liter Imperial.


Leave room at lower levels for cases, possibly on slide-out shelves.


Create an effect with lighting, including LEDs.


Consider a tall ceiling for expanded storage.


Along with the tall ceiling, you'd have to include a rolling library-style ladder.