Update: Following the event guidelines recommended by Oregon Governor Kate Brown this morning and in the best interest of our consumers' health and safety, we have made the decision to postpone this weekend's Tour of Remodeled Homes. We are exploring all options in regards to potential dates and ticket holder implications. We appreciate the support of our loyal audience, remodelers and sponsors, and we will be in touch in the coming weeks with updates on the 2020 Tour of Remodeled Homes. Thank you for your patience and understanding during these unprecedented times.
The Tour of Remodeled Homes is back for its 21st year in Portland. The tour runs March 13th and 14th, 2020- showcasing the latest trends in Portland home remodeling. The Tour of Remodeled Homes come to you from some of the best and brightest remodeling companies in the Portland-metro area, each of whom will be on hand to answer any questions you may have about the home you're touring! This tour is an excellent opportunity to view their completed work and interact with the teams behind the design. Each home on the tour is located in a different area, allowing for a unique, diverse representation of home styles that exist within the Portland metro area.
Homes by COOPER Design Builders
Home #3: Craftsman in Lake Oswego
We are proud to showcase two beautiful homes this year. The first home is a beautiful craftsman-era space in Lake Oswego. The house was reconfigured to include more space (and privacy!) for the homes resident teenager, and a kitchen refresh was accompanied by a generous, spa-like master bathroom renovation for our homeowners. The outside of the house transformed as well, bringing out the historical details of the craftsman era with a charming porch and a bright blue exterior.
Click here for FREE entry to home #3!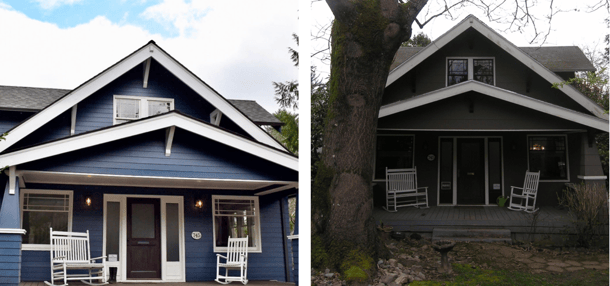 Home #10: Contemporary in Vista Hills
The second home on the tour is a (stunning) contemporary whole home remodel in Portland's Vista Hills neighborhood. While the entire home transformed, we're particularly fond of the open and airy kitchen- anchored by a sizable l-shaped kitchen island. In addition to a new, contemporary style in the main living areas- both bathrooms were updated to reflect the homeowner's modern, sophisticated style.
To view more photos of this home and to read about what the homeowners have to say, click here.
Click here for FREE entry to home #10!

The Details
When: Saturday & Sunday
March 14th & 15th
10:00am-5:00pm


Where: The Tour of Remodeled Homes is a self-guided tour throughout the Portland metro area from historic neighborhoods in Portland to beautiful Lake Oswego! Click here to view the official tour map.


Tickets: Tickets are $30 per person and are available at this link for purchase through the HBA.


COOPER Design Build Homes: #3 & #10
Each home is unique in its own way. It may be worthwhile to decide on which neighborhood or area of town you'd like to start with. Regardless of the home you choose to tour, first, you'll receive a magazine with a map to visit every home's location. The houses are on both sides of the river- (conveniently along the I-5 corridor)- but please plan accordingly for travel time throughout both days.


Each ticket grants you access to each of the 13 homes on both days of the tour.
Take Notes
See something you love? Don't be afraid to ask the remodeler! We suggest bringing along a writing utensil and a notepad to jot down any features or rooms you find inspiring. Taking photos with your phone or even an iPad could do the trick as well.
Talk with the Remodelers
The tour's featured remodelers and members of their respective teams will be on hand to discuss the vision they had for their projects and to provide expert advice on starting your renovation. For those who are planning on remodeling their home or might be in the interview phase of their remodeling research, the experience is an invaluable one! You may want to take notes of who you speak with throughout the day, and what you enjoyed most about their expertise.