Imagine yourself in a large, sumptuous spa. You're soaking in a bubble-filled bath, maybe listening to music, and gazing out at your surroundings. Luxury features dot a spacious room; rivulets of black and gray run down a marble accent wall; moisture-loving plants sprawl up fixtures and peek around corners. It's natural and serene, a man-made oasis of sorts.
Normally, you might have to travel to a spa for this type of experience; but that's changing in 2022 as bathroom trends center on creating this type of a spa-like environment in the home.
While these trends are a great source of inspiration for your 2022 bathroom remodel, keep in mind your ultimate priority shouldn't be to just keep up with the latest fads; it should be to adopt styles that fit your design preferences and enhance your bathroom long term. To help you with this, COOPER Design Build will break some of these trends down for you below and explain why they might be a valuable addition to your bathroom. And, of course, we'll also touch on a few outdated bathroom trends you should leave behind in 2022.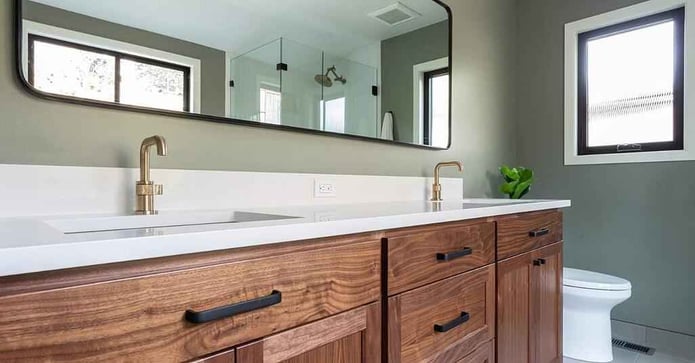 What's In
Wet Rooms
In keeping with the spa theme, wet rooms are becoming more and more popular this year. Common in transitional and European-style bathroom design, a wet room is a separate water-proofed section of your bathroom containing both your shower and tub. They are usually enclosed by glass walls, making your bathroom feel connected and spacious.
Wet rooms are also incredibly functional. You can transition from the tub to the shower seamlessly in a water-proof room — no more worrying about dripping on the floor when the droplets run down the tile floor and into the drain.
Biophilia
Biophilia is one of 2022's biggest buzzwords. In interior design, biophilia refers to creating interiors that feel connected to nature. You can do that in more ways than one — and not all of them require a green thumb! Of course, decorating with plants is one of the best ways to include biophilia in your bathroom. You can try the leafy philodendron or monstera; or for something more striking, try the hard-to-kill snake plant or Chinese evergreen.
If plants aren't your thing, you can still create biophilia by incorporating natural materials, colors, and textures. Marble is always in — especially so now — and other natural stones, such as slate or granite, are popular among bathroom tile trends. Green paint or nature-inspired wallpaper and decor also does the trick.
Striking Vanities
Your bathroom is no place for boring vanities. Try a spa-style bathroom vanity for maximum storage and elegance. Take things up another notch by incorporating a natural stone counter, touchless faucets, or a textured finish.
Atmospheric Colors
One of your main goals may be to create a relaxing bathroom atmosphere, but that doesn't mean you have to go for an underwhelming color palette. Add vigor to your bathroom design with colorful paint; natural hues like blue and green as well as lush darks and jewel tones are among the favored paint colors for bathrooms this year.
However, you don't have to cover your walls in color to embrace this trend. You can do something as small as swapping out plain metal fixtures and asking your designer for a modern bathroom with black fixtures (or fixtures of any color).

What's 'Out'
All-white Monochrome
All-white and gray-white color palettes always seem to dominate in bathroom design. These palettes are versatile and widely appealing, plus the white bounces light, brightening and energizing your space. However, even the most popular of trends must pass; as these palettes lost prominence, they've given way to various shades of color (as mentioned above) and a warmer version of the modern neutral bathroom.
Warm neutrals — cream, ivory, tan, beige, etc. — have the same brightening effect without feeling cold and dull plus are easily paired with other colors for a calming palette. Further accentuate the warmth of your space with another 2022 trend: plaster walls. Spreading plaster on your walls creates a soft, comforting texture and visual interest — even if the walls are neutral!
Bold Bathroom Tile
One bathroom trend to avoid is overly flashy tile motifs. These aren't appealing to everyone, so unless you're living in your forever home, we recommend going for something that's universally appealing.
Discover Your Bathroom Design Style
Trends can be wonderful to incorporate in your bathroom, but don't follow the trends just to follow the trends. Iidentify your own bathroom style. Then decide what trends will be a valuable addition.
The right design-build team will guide you through the design process and help you focus on your style along the way. This is COOPER Design Build's specialty; our team of in-house designers and builders work collaboratively in our design-build process with clients to facilitate a superior experience and product.