You're ready to update the look, feel, and perhaps, function inside your home. It's time to study your style preferences and learn about design options with staying power. There are numerous design trends to consider when it comes to creating a functional, stylish space that stands the test of time. In this blog, we'll explore the latest design trends of 2023 throughout the home, including bold statements, artisan wares, and incorporating abstract designs. Whether you're planning a major remodel or just want to refresh your space, COOPER is pleased to provide inspiration and ideas to help you create a home that you'll love for years to come.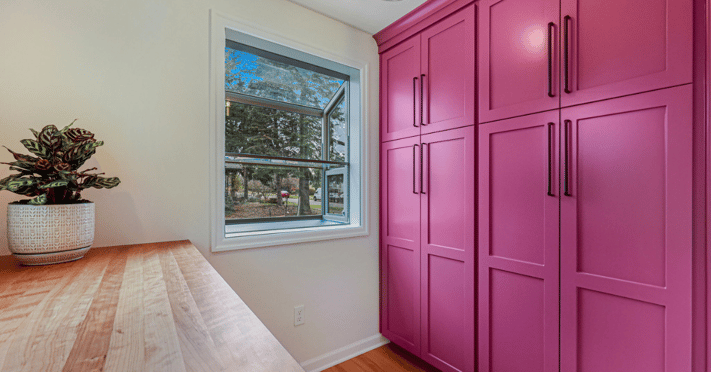 Adding personality
Homeowners are embracing their wild side. While many people opted for neutral design elements before, in 2023 they're choosing to show their personality in their design choices. Gone are the days when people focused on resale value; now, they want to feel like their homes represent who they are. Bold colors on cabinets and eclectic tile selections are all the rage. A person or family's charm is now represented in their homes. However, it can be important to work with an experienced designer to make sure these special features blend seamlessly with the rest of the home and decor.
focusing on artisan and hand-made elements
People are wanting to stand out and showcase unique showpieces in their homes, so they are turning to handmade and locally crafted items to add a personal touch and character to their spaces. The imperfections and individuality of handmade items are celebrated, adding an element of authenticity and warmth to modern designs. Even retailers are getting in on the trend by showcasing items that have a hand-crafted look and feel.
Need more design inspiration? Check out our gorgeous gallery.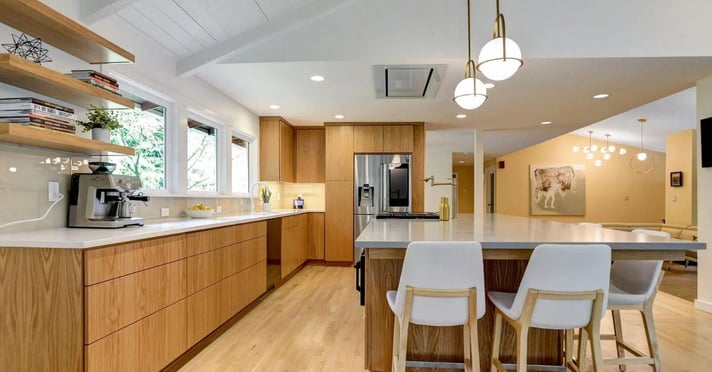 Keeping it Natural
Using natural materials like wood and stone to add texture and warmth to a room is a trend that's here to stay. They create a sense of connection to the outdoors and can help bring a calming and grounding feeling to a room to subtly boost your sense of well-being. Additionally, natural materials are often associated with sustainability, an important consideration for many people in today's eco-conscious world. As people become more environmentally conscious, sustainable and eco-friendly interior design practices are gaining popularity. This includes using recycled materials, energy-efficient lighting, and eco-friendly paint.
designing multi-functional rooms
The concept of multi-functional rooms has become increasingly popular in modern homes. As the way we live and work changes, homeowners are looking for spaces that can adapt to their evolving needs. A room that can serve multiple purposes, such as a home office that doubles as a guest bedroom, a living room that can be easily converted into a dining space, or a playroom that also functions as a workout area, allows for greater flexibility and efficiency in using a home's square footage. With careful planning and creative design solutions, a single room can provide the functionality of several spaces without sacrificing style or comfort.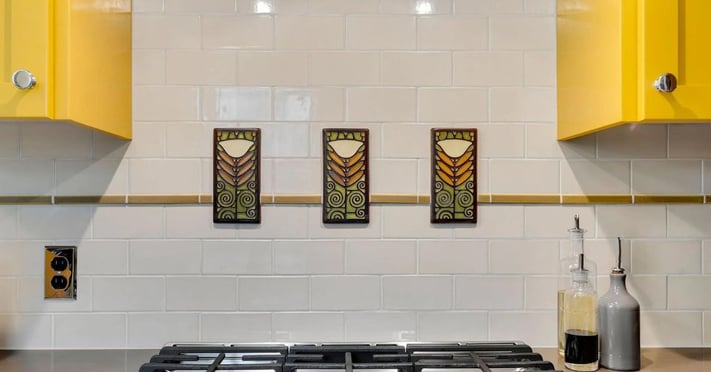 incorporating Abstract Patterns
Using abstract design in your home can add a unique and artistic touch that will boldly stand up against the years. Consider incorporating abstract art pieces, such as paintings or sculptures, that use bold shapes, colors, and textures to create a focal point in a room. You can also add abstract patterns and fabric textures in your throw pillows or rugs to add interest to a space. When incorporating abstract elements, it's important to balance them with more neutral pieces to create a cohesive look. Stick to a consistent color palette and choose pieces that complement each other to create a timeless and harmonious design.
creating intimate spaces
The trend towards open floor plans has dominated interior design for many years, but we are now seeing a shift towards more intimate spaces in modern homes. While open floor plans create a sense of spaciousness and flow, they can also feel impersonal and lacking in privacy. As people spend more time at home, they are seeking out cozy and inviting spaces where they can relax and unwind. This has led to a renewed interest in defined rooms and spaces that offer a sense of intimacy and seclusion. Design elements such as pocket doors, room dividers, and built-in bookshelves can create distinct areas within a larger space, providing the best of both worlds.
We want you to have all the necessary resources while you dream and plan. At COOPER Design Build, we are dedicated to turning your dream home into a reality with expert designers and builders who can bring your vision for your Portland home to life. Contact us today to start your remodeling journey.