The perfect design of the dining space in your Portland, Oregon, home depends on your lifestyle. Think about how your family gathers for meals — or doesn't. Do you usually catch meals on the run, and that's OK? Or do you feel it's important to have a time — and a place — set aside for eating together? Do you often have visitors over for meals? These considerations and more should go into your final design of the perfect dining space for your home as you plan a remodel or custom home build.
Tradition
We'll start with the traditional dining room. In the past, this space always was set aside in its own separate room until the open-floor-plan trend took over, merging dining areas with kitchens, family rooms, and more. If gathering with your family and friends in a more formal, sit-down setting is important to you, away from the distractions of TV and clutter, you'll love to have a space designed just for that.
This room usually is rectangular, and long enough for a large table to seat the whole crowd. It's close to the kitchen, so food and dirty dishes don't have to be carried so far. There should be room for a buffet or serving surface along the wall. Although the traditional dining room is set aside for dining, it doesn't have to be off-limits to other activities. The large table might be a perfect place for homework or projects where you need to spread out, and the fact that it probably will have doors to close it off will provide some privacy and quiet.
Open Spaces
The majority of homes built over the past couple of decades feature an open plan: a wide-open space with few internal walls containing the kitchen, one or more dining tables or counters, living room, maybe a second family room, and often a connection to an outdoor living space.
The benefit of such a plan is that it allows people doing a variety of things to stay in touch. The multitasking teenager can do homework or watch TV while remaining in contact with siblings or parents working in the kitchen. Guests can hang out nearby, out of the way, while the host prepares appetizers or a meal in the kitchen. Opening up your floor plan also can make a small house feel larger and bring in more natural light.
There are drawbacks to such openness: Privacy is limited, open sight lines mean all clutter is on display, and noise and kitchen odors travel unimpeded through that part of the house.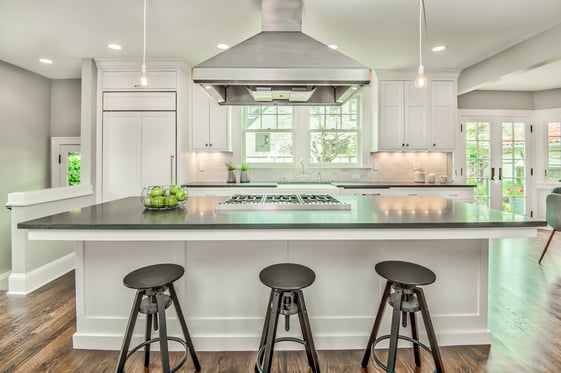 To effectively create a dining space in a home with an open floor plan, you need to find ways to set each area apart from the rest of the room. One way is to define your main dining space with a rug. You also can use furniture such as bookcases to divide the space. Lighting can be used to denote different areas with different uses — chandeliers, pendants, floor lamps, and track lighting.
You can even create a formal dining room in the midst of the less formal open area by your décor choices: dark wood on the table and chairs, a formal chandelier, dressy table linens and dishes.
Tucked In
In addition to the official dining area in an open floor plan, you can add a breakfast nook in a corner with banquette seating along one or two walls or just a smaller round table set in its own space with informal décor.
Pull Up a Stool
Another way to incorporate less formal seating in your multiuse area is to design a kitchen island or peninsula large enough to pull up several chairs or stools along one side. Even deeper islands or peninsulas allow seating along three sides. Because this counter space is part of the kitchen and will be used at times for food preparation — or homework — it needs good task lighting overhead. But be sure to make that light dimmable, for a change in ambiance when it's time for a more intimate meal.
Take It Outside
Another big trend these days is to create a space outside where you can share a meal with your family and friends. This might be just through the patio doors off your open kitchen/dining room. The outdoor dining area can be part of a full outdoor kitchen, if that's your thing, or just be close enough to the kitchen so that dishes and food can be carried there easily.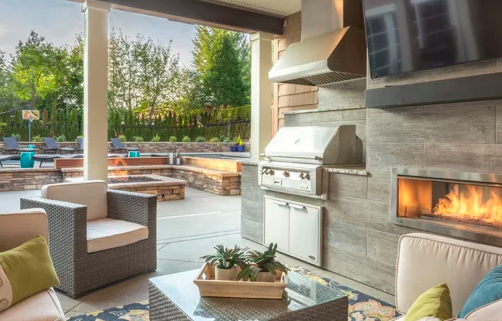 Storage
There's probably no such thing as too much storage space. When designing a dining room, be sure to provide places to stash dishes, silverware, glasses and mugs, tablecloths, place mats, and napkins. If you have attractive pieces you like to display, consider some open shelves and glass-fronted cabinets. In a closed-off traditional dining room, this storage can take the form of standalone buffets and cabinets along the walls, or built-ins. In an open dining area, storage can be found under the counters, along the walls closest to the dining areas, and in freestanding cabinets.
Whichever approach you choose for your dining area — open or separate — it will be perfect for your family if it works with the way you live.