Embarking on a whole-home remodel in Portland, Oregon opens up a world of possibilities to transform your living space and create an aesthetic that truly reflects your personal style and supports your lifestyle. With the expertise of a design-build firm, you can revamp every aspect of your home, from layout and functionality to finishes and decor. In this guide, we'll explore the key elements of a successful whole-house remodel and offer valuable tips to consider along the way. Whether you're seeking a bright and bold contemporary look or a cozy retreat with unique spaces for your hobbies and interests, your dream home design awaits.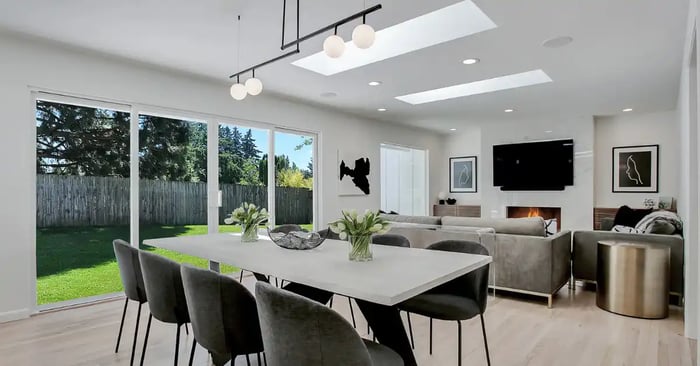 Our Top Design Tips for Whole Home Remodels
Embracing Personalization and Functionality
A whole-house remodel allows you to tailor your home to your specific needs and interests. Gone are the days of cookie-cutter designs. Today, homeowners are looking to create spaces that are not only aesthetically pleasing but also highly functional and personalized. One growing trend is the inclusion of home gyms, which have remained popular even after the pandemic. Transform a spare room or basement into a fitness haven, complete with state-of-the-art equipment and motivational decor. We also see steady demand for extra office spaces, allowing individuals to continue working remotely. These dedicated work areas can be designed to promote productivity and comfort.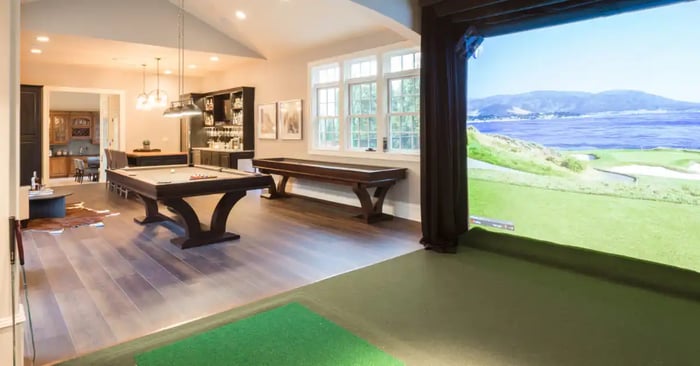 Get Ultra-Customized for Hobbies and Passions
In addition to home offices and gyms, consider incorporating rooms or spaces that cater to your personal interests or hobbies. For example, gardening enthusiasts can create a dedicated gardening space with a potting area, seed storage, and shelving for equipment. Craftsmen or artisans might opt for a metal shop in the garage to pursue their passion for knife-making or a sewing room for creating wearable masterpieces. For pet lovers, a dedicated pet care room can be a unique and convenient addition to the home. (Yes, COOPER Design Build recently built a magnificent cat feeding room!) Rooms with dog washing stations are also a popular choice.
Include Bright and Bold Design Elements
If you want to make a statement with your whole-home remodel, consider incorporating bright and bold design elements. One popular way to achieve this is through the use of vibrant wallpapers. Transform small spaces like hall bathrooms or entryways into visually striking areas by adorning the walls with bold patterns or colors. This technique adds personality to otherwise overlooked spaces and creates a memorable experience for guests. Additionally, consider integrating unexpected cabinet colors into areas of your home, such as an office or a cozy reading nook. Dark cabinets, like midnight blue, add a touch of elegance and create a dramatic contrast when paired with lighter surroundings. To further enhance the impact of these bold design choices, you can paint the ceiling the same color as the cabinets, creating a cohesive and visually appealing look.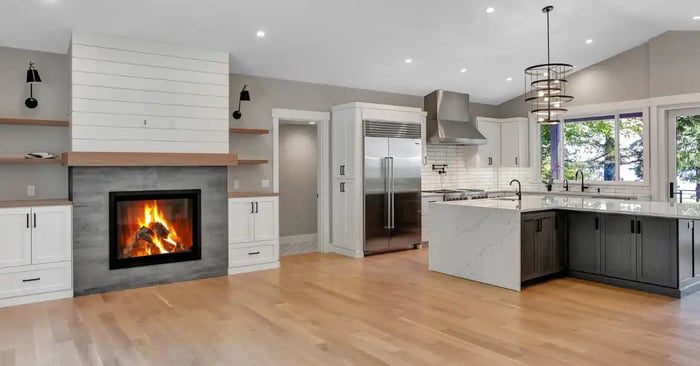 Catch Up With The Evolution of Kitchen Design
The kitchen has always been the heart of the home, and with a home remodel, you can reimagine its design and functionality for today's patterns of use. Traditional kitchen layouts centered around the "kitchen triangle" focused on the sink, stove, and refrigerator. However, the current trend is shifting toward a more dynamic approach known as "zones." This design concept divides the kitchen into different functional areas or zones, each serving a specific purpose. For example, you can designate a prep zone with ample counter space and storage for ingredients and utensils, a cooking zone with a range or cooktop, and a serving zone with a spacious island or peninsula where meals can be plated and served. By adopting this zone-based approach, you optimize the efficiency and flow of your kitchen and create visually appealing spaces that cater to different activities.
Create Storage and Private Prep Space
A whole home remodel also allows you to expand or create a walk-in pantry or baker's (butler's) pantry. These additions provide valuable storage space and provide convenient prep areas to keep your entertaining area clutter free and your work zone out of sight. A walk-in pantry provides ample storage for non-perishable items, small appliances, and even a secondary refrigerator or freezer. If your layout allows, consider a "Costco door" to easily unload straight from your vehicle into the pantry.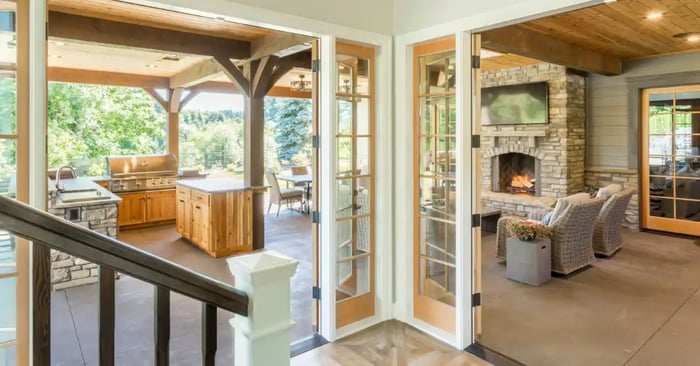 Outdoor Living Integration
Portland's natural beauty and pleasant weather make outdoor living spaces a highly sought-after feature. One way to enhance your whole-home remodel is by seamlessly connecting your indoor and outdoor living areas. Consider installing large French sliding doors or panel doors that open up to your backyard or patio, blurring the boundaries between the interior and exterior. This integration creates a seamless transition and allows you to enjoy the best of both worlds. Whether you're entertaining guests or simply relaxing with a book, these expansive doors provide a sense of openness and allow natural light to flood your living spaces.
Cozy Nooks and Private Balconies
You can create cozy nooks and quiet places when you redesign your home's layout. Another popular outdoor feature gaining traction is the addition of coffee balconies off primary bedrooms. These small, quaint outdoor spaces provide a serene and private retreat where you can sip your morning coffee or unwind in the evenings. Coffee balconies not only add charm to the exterior of your home but also serve as an extension of your personal sanctuary, allowing you to enjoy the fresh air and beautiful views from the comfort of your bedroom.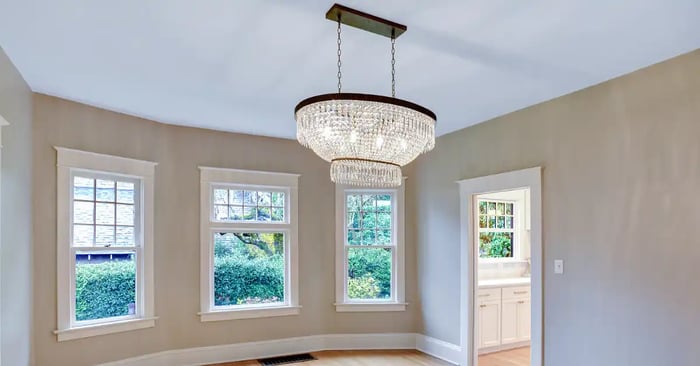 Lighting as a Statement
Your whole-home remodel presents the opportunity to reimagine how you light your space. It can transform a room's ambiance, highlight architectural features, and create focal points. To make a statement with your lighting choices, consider incorporating interesting and unique light fixtures. Pendant lights, chandeliers, and wall sconces with eye-catching designs can serve as conversation pieces and become the focal points of your living spaces. Whether you opt for sleek and modern fixtures or vintage-inspired pieces, the key is to select lighting that aligns with your overall design aesthetic and complements the surrounding elements. Additionally, pay attention to the placement of lighting fixtures to ensure they enhance the functionality and atmosphere of each room.
In the midst of this thrilling journey, COOPER Design Build stands ready to guide you through every twist and turn, ensuring your vision becomes a tangible reality. From personalized spaces for hobbies and interests to embracing bright and bold design elements, the possibilities are endless. Contact us today and let's embark together on the exhilarating path toward your dream home—where imagination has no bounds and the essence of your unique spirit is forever embedded within its walls.