Sometimes you want a little more space in your home, but you don't want to go through the cost and complication of a full addition. In this case, a bump out is a great idea, especially in the kitchen. A bump out extends one wall of the home for a specific length, usually just enough for one room. It's easier because it doesn't usually require you to rebuild or extend your foundation. Bump outs can be perfect for rooms that typically have limited space, particularly in older homes. These five ideas can help you re-imagine your kitchen in a completely new way.
1. Modernize Older Homes
Since older homes tend to be smaller than the average new home, the kitchen usually has smaller dimensions, too. This is especially true for houses that are more than 100 years old. When you're thinking about how you can expand without losing the home's exterior appearance or charm, a bump out offers a relatively seamless choice. This way, you have all the room you need for a double oven, dishwasher or storage. It can also help your home compete with the rest of the neighborhood, if you're planning to sell sometime in the next few years.
2. Improve Lighting
If you feel like people didn't recognize the importance of natural lighting in decades past, you're not alone. Many kitchens in cookie-cutter homes from the 20th Century–and plenty from more recently, too–only had one small window in the kitchen. Ostensibly this was because you needed more storage in upper cabinets, but in reality, it's just dark.
A bump out can extend the perpendicular walls to give you the space you need, while giving you a great opportunity for large, dazzling windows. You can cut back on the light fixtures and take advantage of a better view.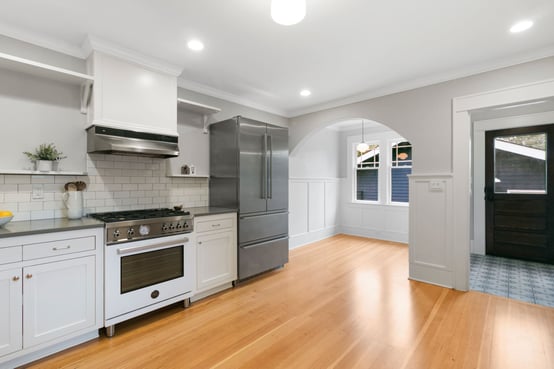 3. Create More Workspace
Ask anyone how much countertop space they need in the kitchen, and they'll probably tell you more. This is because if you really want to do a lot of food preparation, you're going to run out quickly. You'll use even more if you rely on an island or snack bar for dining or letting the kids do their homework. A bump out could be as little as two feet deep. That's the perfect depth to significantly extend your countertops and save some money for a high-end surface material. With the extra space, cleanup and switching tasks will be easier, too.
4. Make Room for Two
Plenty of couples like to work together in the kitchen, but most layouts don't make it practical. If you're constantly bumping into each other, it's time to consider building in separate workstations. Bump outs give you room for a spacious island. This means that one of you can be cooking while the other is preparing, and you could even have your own sinks. Custom storage tailored to each person's interests puts everything within your reach, without having to fight for access to the spice cupboard or tool drawer.
5. Build Space for Entertaining
Most modern homes did away with the formal dining room, which means that a lot of families eat in the kitchen as well as cook. While a small snack bar or breakfast nook might be enough for the day-to-day, it fails at the point of entertaining. A larger bump out can give you space to sit and move around. Everyone can get to their own seat without having to file in line, and there's room for the whole party.

If you're feeling stuffed in your kitchen and it's not because of the great food, it might be time to think about a bump out. With these ideas and the experts at COOPER Design Build, you can turn your kitchen into the fun and functional haven you deserve.