You love your location, but you're ready for a home that supports your needs and style. The prospect of a whole home remodel can be exciting—even if many aspects are relatively unknown at the start, including the cost. Below is a look at a few average prices of remodeling jobs that are typically included in a whole-house remodel. Keep in mind that the figures below are based on collective data for the Portland metro area; actual figures may vary depending on what you've got in mind and where you're located. A design-build company like COOPER Design Build can give you a more personalized idea of what such a makeover could cost for your home. We have a long history of creatively remodeling and expanding homes in the Portland, Oregon area.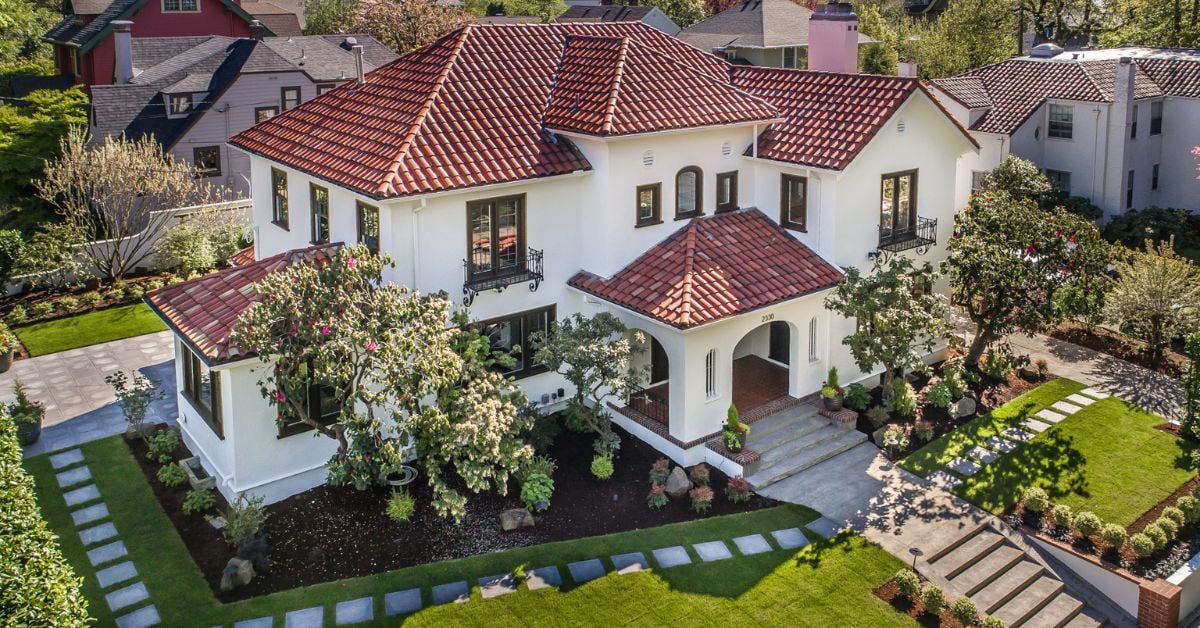 Every year, Remodeling Magazine publishes its annual Cost vs. Value Report, which provides informative estimates about remodeling projects across the country. The following list of projects assumes a major remodel of your home. More comprehensive remodels would, of course, run higher. A good budget for your whole home remodel will depend on what you've got in mind. That's why we provide ranges and give examples of the kinds of projects accomplished with this budget.

Primary Suite Addition
A 32-by-20-foot upscale primary suite addition has room for luxuries for your daily routine. With the extra space, you've got room for a sitting area, and a fireplace for those cold, windy nights. Although you'll love the walk-in closet and built-in bar setup, the bathroom is where this project really shines. All high-end Calacatta marble, if that's your preference. You'll feel like you live in a high-end hotel when you soak in the freestanding tub or wind down in the shower. Average costs for upscale primary suite additions land somewhere between $350,000-$500,000+.
Bathrooms in Your Whole Home Remodel
You may want to add a bathroom or upgrade your bathrooms as part of your whole-home remodel. Expanding an existing bathroom to 100 square feet and using upscale fixtures and finishes costs less than adding an entirely new luxury bathroom. Add an opulent guest bathroom, create a perfect powder room, or add another bathroom to ease the tension among the kids during the morning routine.


Major Kitchen Remodel
Get beautiful and exciting materials like marble, imported ceramic tile, quartz, or colored concrete. Everything is designed for the professional chef, from the high-end appliance packages and custom cabinets to the small details like faucets and cabinet hardware. Your high-end kitchen remodel will cost $150,000-$250,000+.
How Much Would a Whole House Remodel Cost?
The cost of a whole home remodel depends on the rooms you want to remodel and the types of upgrades you expect. If you're not sure about the advantage to remodel your entire house at once, think about it as a single structure that deserves to look like everything fits together. When you remodel piece by piece, you may end up with rooms that don't flow gently, or layout issues that don't as work well as the decades pass. A whole-home overhaul considers the home in a way that fits your life now, as well as what you want it to be in the future, and creates a full house layout that actually works for you. You'll end up with a cohesive look and function that feels totally different, perfectly tailored to the way you want to use it. Expect to pay between $400,000 and $800,000+ to remodel your entire home at once.
Want to know more about the benefits of hiring an expert remodeling company for your project? Meet our team to learn more.


How Long Does a Whole House Remodel Take?
As a general rule, you can expect to spend at least nine months on your whole home remodel, from the start of design to the finish of construction. As you consult with remodeling contractors, be sure to ask about an expected timeline. Don't forget that the time for your project may not include the time you need to get on the schedule. That's why you should start early, and pick a time for the project that fits with your needs and your schedule. A whole house remodel is a big project, and it will change the way you live for a time. Where you'll live and how you'll manage are among the most important things to think about when planning a whole house remodel.


How Much Does It Really Cost to Remodel a Home?
If your research leads you to a range so large and feels like you're not getting anywhere, you're not alone. That's why you need to have your project assessed by the professionals you consult. You're not likely to get an accurate basement remodel cost breakdown by searching online, especially not one that takes your existing basement into consideration and fits everything that you plan to do with it. There are lots of ways to manage a budget during a whole house remodel, and you could easily double the price by choosing the most upscale materials and designs.


Should You Buy a New House or Remodel?
The decision to buy a new house or remodel is highly personal and related to your needs. The good news is that there are a few ways you can tell which way you're leaning. If you love your neighborhood–your neighbors, the kids' schools, the street at sunset, your easy commute, or that lovely tree in the backyard–you may be in a good place to remodel. By comparison, if you don't love the neighborhood, or if your lot makes it difficult to remodel or expand, you may want to consider both options to see which one works best for you. Consider more than your up-front costs. Remodeling could save you money in the long run if you're purchasing an existing home that will soon need repairs.
Although room remodel cost is a big factor in your decision-making, it's important to focus on your comfort and contentment as well. As your whole house remodel designers and contractors, COOPER Design Build is prepared to help you get the most out of your home in the Portland area, now and in the years to come. Schedule a consultation today to get started!