More than three-fourths of Americans over age 50 say they want to stay in their own homes as they get older, but only 1% of the nation's housing stock includes features designed to support aging in place safely and comfortably. If you're considering a remodel of your Portland-area home, it's the perfect time to build such features into your plans. Failing to accommodate your future needs signs you up for another remodel down the line.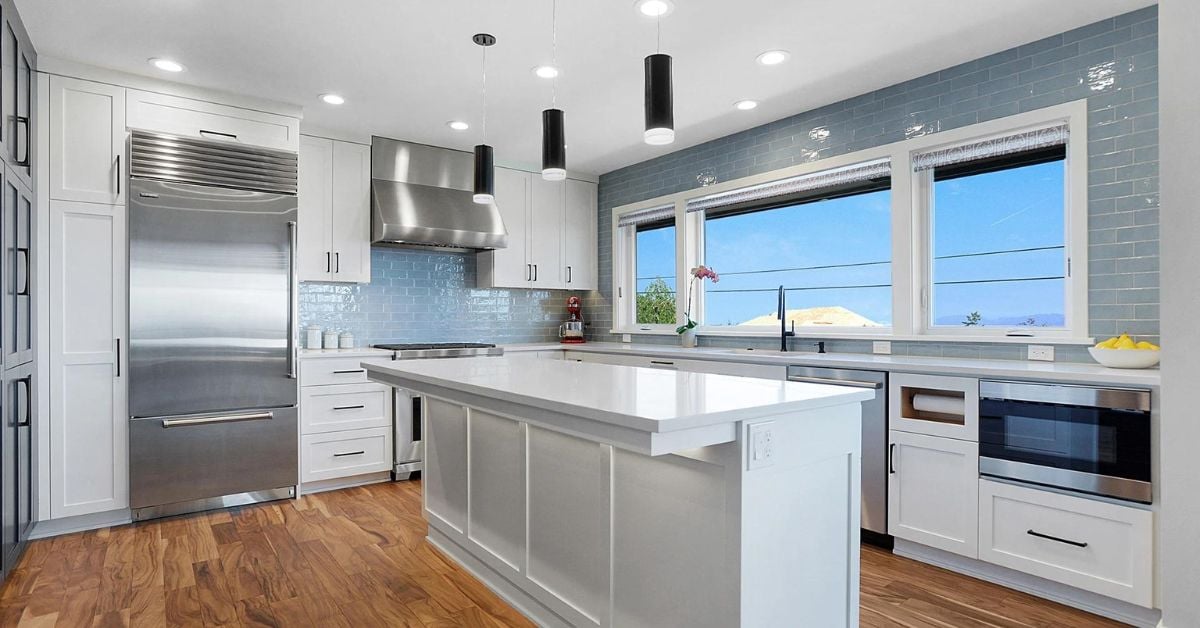 Jump To:
Polls continue to show that most older Americans want to age in place, preferring to stay in their homes and their communities rather than move to a retirement home, assisted-living facility, or nursing home. To make that possible, homeowners are turning to remodeling professionals to make their houses safer and easier to occupy as their vision and mobility change with age.
A number of structural changes can make aging in place possible, with modifications ranging from the minor, like changing light switches, to the major, such as building an accessory dwelling unit or in-law suite on the property to house a caregiver. The best time to think about aging in place is before you encounter barriers to staying in your home. That means planning ahead and thinking about the different issues involved in living safely, comfortably, and independently in your home and your community.
Below we've compiled a helpful guide of general home and bathroom features to help you comfortably live in your home for years and years to come.
What Are Universal Design Features?
Incorporating beautiful, seamless universal design features is becoming more common in new-home construction and whole-house remodeling. These features, such as flush thresholds, lever door handles, and non-slip bathroom surfaces, accommodate people with limited mobility but also make living in a home easier for anyone—thus the term "universal." Below are a handful of popular universal design features so you can age in place comfortably and stylishly.
Remodel your home to ensure that the primary bedroom is on the main floor, as are the kitchen, dining area, and main bathroom to avoid stairs.

Modify entryways to make them transition-less: create a seamless walk from the driveway to the front door and into the home, with no steps or raised thresholds, as well as flush thresholds between rooms inside the house to make movement easier for people using wheelchairs and walkers and to reduce tripping hazards for those with limited vision.

Widen the front doorway and doorways between rooms in the house to 36 inches for wheelchair access

Widen hallways to 36 to 42 inches wide, to allow wheelchairs to maneuver and people to pass easily.

Design your layout and arrange furniture so that there's ample floor space to allow people in wheelchairs to turn and move.

Throughout the house, install non-slip floors such as textured tile, and remove throw rugs. Floors without carpeting or with commercial, wheelchair-friendly carpets make rolling easier.

Replace standard light switches with rocker switches, which are easier for everyone to operate with just a bump of the hand or elbow. Lever door handles also help people with reduced hand strength or dexterity.

Good lighting becomes more important with age; incorporate more natural lighting and install adequate lights throughout the home and outside to illuminate every workspace.
---
Remodeling Your Kitchen to Age in Place
If you're in the planning stages of a kitchen remodel or a whole-home remodel, this is the perfect time to research ways you can make aging in place safer and more comfortable for older adults without sacrificing your vision.
The kitchen is filled with opportunities to make aging in place easier. The goal of this kind of remodel is to reduce bending over, reaching, and falling. Here are some key modifications that you might incorporate into your new kitchen; talk to your designer or builder to find out which ones are feasible for your space and your budget.


Countertops
There are a number of modifications that you can make to countertops to help people with limitations and provide options that work for all. To accommodate someone in a wheelchair or who needs to sit while working, include counters that are 30 inches high, plus 42-inch-high countertops for people who can't stoop, in addition to the standard 36-inch counters. Round the corners and any sharp edges. If you are building to address an immediate mobility concern, consider grab rails in multiple places along the countertops. You'd rather grab the bar than a hazardous appliance if you lose your balance.
Elements to Consider:
A retractable counter that pulls out beneath a wall oven gives you a place to set hot dishes as they come out of the oven.

Smooth countertops make it easier to slide heavy pans from one place to another, reducing the need to lift. Minimizing joints or grout lines also makes for easier cleaning.

Using a different color for the edges of countertops will help someone with diminished vision identify the edge of the countertop.

Build-in grab rails in multiple places along the countertops. You'd rather grab the bar than a hazardous appliance if you lose your balance.


Cabinets
Storage solutions are vital for accessibility. Upper cabinets should be installed 3 inches lower than normal, to make it easier to reach the items inside. You also can raise lower cabinets 6 inches off the floor to reduce bending. Pull-down shelving systems in upper cabinets bring items into easy reach, and pullout shelves in lower cabinets achieve the same result.
Large drawers hold all sorts of kitchenware, in an easier-to-access place. Some certified aging-in-place specialists recommend including open shelving in the kitchen for frequently used items, eliminating the need to open cabinet doors, and making it easier for people with memory or vision impairments to find things.
Elements to Consider:
Pullout shelves increase the accessibility to items in lower cabinets.

Pull-down shelves do the same for upper cabinets.

Large drawers can hold more than just flatware and utensils.

Cabinet shelves should be no deeper than 10 inches.

Blind-corner cabinets are notoriously hard to access, especially for someone who doesn't relish getting on hands and knees. Use one of the creative accessories available, such as a Super Susan or half-moon swing-out shelving.

D-shaped handles on cabinets and drawers are easier to grip than knobs.

Lower cabinets can be raised 6 inches off the floor, and uppers can be brought down a few inches.

Open shelving for frequently used items eliminates the need to open cabinet doors and can make things easier to find for people with vision or memory impairments.


Sinks
There's no reason to modify everything but the kitchen sink. You have many options for making your sink easy to use for many years to come. Believe it or not, motorized sinks are available that will rise or lower with the push of a button to the level best suited to a person in a wheelchair or someone standing. Additionally, allow leg room near the sink for wheelchair users. That opening can be covered by cabinet doors if desired, or included in the design with a pedestal or floating vanity. Even if you don't spend the money on an adjustable kitchen sink, experts advise installing a shallow sink—6 or 8 inches deep—so you won't have to bend over so much to reach dishes in the bottom. To make it easier to turn the water on and off, install a hands-free or lever-handled faucet as well as an anti-scald device.
Elements to Consider:
A shallow sink 6 to 8 inches deep keeps you from having to bend over as much.

Leaving a space beneath the sink will allow someone in a wheelchair to use the sink.

Hands-free or lever-handled sink faucets make life easier, as does a faucet mounted on the side of the sink, closer to the user. Pullout sprayers also help.

Anti-scald devices are available to prevent burns at the sink.


Appliances
For ovens, the name of the game is the appropriate height. Install a wall oven so that you don't have to bend over to reach into .it for hot dishes. Additionally, an oven with a door that swings sideways is safer to access. Slide-out counters are available to install under the oven on which to set hot dishes before moving them to another place. Cooktops with controls at the front are easier to use, and large displays are easier to read.
Cooking appliances should have auto-shutoff features. A dishwasher installed several inches off the floor reduces bending, and drawer-style dishwashers are available for installation just under the countertop. Side-by-side refrigerators with deep doors put more items within reach.
Elements to Consider:
A microwave at or below the height of your counter eliminates reaching up for heavy, hot dishes and is accessible to someone in a wheelchair.

Stoves and cooktops with controls at the front are easier to manage, and large displays are easier to read.

Auto-shutoff features on cooking appliances increase safety and reduce fire hazards.

Oven doors that swing to the side are easier and safer to use, and a wall oven can be mounted at any height.

A dishwasher elevated off the floor is easier to reach.

An ultra-quiet dishwasher reduces background noise that might affect someone with a hearing impairment.

A pot filler next to the cooktop eliminates the need to carry a heavy pot full of water from the sink to the stove.

A side-by-side refrigerator with large storage spaces in the doors can be easier to access, and good lighting inside makes a big difference.

Long door handles on the refrigerator can be gripped from high and low.


Lighting
Be sure to incorporate as much natural light as possible, using windows, skylights, and solar tubes. And when the sun isn't shining, you'll need plenty of ambient lighting as well as adequate task lighting in every work area.
Under-cabinet lights help, as do lights inside the cabinets to make it easier for someone with limited vision to find items. Light switches—rocker style—should be installed at the entrances to the kitchen. Motion-activated lights are even better.
---
Remodeling Your Bathroom to Age in Place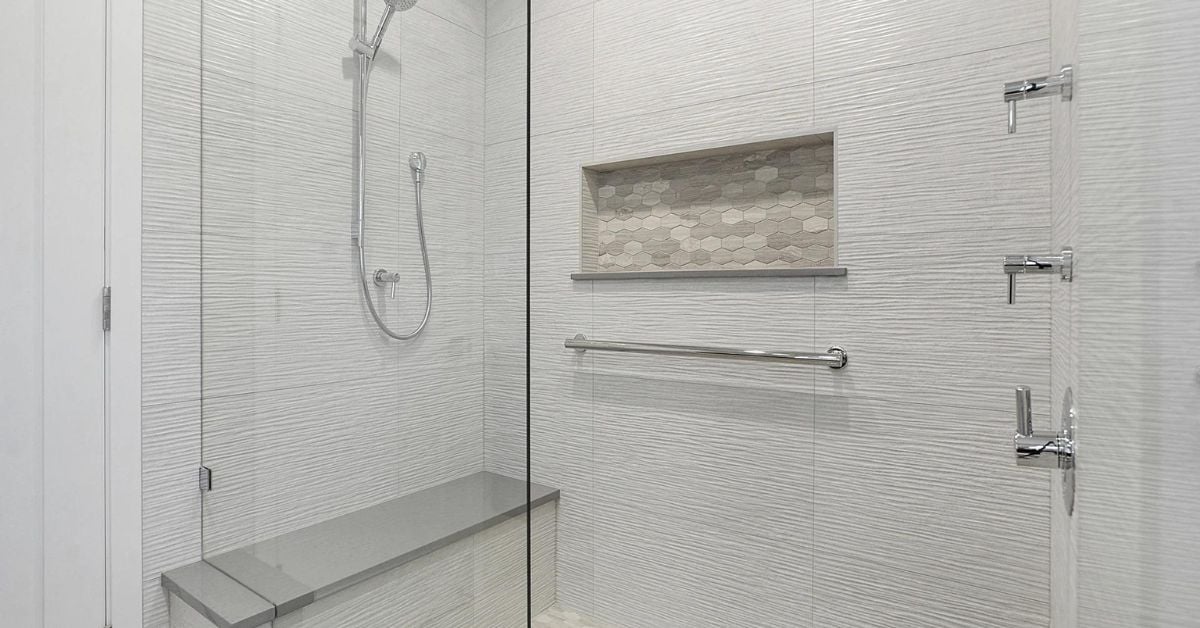 Your remodel to support your plan to age in place doesn't have to look institutional. Many of the modifications to create an accessible bathroom aren't obvious, even as they make it easy for you to reach and access everything you need. Here are some ways you can "age-proof" your bathroom and, incidentally, make it more convenient to use for anyone.
Grab bars- Grab bars in strategic places — inside your shower and near its door, and next to the toilet — are critical for balance. You can buy grab bars disguised as towel racks, shower shelves, and even toilet paper holders. They come in different finishes to match and complement your bathroom hardware. Your bathroom furnishings shouldn't look like they belong in a hospital or nursing home. The walls where the grab bars are to be installed should be reinforced to take the weight
Roll-in Shower- Consider a roll-in shower with a collapsible rubber water dam or no threshold at all— just an appropriately sloped floor to help keep the water flowing toward the drain. The shower should have a seat that's either built-in or drops down, to the right height and size to make bathing while seated easy. Other ideas for the shower include water controls that are easy to adjust, an anti-scald mixing device, and a handheld shower extension that you can use while seated or that a helper can employ while standing outside the shower.
Tubs- Walk-in tubs seem to be all the rage right now, and they have benefits over a regular tub, which can be hard to climb into and out of. But do some research before you invest. A slide-in tub, similar to a walk-in, might be a better choice, or a bath chair lift.
Toilet & Sink- When it comes to toilets, vanities, and sinks, think "comfort height." Having a toilet that's a little bit taller, say 17 to 19 inches from seat to floor, makes it easier to sit down and stand back up or to transfer from a wheelchair. If you're remodeling your bathroom, consider installing one sink that's low enough for someone in a wheelchair to use, with an open space below for the user's legs and chair. A second sink can be put in even higher than usual for a taller person who has trouble bending over. Counter materials that have a contrasting color on the edge make it easier for vision-impaired people to see where the counter ends. The faucet controls at the sink should be single-handle lever style or touch-free with sensing technology
Switches & Handles- Rocker light switches are easy for everyone to use and can be activated even with a bump from an elbow. Along that line, lever door handles make access easy, and D-shaped drawer and cabinet pulls are easier to grab than knobs.
Wide Spaces- Doorways should have 32 inches of clear space, meaning the door should be 36 inches wide. The door should swing outward, so if someone were to fall against it inside, helpers still would be able to open it from outside. The bathroom should have enough room for a wheelchair's 60-inch turning radius, or a 36-by-36-inch or 30-by-48 space for a T-turn by a wheelchair.
Lighting- Additional lighting, either natural or from strategically placed fixtures, always is a good thing. Include a light inside the shower. Also, consider motion-sensor lights that turn on when you enter the bathroom.
Flooring- Because the bathroom floor so often gets wet, choose a nonslip floor covering. Do some research; each choice, from rubber to linoleum to hardwood to cork, has its own pros and cons.
---
Talk to Us
At COOPER Design Build, we are happy to be your aging-in-place remodelers. We have the ideas and the experience in building and modifying homes to make it possible for you to stay in your house in your golden years. Contact us, and we can talk about your needs.