People love stuff: food, clothes, tools, decorations — you name it. Stuff helps us accomplish our goals. It gives us nourishment and safety. The sillier stuff makes us happy. But, it's possible to have too much of a good thing. With only so much space in their home, many homeowners discover this truth for themselves.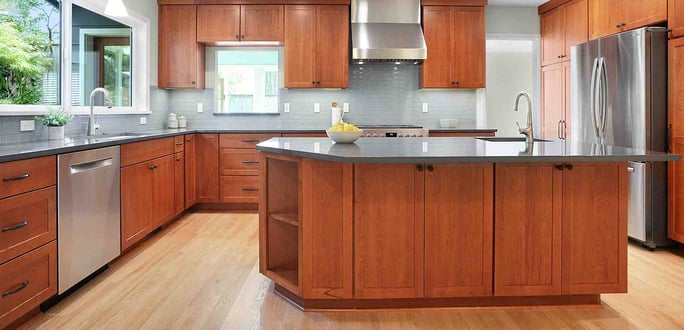 When you run out of room, the stuff you used to love and regularly utilize gets shoved into the abyss of a dark corner cabinet, closet, attic, and, if you're really desperate, under your bed and above shelves. Left unchecked, stuff piles up until your house becomes overrun with clutter. Your once lovely and relaxing home becomes an obstacle course of teetering paper piles, closets you can barely shut, and junk drawers that make it impossible to find what you want.
It's time to reclaim your space. With a home storage renovation, you can.
Start with these tips for creating space-efficient houses with remodeling from COOPER Design Build.


How Do I Maximize My Home Storage? Six SPACE-SAVING Ideas
Space-efficient home design is about figuring out how to turn every unused available nook and cranny into functional storage for your family. It's a feat that requires a lot of imagination, technical savvy, and, often, custom storage solutions; it's not something you can do on your own.
We recommend the design-build remodeling process as the best way to customize your home to your storage needs. What makes a design-builder different is that they take the time to get to know your lifestyle, listen to your storage woes, and create a design that solves your problems while enhancing your quality of life. That's a win-win!
Before you start shopping around for design–builders, it's helpful to understand your available options. Here are some of the best storage investments you can make:


Custom Kitchen Cabinets
Ever open up a cupboard only to have your storage containers topple over and bop your head on the way down? Not only is this dangerous, but it's also downright annoying. Custom cabinetry is here to help. You might install a lazy Susan in the corner cabinet to ensure everything is easily accessible. Drawers and cabinet dividers can create personalized spots to keep your dishes, cutting boards, utensils, and food containers beautifully organized. You can make drawers extra deep, so storing large pots and pans is a breeze. It's also a good idea to consider making your kitchen cabinets extra tall, so they go right up to the ceiling instead of leaving dead space above that just collects dust bunnies.
You can also use the space between and under your cabinets. Toe-kick drawers are a great way to squeeze in an extra bit of storage, as are skinny pullout drawers that fit between your counter and appliances.


a Walk-in Pantry
A walk-in or butler pantry is a must-have to keep your kitchen uncluttered. Pantries are the perfect place to store special kitchen appliances or tools you don't regularly use, collect cans for recycling, and stockpile extra food (with plenty of hungry bellies to feed, you'll need those extra snacks sooner rather than later!). You can even include an extra countertop for preparation, more cabinetry, or simply keep the space organized with copious shelves.
Laundry Room Organization
Laundry rooms are often the shame of the household. It's the room you always make sure to close when guests come over, hiding half-used detergent bottles, dirty towels, extra linens, and cleaning supplies. But it doesn't have to be that way!
Installing a few cabinets, open shelving for small spaces, and plenty of hooks to hang up drying clothes can do wonders to improve your area. Place cute baskets and storage containers on your shelves (and, really, anywhere you can fit them) so you can easily tuck away your items. We also recommend including a countertop that you can easily fold so you don't end up with laundry baskets of crinkled clothing everywhere.
Entryway/Mudroom Storage for the Whole Family
Sick of that overflowing front closet? Or walking in the front door to a pile of kicked-off shoes and tossed jackets? Then entryway or mudroom storage is the way to go. If you can, invest in a mudroom to keep everyday clutter away from the all-important first-impression-making front entrance. Your mudroom should include individual coat hooks and cubbies for storing shoes, hats, gloves, umbrellas, and other essentials. Tuck away seldom-used items behind cabinet doors or in baskets, but keep jackets and shoes easily accessible. Add a bench to make putting on and taking off shoes a more enjoyable experience.
If you don't have enough space in your home for a mudroom, you can accomplish a similar effect in your front entrance with custom storage. Here, though, we recommend keeping your everyday items hidden so they don't produce visual clutter that takes away from the comforting feeling in your home.
Hidden Storage
Hiding your extra items away in cleverly-designed furniture, under-the-bed drawers, and medicine mirror cabinets is a better storage solution for those who despise clutter. Consider asking your remodeler to install drawers in your stairs to use dead space. Invest in multifunctional furniture like sofas with storage compartments, lift-up coffee tables, hollowed-out ottomans, and a floor lamp with an attached shelf. And if you don't like staring at your TV all day (let's be honest, they aren't exactly cute compared to your carefully curated wall art), you can hide it behind custom cabinet doors or panels.
Optimize Your Storage with COOPER Design Build
If you're drowning in stuff, you need someone to help pull you to safety and ensure you never get caught in high water again. That's what we do at COOPER Design Build. See if we're the right fit for you.