Let there be light! Humans are happier, healthier, and more productive when they receive enough natural sunlight. Though we can argue about how much natural light penetrates through the Portland clouds this time of year, we can all agree that we should make the most of the free resources radiating down from the sky.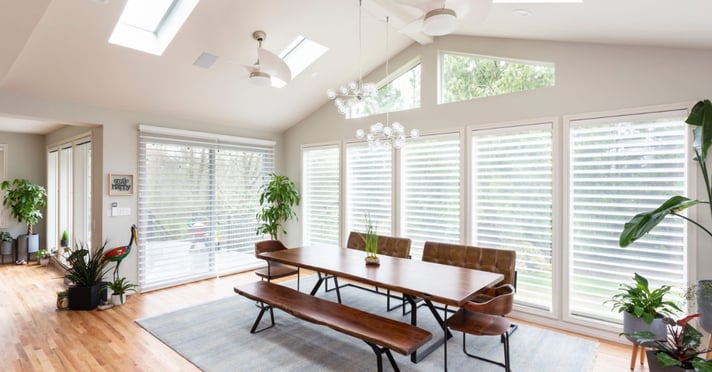 COOPER Design Build focuses on light-filled whole home remodels in Portland, Oregon. Our expert designers understand what it takes to create a fantastically-lit space that capitalizes on the goodness Mother Nature provides.
Benefits of Natural Light
There are plenty of fantastic reasons to care about how light behaves in your interior spaces. Here are just a few.
Increase Vitamin D
Your body absorbs Vitamin D from the sunlight and uses it to strengthen your bones, heart, and mood. Get your daily dose through a window or straight from the sun. Your body doesn't know the difference.
Mood and Productivity Hack
Well-controlled studies over various environments, such as workplaces and schools, support that increased exposure to natural light boosts productivity and mood. Who doesn't want to feel better and accomplish more?
Plant-Friendly
Sharing your home with house plants purifies your air and refines your style. With biophilic (earth-inspired) decor still showing strong in design trends for 2023, setting your space up to nourish your houseplants with the natural light they need is a win-win-win.
Sleep Like a Champion
Exposure to natural light helps your brain orient itself in time. It picks up environmental cues about when to be alert and wind down. Exposure to natural light helps people regulate their sleep cycle.
A Virtual Glow
You will look best on your virtual call if you're naturally lit. You'll find your most flattering light if you can face a window and film with your camera following that light.
Your Power is Untapped
You don't have to turn on the lights if your space is already naturally lit. You save on your energy bill when you don't flip the switch.
Universally Appealing
Want to resell? Natural light is universally pleasing and will draw buyers into your space. Natural light is one of the top features many buyers report as a priority in their next home.


Best Orientation for a Home for Natural Light
Southern-facing windows are your best bet for the most natural light in a day. A home makes the most use of natural light when it positions main living spaces like the living room, kitchen, and primary suite, with south-facing windows. A home that's longest on its east-west axis is best for capturing consistent, natural light from the south.


Architecture for More Natural Light
Known as daylighting in the architectural world, the art of illuminating a space with the available light requires an arsenal of architectural options. Here are some of our experts' favorite building elements to sculpt your space with light.
Clerestory Windows
We love a good clerestory window. These skinny windows placed above the eye line let the light pour in without compromising privacy. Clerestory windows are perfect for private spaces such as walk-in closets and bathrooms.
Skylights
Any window cut into your roof is a skylight. The size and positioning of your skylight will influence the daylight that it introduces to your room.
Dutch Gable
A dutch gable is a window right at the peak of the roofline. This lets in extra light and provides a unique view of the treeline or sky.
Dormer
Usually reserved for the top story, a dormer is a great idea for a sun-soaked primary suite or hallway nook. This small bump-out containing a window diffuses light and reduces glare windows inset in the wall often create.
Tubular Daylight Device
You don't need a window to bring in natural light. Tubular daylight devices absorb light from your roof and reflect it into your home with a series of tubes that look like a ceiling light. They are much less conspicuous and less expensive to install than a skylight, making them a great option for more understated spaces.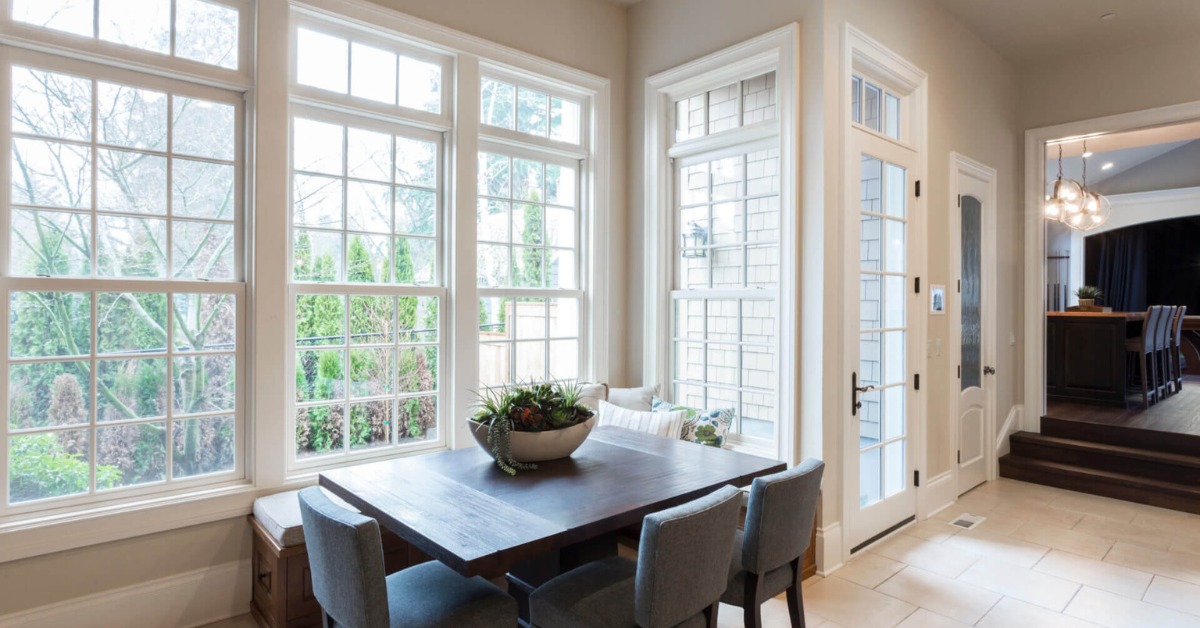 Sources of Natural Light
Direct
Straight from the burning ball of gas, through your windows, to your eyeballs.
External Reflection
Anything that hits another surface and bounces into your house is reflected light. Trees, surrounding buildings, overhangs, the ground, and many exterior elements can impact your home's natural light.
Internal Reflection
Light bounces through your home's interior. Floors, walls, ceilings, furniture, and decor all impact how light travels through an interior space.


Design with Natural Light in Mind
Colors
Light colors or colors with yellow hues, like light green, reflect visible light through your home. Don't forget about your horizontal surfaces. Ensure your floor has a light rug or tile color and your ceiling is pale or white.
Finishes
Eggshell, semi-gloss, or any smooth, shiny surface reflects light. This includes little details, such as your light fixtures and plumbing. Matte finishes on your handles and pull are a popular design choice partly because they will redirect light, creating visual contrast and interest.
Textures
Smooth surfaces like glass are the most reflective. You can use mirrors on your walls to deliberately bounce light from one area to the next. Use fabrics strategically. Adding textiles like pillows, heavy drapes, or thick rugs will absorb natural light.
Layout
Open spaces invite light, whereas extra angles create shadows. Extra half-walls or corners of your home's layout will decrease your available natural light.


Naturally Lit Spaces Don't Happen by Accident
COOPER Design Build would love to put our expert designers and elevated artisanship to work for your Portland home renovation. We can answer any and all questions!