It's time for coffee on the back porch, gathering around the fire feature, grilling tasty treats, and more. Portlanders cherish our outdoor spaces, especially during the beautiful summer months when the temperatures are ideal for enjoying the natural beauty surrounding us. Adding outdoor living space to the plan during your next remodeling project expands your options for your daily experience and adds value to your home. COOPER Design Build is here to explore the benefits of extending your living space outdoors and provide our insider tips and tricks for creating the perfect outdoor living space for your Portland home.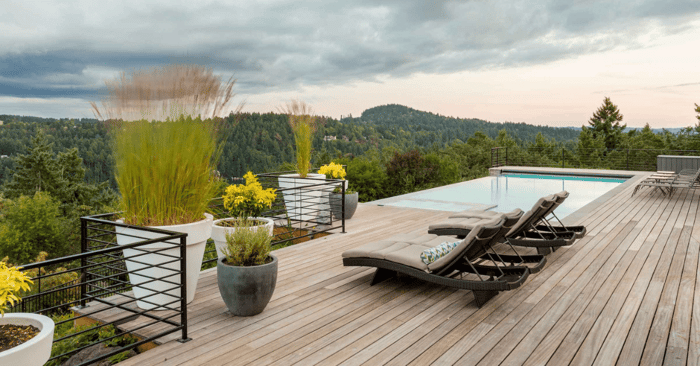 Why Add an Outdoor Living Space to Your Home Remodeling To-do List?
Enjoy the Beauty of Outdoor Living
Your outdoor living space is the perfect gathering place for friends and family, offering a seamless connection with nature. The abundance of greenery, fresh air, and natural light can positively impact your overall well-being, improving your sleep, mood, and more. Expand your living space outdoors and enjoy the therapeutic benefits of the natural world while creating lasting memories with loved ones.
Enhance Your Home's Value
Investing in outdoor improvements not only improves your lifestyle but also increases the value of your home. Prospective buyers increasingly seek properties with well-designed outdoor living spaces, making it a worthwhile investment for those looking to resell soon.
Expand Your Living Area
Creating an outdoor living space effectively increases your property's usable square footage for much less than comparable spaces indoors. This added space provides more room for relaxation, entertainment, and activities, enhancing your overall lifestyle.
Embrace Options
Outdoor living spaces offer expansive opportunities for customization, allowing you to completely curate your experience. Whether you envision a tranquil retreat, an entertainment hub, or a play area for children, your outdoor space can include the features and materials you select to accommodate your lifestyle, making it a valuable extension of your home.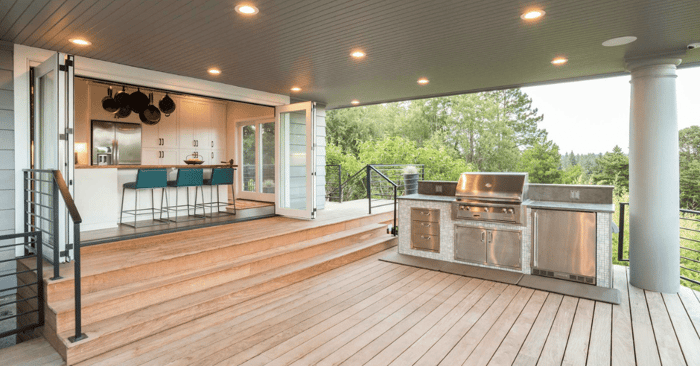 Features to Consider for Your Portland Outdoor Remodel
Covered Outdoor Living Space
A covered outdoor living area provides a versatile and comfortable space to relax, entertain, and enjoy the outdoors throughout the year. Whether it's a stylish pergola, a retractable awning, or a custom-designed covered patio, adding a sheltered space extends the usability of your outdoor area. It protects you and your outdoor living area from the elements while allowing you to take in the beauty of the changing seasons from the comfort of your personalized space.
Outdoor Kitchen
An outdoor kitchen is a sought-after feature that impresses buyers and guests. Imagine preparing delicious meals while soaking up the fresh air and enjoying the company of family and friends. From grills and pizza ovens to refrigerators, storage, dishwashers, prep space, and sinks, an outdoor kitchen provides the convenience and enjoyment of cooking and dining alfresco.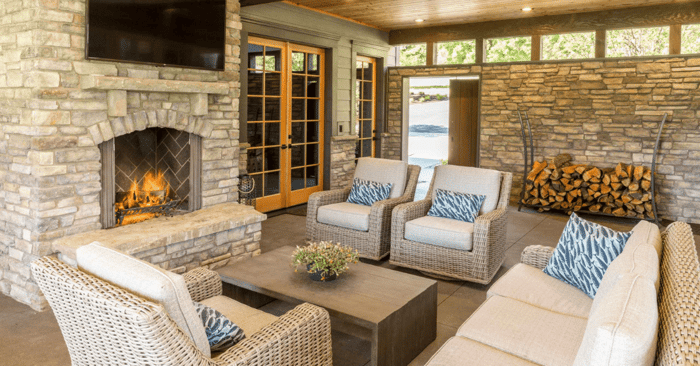 Outdoor Fireplaces
An outdoor fireplace or fire pit creates a cozy ambiance and invites you to enjoy your outdoor space into the cooler months. It is a focal point for gatherings, providing warmth and a welcoming atmosphere. Whether it's a traditional wood-burning fireplace or a modern gas fire feature, a cheerful fire feature makes your backyard living space complete.
Outdoor Lighting
Illuminate your outdoor space with carefully placed lighting fixtures. Extend your prime hours for entertaining outdoors by carefully illuminating your new space. Pathway lights, accent lighting for plants and trees, and ambient lighting for entertaining areas create an inviting atmosphere while improving safety and security for navigating after dark.
Landscaping Upgrades
Provide the perfect manicured finish with well-designed landscaping. Incorporate native plants, colorful flower beds, and lush perennial greenery to create a visually appealing and low-maintenance landscape. Adding hardscaping features like stone pathways or a water feature can create further interest and visual appeal.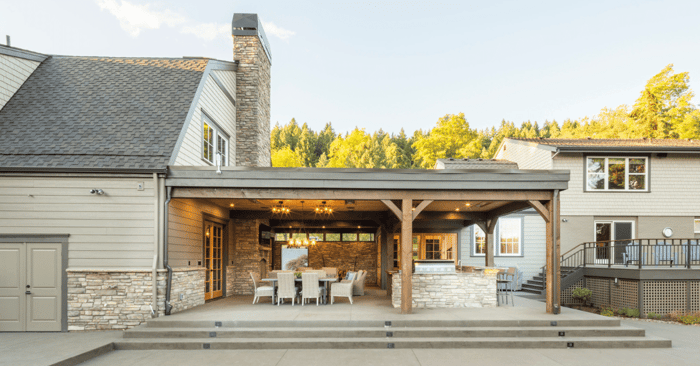 Deck and Patio Additions
Building a deck or patio provides a dedicated space for relaxation and entertainment. Choose high-quality materials that withstand the elements and complement the architectural style of your home. A well-designed deck or patio creates an outdoor extension of your indoor space, perfect for hosting gatherings or enjoying quiet moments outdoors.
Natural Outdoor Play Space
If you have children or grandchildren, creating a natural outdoor play space can provide them with endless opportunities for imaginative play and exploration. Incorporate elements like swings, slides, treehouses, and dirt kitchens, while including natural materials such as logs and rocks to encourage a connection with nature. A well-designed outdoor play area can be an attractive addition that enhances your child's development and adds charm and character to your home.
COOPER Design Build Creates Your Personalized Portland Outdoor Palace
Ready to extend your living space outdoors and elevate your daily experience? Contact COOPER Design Build today to schedule a consultation with our expert team. Let us help you create the perfect outdoor retreat tailored to your unique needs and preferences.