Is your home in need of a major overhaul? Are you thinking that this time, you're really going to get exactly what you want for the entire space? A whole house remodel might be the best choice for you. Remodeling your whole home gives you the opportunity to break out of outdated designs and create the perfectly unique living space. It's also a big project that can be a little overwhelming to think about. Here are a few things to consider to help you get started.
1. IDENTIFY PROBLEMS
Most home improvements start with a desire to solve a problem. For example, if you live in an older home with lots of enclosed rooms, you might want to open them up. That way, you can still participate in family discussions while you're cooking dinner or cleaning up. With a whole house remodel, you've got a great opportunity to get it all right from the get-go. Make a list of all the things you don't like about your home, even if some of them seem petty or impossible to address. This will help you figure out what you may need to do to fix it.
2. SET A BUDGET
A whole house remodeling project is an investment. You'll probably get most of it back in an increased resale value, depending on the size and scope. But you still have to pay for it before you can get that benefit. Hiring remodeling experts like COOPER Design Build makes it easier for you to get a precise estimate. That way, you have a much clearer idea of what you can expect to pay. It's OK to get a little overwhelmed at the price tag. Remodeling several rooms at once costs money. Once all the work is done, you can sit back and enjoy your new space.
3. DREAM BIG
Since you know that this project is probably one of the most extensive investments you'll make for your home, now's the time to dream big. Kids imagine the castles they will live in once they grow up. You may be able to make at least a few of these dreams come true right now. Don't feel pressured to skimp because you worry that it's all going to be too much at once. If you want a second-story addition with a private wrap-around deck for the master suite, it may be a possibility. The more you can flesh out your ideas, the better a designer can see how they could become a reality.
4. THINK OUTSIDE THE BOX
By definition, a remodeling project uses the existing space in new ways. But no one said you had to keep all the walls in the same places. If you look at five separate homes with a similar footprint and exterior design, the allocation of space may be totally different on the inside.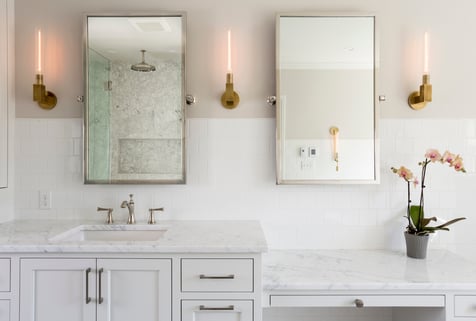 Take all the problems that you have with the flow of the home from one side to the other, and imagine how you would lay it out in a perfect world. This might include redefining the dimensions of rooms or even an addition, if it seems appropriate.
5. DON'T FORGET THE EXTERIOR
Most homeowners spend the majority of their time inside the house, which is why those spaces tend to attract the most attention. But unless you want your home to be 2020 on the inside and 1990 on the outside, you should give at least a little thought to the exterior. Many homeowners are expanding their useful living space outside, partially because this tends to cost a lot less than a room addition. Decks, patios and porches are a great way to enjoy your property more, and they add to the curb appeal. This project might also be just the incentive you need to update the old siding or get a brand-new roof.
6. PRIORITIZE YOUR GOALS
There may be points in time where one thing you want conflicts with something else. For example, if you want to dramatically expand the master bedroom suite without making an addition, you'll need to sacrifice some space in a nearby part of the house. These kinds of decisions can be tricky, especially if you've got a lot of problems to solve. Organize everything you want to do, and then prioritize it from most to least important. This will help you to sort out which aspects take precedence.
Read: 8 Elements to Consider When Designing Your Floor Plan
7. THINK ABOUT LONG-TERM SOLUTIONS
If you're really itching to get started on a whole home remodel, it's tempting to focus on what you need right now. And while you should definitely get a finished result that works with your life at the moment, it's important to think about the future, too. The last thing you want is to end the project and realize that you forgot to account for an important change in the family dynamic, such as:
Planning to expand the family

Getting ready for the kids to leave the home

Adding living space for adult children or elderly parents to reside full-time

Making improvements to age in place
You don't need to plan out the rest of your life, but now's the time to make sure the design is likely to suit you for at least the next five years.
8. SELECT UNIFYING DESIGN ELEMENTS
One of the major benefits of a whole house remodel is that everything in the house fits. You don't have a kitchen from the 2000s, bathrooms from the 2010s and a basement that's still in the 1970s. Think about the elements you'd like to have that will unify the space from room to room, like the same flooring or color palette. Even matching hardware in the kitchen, bathrooms and bedrooms can make a striking difference.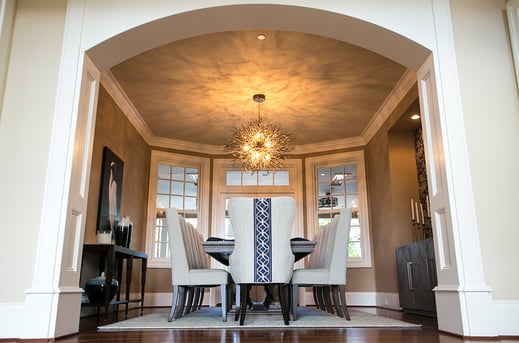 9. SCHEDULE THE BEST TIME
A project of this size takes time to design and complete. From the first consultation, you can typically expect at least a few months before the home is ready for you. Depending on the scope, it might take several months, during which you'll probably need to find a temporary living space. Figure out a time when this is least likely to be a problem for your life, and remember to book early. You have a much better chance of getting your preferred timing if you're not asking at the last minute.
A whole house remodel is a lot of work, but it is so worth it in the end. When you know where to start, you can organize your ideas and make sure that you get exactly what you want.