The perfect outdoor space is a place where you love to be. And it's going to look different for each person. For you, it might be a cozy place to gather with friends around a fire pit. Or a lush landscaped yard, or a serious gardener's paradise, or a gourmet outdoor kitchen, or an alternative living room with all the amenities. Let's take a stab at some basic ideas that will make the out-of-doors at your Portland, Oregon, home perfect for you.
START DREAMING
You might have just a vague feeling of what you want your outdoor space to be. Look around for more concrete ideas—online, in magazines and books, on TV, at the homes of friends. Write down what you like. Maybe even draw some sketches. At some point, you will be taking your ideas to a professional landscape designer or builder, and it will help that professional create your perfect outdoor space if you can provide a starting point.
To get a really specific sense for what you want, spend some time in your yard as it is. Close your eyes and imagine the activities that would make you feel happiest. If you want a place for the kids to play sports, you'll need more open space. If you long for a fairytale garden that would fit in an enchanted forest, you may want to add tall trees or plants that hang down, to create a sense of hidden spaces.
[Read More: Stay Organized with Houzz During a Renovation]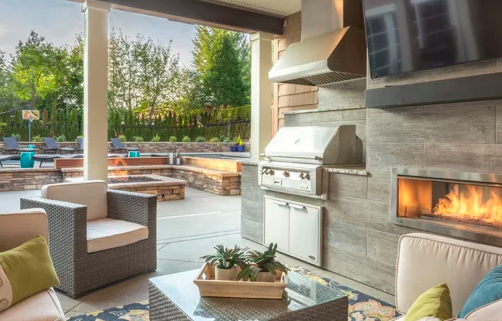 CRUNCH SOME NUMBERS
As with any project, you'll need a budget. Figure out what you're willing and able to spend, and get some estimates from builders. According to Remodeling Magazine's 2019 Cost vs. Value Report, the average cost for a 20-by-20-foot backyard flagstone patio in Portland that features low-voltage lights, a pergola, and a fairly complete outdoor kitchen is $57,433.
While renovating your yard tends to cost less than larger remodeling projects indoors, it still requires a lot of work. It's tempting to skimp on services because you think that you can do them yourself or it seems like they are generally easy and quick to do. Remember that the design and installation of hardscaping, as well as excavating land or regrading part of your lot, is heavy, backbreaking work. Paying a professional to take care of it for you is an investment in your physical comfort, as well as your home.
Looking for more? NEW! Download the 2020 Portland Home Remodeling Cost Report [PDF]
SOME BASICS
Everyone would agree that an outdoor space needs some green, whether it's a barefoot lawn, artistic plantings and flowers, shady trees, fruit trees, a vegetable garden, or all of the above. And for most, it needs a pleasant place for friends and family members to gather. That usually means a patio or a deck. It also needs some shade for those sunny days and, ideally, protection from the rain. If you're lucky enough to have mature trees, the shade comes built-in. But if you're waiting for your saplings to grow, you can create protection from sun and rain with umbrellas, awnings, shade sails, or covered pergolas.
Outdoor living areas also need lighting, whether it's fairy lights strung overhead or built-in lights along paths and around the deck or patio. Lighting helps to show off your beautiful landscaping and the delicate details of your home exterior, but it also keeps you and your home safe. Consider a variety of lighting options, including adequate lighting for walkways and motion sensors. That way, you don't have to flip a switch to be able to walk through your yard safely.


MIX HARDSCAPING AND SOFTSCAPING
Have you ever walked into a yard that was nothing but grass? It probably wasn't particularly exciting. What about a space that was just concrete as far as the eye could see? Also unenticing. The outdoor space is a big part of your curb appeal, so you can and should get a little creative.
Keep in mind that you need to be able to use it, so a really winding path through the bushes might not be as practical. But a mix of hardscaping and spoftscaping is a great idea. Hardscaping doesn't have to look bare or sterile, especially if you use a variety of materials like concrete, pavers, natural stone and river rock. If you balance it with strategic use of greenery, you will have a space that is easier to maintain and looks great.


DESIGN TO FIT YOUR MAINTENANCE PREFERENCES
What you plant or install depends heavily on how much time and money you want to spend taking care of it. Some people find that their garden is a treasure and they love to invest several hours a week into watering, pruning, weeding and more. Others want the benefit of the space, but mostly for relaxation and not work.
Figure out your goals, and then find the combination of elements that help you achieve it. Hardscaping usually does not need a lot of work to maintain, unless you intend to have an exotic hardwood deck that requires careful cleaning and treatment every year. Perennials don't obligate you to plant something new every year, and they may come up without much work. Similarly, relying on flora that is native to the region may use less water and be more likely to flourish in the climate.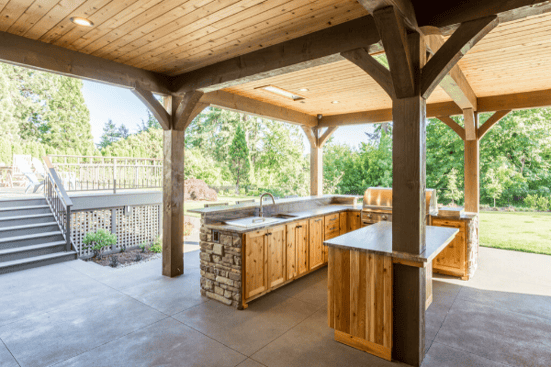 PLEASANT PLACES
Many homeowners couldn't imagine an outdoor space without the soothing sounds of running water, whether it's an elaborately constructed waterfall, stream, and pool, or a simpler bubbler or self-contained fountain. A different kind of water feature that's popular is the outdoor hot tub.
Another common way that landscape designers add character and coziness is to create separate spaces where you can sit quietly, screened a bit from the neighbors and the rest of the yard. Larger gathering places can feature a small wood or gas fire pit or a large outdoor fireplace with chimney; they also need seating, either weatherproof furniture or built-in seating, or both.
[Related: Tips for Designing the Perfect Outdoor Kitchen in Portland]
PLANNING FOR PORTLAND'S WEATHER
As you're well aware, Portland gets rain—an average of 155 days with measurable rainfall. It can get cold enough to freeze pipes. And hot enough to make you uncomfortable: 90s or even 100-plus in the summer. So your outdoor space needs to be designed to alleviate the extremes and take advantage of all those really pleasant days, too.
Your structures, whether free-standing or attached to your home, can have a solid roof—maybe with skylights—or a fabric covering. Shutters, sliding glass doors, motorized screens, and space-heating features can be used to alleviate the effects of cold, wind, rain, and summer sun. They also can provide screening from the neighbors.
Finally, the materials you use must be able to stand up to Portland's precipitation: marine-grade cabinetry, water-resistant countertops, stainless-steel appliances, weatherproof furniture, and outdoor-grade lighting and electronic equipment.