When it comes to the look and feel of your walls, a modern smooth wall texture has been the unquestionable choice for a contemporary home. Trends are changing as homeowners and designers alike seek to create more comfortable, cozy interiors. Texture is back in style. Here's why and how you can incorporate the textured look into your modern home!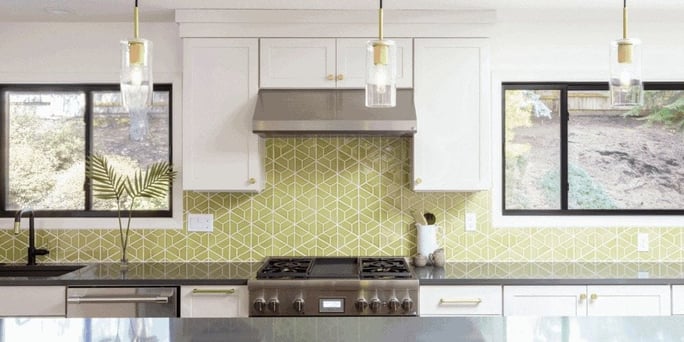 Are Textured Walls Back in Style?
Absolutely! While the sleek-wall look isn't going anywhere, there's been a resurgence of wall finishes and adornments that generate visual interest, create character, and make a home feel even homier. Consider shiplap. Sure, it isn't necessarily a type of finish, but it's a design element that recently exploded in popularity with the modern farmhouse aesthetic. Exposed brick walls were a huge fad attached to the industrial look. Additionally, textured ceilings with wood beams or planks have long been a way to add distinction to a home and elevate a room.
The modern textured walls trend shouldn't be a surprise. Since quarantine, people have been looking for ways to make their homes feel less clinical and more natural; shifting from smooth, white, hospital-esque walls to a soft, variable texture is a logical progression.
Best Wall Textures for 2022
Wondering how to implement this change in your home? Here are a few ideas!
Plaster Walls
Textured plaster walls are the epitome of what Architectural Digest calls "warm modernism." When applied and hardened to your walls, the mixture of lime or gypsum, water, and sand creates subtle differences in color and texture. It makes your walls feel like they are living and breathing alongside you.
This building technique is nothing new. Plaster is found in primitive protective huts, Egyptian pyramids, the work of 5th century B.C. Greek architects, and are still commonplace today. You can choose from many different kinds of plaster. Venetian plaster paint, a thick putty made from fired limestone mixed with water, and Roman clay, a specialty paint finish, are two of the most popular options. Venetian plaster can be either shiny or matte and tends to leave slight strokes on the wall. Roman clay is known for leaving a sheen and soft-to-touch texture.
Limewash Walls
A type of finish or paint made from crushed and burned limestone, limewash paint is a popular alternative to plaster. It's much easier to apply than plaster (you can use a brush instead of a trowel) and leaves a chalky, time-worn appearance. Like plaster, it's been used in architecture for centuries and is experiencing a revival among interior designers.
Wood Panels for Walls
Want texture that's a little more obvious? Join the mid-century modern renaissance by incorporating real wood paneling into your home. An endless variety of wood types, colors, and panel thicknesses allow you to tailor this trend to your tastes. Channel a retro vibe with rich woods like oak or teak and dark finishes, or modernize with lighter woods like beech and birch.
Wood paneling provides double the texture, with wood grain and the panel lines contributing to the effect. Slatted wood panels are a popular, contemporary take on this look and make for a stunning accent wall; however, tongue-and-groove board, bead board, and reclaimed wood are also options you may want to consider.
If the ideas presented above aren't providing enough oomph for your style, another retro trend — wallpaper — may be the answer. But before we get into it, there's a central question we need to answer:
Is Wallpaper Making a Comeback?
Wallpaper can be a polarizing look (depending on the type). Some people love it, some hate it, and there's little nuance between the extremes. After falling out of style with more modern interior designers for quite some time, wallpaper has come roaring back onto the scene, propelled by the grand-millennial aesthetic.
Best Textured Wallpapers for 2022
Some wallpapers are loud and showy, impossible to ignore; others are delicate and refined. They may have actual touchable textures or create the illusion that they do. Either way, you have a multitude of choices before you. So, let's narrow it down a little.
Grasscloth Wallpaper
Grasscloth wallpaper is one of several types of textile wallpapers. It's generally made from natural fibers (though human-made alternates are available) interwoven to create a vertical or horizontal pattern. A sticky, rice-paper backing adheres to your walls, creating a soft fabric feel and look in any room. Grasscloth works for many aesthetics, be it traditional, contemporary, or biophilia.
Faux Texture Wallpaper
With wallpaper, your wall texture doesn't have to be authentic. You can use many easily-applied faux wallpapers to get any look you want. Use faux brick or wood wallpaper if exposed brick and wood paneling aren't a good option, but you love the look anyway. Trompe-l'oeil wallpaper is a French technique that creates the illusion of three-dimensional paneling without the extra expense. You can also use wallpaper to mimic the look of shiplap, plaster, concrete, pebbles, and anything else!
Should You Texture Your Walls?
The smooth walls vs. textured discussion ultimately comes down to your tastes and how you want your home to feel. If you need help figuring that out, read our Beginner's Guide to Remodeling. You'll get our advice on tackling every facet of the remodeling process, from layout to lighting and home styles.
How to Deal with Dated Texture
Not all wall textures are created equal. The ones highlighted in this blog are sure to make your home feel modern and cutting-edge, but some textures just feel dated. If that sounds like your home, here's what you can do:
Apply a skim coat. Yes, this could be expensive, so you'll have to decide if it's worth it. Skim coats involve covering the old texture with a thin coat of joint compound, or "mud." When it dries, the mud is sanded smooth, which is easier said than done, except for skilled professionals. And it creates a lot of dust. And it might take more than one coat of mud.

Hanging new drywall. Seriously, putting new Sheetrock over the textured walls, or pulling down the old and putting up new, could be cheaper than messing with covering the texture with one or more layers of fresh mud. The problem is, if you want smooth walls, you'll still have to spend time finishing the new wallboard.

Accept it. You might decide you can't spend the time or the money to remove or cover up your orange peel. To avoid drawing attention to the texture, use flat paints, keep the lights from shining at a low angle on the walls, and focus on the furniture to draw the eye away from the walls.
Consult with the Design Experts
Whether you want to add, take away, or replace the texture on your walls, bring in the experts. Our designers help you discover your style and ensure the application goes smoothly, preventing a do-it-yourself disaster. To get the modern look your way, contact COOPER Design Build today.