Building an addition is one of the most significant home improvement projects you can undertake. Most of the time, you're adding everything new, from the walls and HVAC to the furniture and flooring. The good news is that big changes lead to big results. As such, you must ensure that everything about the addition supports your home and how you want to use it. Begin the process by considering why you want an addition to enlarge your home in the first place.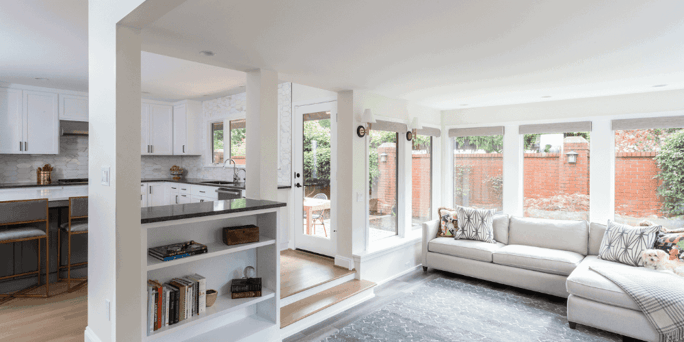 Before Building an Addition
Start by imagining what you could do with some extra space. While you brainstorm, pay attention to your home's problems and how you could fix them. An additional bedroom or bathroom in a small house could allow you to grow with your home instead of selling it and moving to a larger one. An addition enables you to keep family members nearby as they age or serves as a guest suite when relatives come into town. Here are a few questions you can ask yourself to flesh out your needs and expectations:
What is my budget for the addition?
How can I use the addition?
Do I need space for current members of the household or guests?
Where is the best place for the addition to keep the flow of the home?
Does the rest of the house need remodeling to incorporate the addition?
Frequently Asked Questions
Once you know what you need from your addition, it's time to nail down the details. That means — you guessed it — more questions! Check out these commonly asked questions about Portland home additions to better understand your options.


What Is an ADU vs. an Addition?
Accessory Dwelling Units are quickly becoming one of the most popular types of additions in Portland. An ADU is a secondary living space added to a single-family home. Most often homeowners construct a free-standing structure on their property. Some wish to convert attics, basements, or garages. At COOPER Design Build we focus on integrated additions to and/or conversions of existing spaces to a home's structures to suite almost any need, however, we do not build free-standing ADU structures.

Is it Worth it to Build an Addition?
Whenever you are thinking about remodeling your home, it's essential to consider whether it will be worth the time and money. As a general rule, most homeowners are delighted with a home addition. Creating more square footage can dramatically change the function of a household and it also adds value to the property and helps your home stay current for the modern world.


How Much Does an Addition Cost in Portland, Oregon?
It's hard to estimate the cost of house additions with a high level of detail. Price varies depending on the type of addition (adding a total second story costs vastly more than an extra bathroom) and the building footprint size. The range of $400 to $600 per square foot is reasonably accurate in 2022 but broad as there is a definite economy of scale associated with additions. Larger additions tend to cost less per square foot, but it depends on the use of the space. Adding a small room for a home office is totally different from a luxury primary suite addition with a spa-like bathroom and all the comforts. You will need to speak with a professional design-build company to get an accurate sense of the costs for your specific home and project. To start, read this recent blog that describes several costs of room additions in Portland, Oregon.
Get Started With an Addition Builder Today
Portland homeowners have entrusted their addition and remodeling dreams to COOPER Design Build for over 30 years. To learn how to incorporate an addition into your home building plans, talk to our team about your aspirations and schedule a consultation today.