Most homeowners don't think of a whole home remodel as a relaxing experience. And yet, "relaxing" was the result for homeowners who took on a whole house remodel that included outdoor living space and a Porte Cochere in Lake Oswego. That's why, to take you inside this luxury remodel in Lake Oswego, we have to take you outside as well.
As you might surmise from the photo above, fantastic views played a big role in the remodeling plans for this home—both for indoor and outdoor projects. Here's a look at how the views surrounding the home were incorporated into the remodeling.
Outdoor Living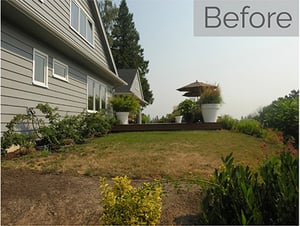 If you take a look at the "before" picture of the back of the home, it's nice enough, but hardly inspiring. There is plenty of space for entertaining, but nothing that captures the eye or the imagination.
Contrast that to the impression the back of the home makes after being remodeled. It's an elegant, inviting place that exudes relaxation and serenity. The views from the house over the infinity pool (as seen at the top) create a seamless palette of color and light.

By the way, if outdoor living is something cherish you may enjoy looking at what another Portland-area family did to enhance their ability to enjoy being at home outdoors.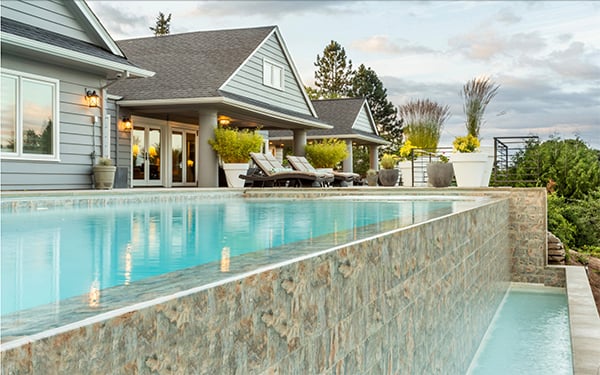 Another area where the homeowners capitalized on outdoor living was in the creation of an outdoor seating area off of the family room. In addition to providing at comfortable (and protected) place to sit outdoors, the use of glass doors blurs the lines between indoor and outdoor living. In cooler weather, the family and guests can still enjoy the same fantastic views from inside the home.
This view from the Family Room lets you get a feel for the view—and for how the use of the doors allows lots of natural light into the house. In addition to allowing as much natural light into a home, it's important to think carefully about installed lighting.
Here's a helpful post that explores a variety of lighting styles for various areas (and functions) within your home.
Bright and Beautiful Kitchen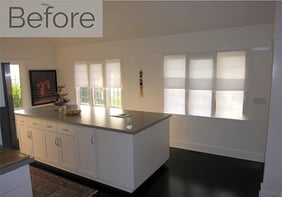 Great views and use of natural light aren't restricted to outdoor activities. Here's another "before and after" look at how updating a kitchen can turn it into a warm and inviting place for family gatherings—or entertaining guests.
Not only does the kitchen look brighter and more inviting, but it's also more versatile with an island that functions both as a workspace and as an eating area for casual family meals—or for a place to entertain guests for drinks and snacks.
If you're considering a kitchen remodel, you'll want to take a look at this article about the various things to consider before you remodel.
A Brighter Bathroom
A well-designed remodeling project can also bring light and open space into a dark bathroom. We were able to help these Lake Oswego homeowners turn their existing bathroom into a sleek and stylish bathroom that offers extra storage space as well as a beautiful and comfortable environment for getting ready for the day.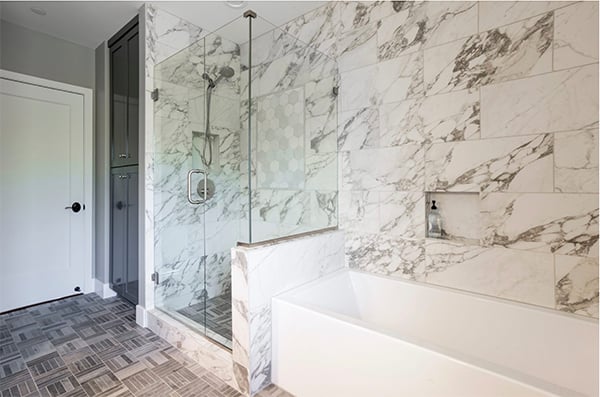 Convenience and Comfort for Friends
An unusual—and thoughtful addition to the home was the inclusion of a Porte Cochere off of the driveway that allows guests to enter the home snug and dry—even in inclement weather. You'll notice that it is well-lit and high enough that it doesn't cast the entranceway into shadows. And as a bonus, it provides a great place to store firewood in a place that's easy to access—and yet at a safe distance from the house.
But What Did the Clients Think?
It's one thing to show beautiful pictures of a remodeling project, but there is much more to great remodeling than just creating something beautiful. The result needs to be something that leaves a homeowner delighted. So what did the clients think about the whole process? We'll let them speak for themselves.
"COOPER Design Builders helped us to establish our family Zen space where we relax and recharge. They thoughtfully integrated indoor and outdoor spaces into open, flowing environments focused on maximizing the gorgeous views and beautiful light.
They truly excelled throughout each phase of our very large project. In the design phase, meetings were well-orchestrated, and I am grateful to their design team for doing all the hard work for me! As we began building, I loved having a dedicated team who were incredibly knowledgeable and knew EVERY detail of my project.
Our sincere thanks to COOPER Design Builders for their professionalism, passion, and commitment from start to finish."
— Homeowners Kristy & Amir