We've been thinking quite a bit lately about the various elements that go into a kitchen remodel. Below we've put together a guide to kitchen remodeling in Portland.
Table of Contents
1. Lighting
Choosing which type of lighting is best suited for each space can seem a bit overwhelming, once you realize the options and begin to learn about the benefits and drawbacks of all the different types available. That's where the job of a quality and trusted design-builder comes in. Below are a few of our favorite options for kitchen lighting:
Recessed Lighting- Intelligently designed and selected recessed lighting provides the foundation of any proper lighting plan for your Portland home remodel. Often overlooked in its importance, this is the lighting that truly brightens larger interior spaces and is especially useful and enjoyable when placed on a dimmer. Upgrading to highly efficient LED recessed lighting will save you hundreds of dollars each year on your utility bill as well!
Pendant Lighting- Pendant lights, which hang from the ceiling by a wire, chain, or pole, can offer so much to your kitchen: overall illumination, task or accent lighting, and a visual focal point. When lighting designers talk about layering the light in a room, they mean creating an overall illumination scheme that both make the space usable and gives it ambiance. Three basic types of illumination — overall, task, and accent — can be achieved with pendant lights, so they probably need to have a place in your kitchen. Consider pendants as part of an arrangement that could include flush ceiling fixtures, track, and recessed lights, under-cabinet lighting, and wall fixtures. Typically, pendants are used to bring the light down to illuminate a work surface, such as a kitchen island or peninsula countertop. Depending on the design of the fixture's shade, that light can be focused just on the work at hand, or it can escape from the top and sides of the installation to illuminate more of the room.
Chandelier Lighting- Chandelier lighting adds a touch of elegance to any room and can be crafted for any décor. From high-class crystal details illuminating a formal dining room table to rustic antlers and iron, this type of light serves as a decorative centerpiece and makes a statement.
Sconce Lighting- Vertical fixtures or sconces mounted on either side of the mirror are best for casting an even light across the face, and thus, are an excellent choice for a bathroom or powder room. Sconce lighting can add a fabulous design accent to just about anywhere in the house – on either side of a fireplace, or even along a stairwell.
2. Islands
The kitchen can be one of the most robust and most fun, rooms in a house to design. There are so many possible configurations for preparation, cooking, serving, cleanup, and storage. An island can handle any number of those functions, expanding the counter and storage space of your kitchen. Still, you'll need to decide what your priorities are before you and your designer can create a kitchen island that's perfect for you.
Get Out the Tape Measure- First, do you have room for an island? An island should be two to three feet wide and at least four feet long, but if you include a range, sink, and dishwasher, it should be at least seven feet long. And to ensure there's room to work at the island and the counter next to it and allow people to move around, you'll need about 4 feet of space on all sides. So if your kitchen is less than 13 feet wide, you should think about other options for increasing your counter space.
What's Most Important to You? About those priorities: Some kitchen designers still hold to the work triangle of refrigerator, stove, and sink equidistant from each other for efficient movement. Others, working with a more open plan, try to arrange the kitchen into work zones where like tasks are grouped — food prep with trash and compost nearby, or baking with the oven, counter, and baking supplies in their own area. So you'll need to decide what approach you want to take to use your kitchen.
Maybe it's food prep on the island, so you'll want a second small sink to wash the vegetables. Or if cooking while conversing is your thing, you might require the cooktop on the island, with seating for family members and guests at a bar on the other side of the island. A more spacious kitchen will allow you to customize, building in multiple ovens, dishwashers, refrigerators, and sinks if that's how your family likes to use the kitchen. The island should have storage cabinets, drawers, or shelves, too. Their configuration depends on what supplies you'll need for the tasks your island is designed for.
How High? If you're planning to include bar-stool seating on one side of the island, make the counter 42 inches high and include an overhang of 15 to 18 inches, so the people sitting there have room for their knees. On the working side of the island, the counter should be 36 inches high — provided you're 5-foot-3 to 5-foot-8. If you're designing a kitchen island for your family, by all means, consider adapting the counter height so that it's most comfortable for the primary user. If you're incorporating a baking station, make the counter in that zone lower — about 7 to 8 inches below your elbow.
Don't Forget- If you're putting your main sink in the island, you'll probably want your dishwasher next to it. If you include a cooktop, you'll need a range hood. And don't forget the light and power. Include pendant and other task lighting over your island; make it dimmable if you'll also be eating there. And for those plug-in appliances, be sure to work in plenty of outlets.
3. Storage
Who doesn't want more storage? The kitchen is a significant gathering point in the home, so you may need a lot of variety in storage options here. As you get ready to remodel your kitchen, plan to maximize every inch, limited only by your budget and your square footage.
With your designer, mentally (or physically) place yourself in each working area of your kitchen and imagine what tools you would want close at hand. This will help you decide your storage needs for each area. Especially if you don't have unlimited space, determine which items don't absolutely have to be in the kitchen, and plan for their storage elsewhere, such as in a walk-in pantry or cabinets near the kitchen. This could include a wine fridge, appliances such as fryers or noodle makers that you don't use every day, and longer-term food and paper-product storage.
Identify Current Problems- A kitchen remodel needs to do two things. First, it has to make food preparation and eating more comfortable. Second, it must solve the problems you encounter right now. Make a list of your top five issues in the kitchen. It might be a struggle to find ingredients that are spread out across the kitchen, or simply a lack of space to manage clutter. Determining what you don't like about your existing kitchen helps you figure out how you should change it.
Many homeowners start with a kitchen that they don't use as much as they would like because it isn't set up for how they want to use it. When you start to dream up a plan for your kitchen remodel, make sure that every choice you make optimizes the kitchen for your use, not the way you imagine a kitchen should be. Do you want pull-out shelves instead of drawers? You can have it. Need to balance storage with a large countertop workspace? Your preferences should come first. Remember to consider the needs of everyone who will use the kitchen, even the kids.
Commandeer the Space- Although many people decide to work within the space already devoted to the kitchen, this isn't always necessary. With the right builder, you can re-imagine the areas surrounding the kitchen, too. Is there a little-used room adjacent to your kitchen that you could commandeer? Many older homes have a small, formal dining room next to the kitchen that only gathers dust. Think about knocking down the wall to give your open-plan kitchen some elbow room. Or convert the room into a pantry or butler's pantry.
If you have the acreage for it, building a walk-in pantry for your remodeled kitchen has its advantages—most notably, sheer space. Even so, you should devise storage strategies to get the most out of that room. When you imagine getting items in and out of the pantry, how does it look to you? You might love the separate space that you can use to organize food, appliances, and other goods. This is an ideal choice if you have the extra room and would instead reserve the kitchen's square footage for food prep. ,
If you prefer to keep your supplies close at hand, or if you don't have space for a separate pantry, you've got lots of options. There are endless cabinetry products and pantry-like cabinets that help you store your supplies and tools creatively. You can have custom or semi-custom pantries that match your kitchen cabinetry, with features like soft close drawers and pull-out shelves.
Deep Drawers- Cabinets have been the standard in kitchen storage for decades, but they aren't always the most efficient. Deep drawers have been around for a while, but cooks still love them because they make better use of the space below the counter. Rather than having to get down on your hands and knees to reach pots and pans down there, you can pull out a deep drawer and see everything stored in it.
These drawers come with many features to make the storage even more accessible, such as dividers to keep items separate and pegs between which you can stack different sized plates and bowls. Keep in mind that drawers don't have to be huge to be functional. In most cases, you'll need drawers with a variety of depths. Consider large ones to hold big but relatively lightweight items like mixing bowls. Shallow ones are better for cooking tools like spatulas.
The Ceilings the Limit- Many designers are taking cabinets to the ceiling to make use of that vertical space. You would put only infrequently used items in the highest sections, although some kitchens even have library-type ladders to help the cook reach the upper-uppers. Another trend going around is the elimination of upper cabinets, or the use of open shelving, to give a kitchen a more spacious feel. You can have both ceiling-height cabinets and open space by designating one or two walls for a bank of tall cabinets and reserving other walls for open space or open shelves.
Storing Appliances- How many small appliances do you want to leave out on your kitchen counters permanently? Think about the toaster, mixer, blender, dough maker, waffle maker, coffee maker. Probably not many, if you want a clean look in your kitchen—or countertops that are easy to clean.
Space for Transitions- You might want to keep the kitchen exclusively for cooking and eating, but that isn't how it works for every household. Many floor plans position the kitchen right next to the entrance from the front door or garage. This means that the kitchen is where family members drop stuff once they walk in the door, and the last place they look for it before they leave. If you don't have a mudroom or other transitional room between the kitchen and the door, making room in the kitchen helps you fight clutter. Leave a small amount of wall space for hooks and shelving. This gives you a perfect place to hang up jackets and school backpacks, as well as room for mail and your keys.
4. Cabinetry
It's the dream of every serious cook to have a newly designed kitchen just for them. If you consider yourself a gourmet cook and are planning a new or remodeled kitchen, here are some ideas to keep in mind that will help you choose the kinds of cabinetry that will work best. First, start with the style of cooking that you enjoy most. If you're a master baker or a lover of slow-cooked meats or a pizza aficionado, the tools of your trade will drive the design of your kitchen. As you decide which work center is most important, you will know how to design the cabinetry.
The Pantry- Decide whether a walk-in pantry or a creatively designed cabinet pantry fits best with your cooking style. Walk-in pantries have more storage space, and you can organize all those shelves as you see fit. But they're farther away from the action, so you'll have to carry your supplies to your work centers. Cabinet pantries are close at hand, but they have limited space, even if you choose one with roll-out or swing-out sections. They also take away from counter space in the kitchen and can be quite expensive.
For the Baker- Having a separate center for designated tasks allows several people to work at the same time on different projects such as food prep, cooking, food presentation and serving, and cleanup. If baking is important to you, you'll want to incorporate a baking center into your kitchen design.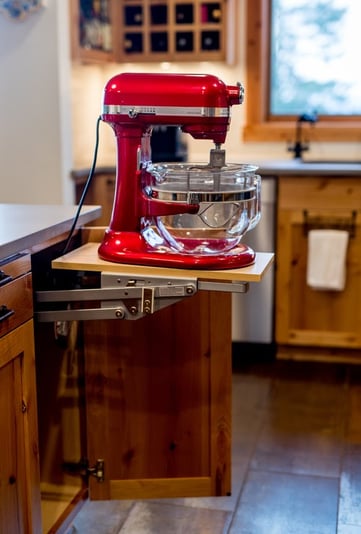 Your baking center should have cabinets and shelves to keep all the important supplies close at hand: flour and other ingredients, spices, measuring and mixing utensils, and pans.
Drawers or roll-out shelves with slots to store baking pans vertically allow you to pull out the pan you want, without having to rummage through a stack of them in a drawer.
A marble countertop set several inches lower than your other counters will keep your kneading at a comfortable level.
A slide-out, or even adjustable-height, shelf for your stand mixer keeps it out of the way but always at the ready.
Electrical outlets aplenty, in locations that won't put cords in the way of drawers or doors, will make life easier.
For the Cook
Consider storage solutions right within reach of your stove or main work surfaces, such as wall-mounted magneticor slotted knife holders, a shelf for your spices, and a rack for hanging cooking utensils.
Appliances that could be considered luxuries can be built into your cabinetry and give you the tools to do something special in the kitchen, such as a built-in salamander infrared boiler, an indoor smoker, or a frying station.
You may also consider a warming drawer to keep food at the right temperature while freeing up oven space and avoiding the need to reheat dishes in the microwave, which is never the best option.
5. Countertops
While granite has its place in the kitchen, there are plenty of unconventional countertop options to consider. We've put together a list of some of favorite unconventional materials for kitchen counters, along with traditional favorites.
Paperstone- This super-green composite material is made from sheets of recycled paper, naturally pigmented and sealed with non-petroleum resin. Its price is similar to other solid-surface materials, and it behaves similarly. It is heat-resistant up to 350 degrees, nonporous, and stain-resistant. Scratches and marks can be sanded out, but its maintenance is a bit higher than other solid-surface options.
Living Edge Wood- Here's a way to bring the feel of Oregon outdoors into your kitchen. Wood countertops are warm and durable, although they require some obvious care. Slabs of wood with "live" or "living" edges, untrimmed and natural-looking, lend a rugged charm. On the wood theme, you also can find out-of-the-ordinary butcher-block counters, or explore reclaimed wood or bamboo for a unique look.
Glass- Solid glass counters can give an ultramodern look. The color possibilities are endless, as are the cool high-tech features such as LED lighting, embedded touchscreen tablets, and wireless device-charging ports.
Concrete- Some interesting looks are possible with concrete, which is super-versatile. This mid-priced option can be formed in any shape or color, is highly heat-resistant, and actually can look better as it ages.
Quartz- Granite has become so common — for obvious reasons such as its beauty, heat and stain resistance, and ease of maintenance — but don't rule out other stone options. Although some quartz countertops are solid slabs, the new trend in quartz is an engineered product using ground quartz held together with resins. These counters are rock-hard, low-maintenance, and available in a wide range of colors. Other stone options for your kitchen include marble (elegant but higher maintenance), soapstone (dark stone with light veins; easier to maintain than marble), and slate (affordable, durable, dark colors).
Recycled Glass- This eye-catching option can run the gamut from wildly colorful to subtly attractive. The crushed glass is embedded in either resin or concrete, with each option having its own look. These mid-priced countertops are durable and easy to maintain.
6. Design Ideas
As every Portlander knows, this city has its own style. But that doesn't mean that its new and remodeled kitchens won't borrow some ideas from designers in other parts of the world. Below are a few kitchen design trends that we've seen in the last year or so:
Borrowing from Nature- Using natural materials in the kitchen never goes out of style in the Pacific Northwest, but many designers elsewhere are leaving the sleek, utilitarian look behind in favor of wood and natural stone—even river rock for backsplashes.
Cabinets in Color- Another place where color is replacing white in the kitchen is the cabinet itself. Green is showing up all over—hunter, olive, and pewter green. Designers are mixing and matching, too, with some cabinets in natural-wood tone and others painted a color. Take a look at this whole home remodel in Grant Park to see color cabinets in action.
Textures- Different textures are co-existing in the latest kitchens. Some examples: mirrored backsplashes, natural stone, glossy stone countertops, sandblasted timbers, beaded board, and shiplap.
Technology- The tech just keeps coming for new home remodels. We're now seeing tablets embedded in refrigerator doors and countertops, and new kitchens often have Wi-Fi-enabled dishwashers, coffee makers, and ovens that you can control from across town.
Bold Backslashes- In some kitchens, the backsplash reaches to the ceiling. The designs on the tiles can be quite exotic and bold, too, and even the grout colors can make a statement.
Mixed Metals- Mixing metal finishes on the kitchen's faucets, light fixtures, cabinet handles and pulls is still a thing. Nickel goes better than chrome with brass and gold, and black goes with everything, some designers say. And rather than throwing everything in the pot, choose one dominant finish and strategically add a contrasting finish for variety.
7. Must-Haves For Your Kitchen
If you're serious about your cooking, you'll probably treat your kitchen a bit differently than the average homeowner. Often, high-end appliances are among the first things that come to mind when someone is considering outfitting a gourmet kitchen. In this article, however, we're going to focus on some of the smaller (and more affordable) things to consider. If you're interested in getting the most out of your kitchen when you cook, take a look at these five must-haves for your gourmet kitchen that will enable you to enjoy cooking efficiently and effectively.
1. A Cast Iron Skillet
A cast-iron skillet may not be the first thing you think of when planning a modern gourmet kitchen. These skillets are decidedly old-school—and look it. Yet, they are amazing workhorses in the kitchen because they are excellent conductors of heat (and they work on modern induction surfaces!) and they are incredibly durable. One thing to keep in mind, however, is that you will want to lubricate your pan to ensure that food doesn't stick. And when you wash, just use water (no soap).
2. Knives
Knives are something you will use virtually every time you cook. When choosing kitchen knives, you'll want to consider quality over quantity. You can buy whole sets of kitchen knives at almost any big box store, but the fact is that you don't need lots of knives. It's far better to have a few great knives than to have a whole set of mediocre knives. The ones you'll probably use most will be a paring knife, a chef's knife, and a serrated bread knife. You can, of course, add additional knives to meet your needs, but these are the essentials. When you make your purchase, get the best knives you can afford. You want them to feel good in your hand, and you'll want to make sure they'll hold a good edge.
3. A Knife Sharpener
It only makes sense that if knives are so important, you'll want to keep them sharp. If you purchase good knives, to begin with, you won't need to constantly sharpen them. By spending a decent amount of money on a good sharpener you'll end up with one that works well—and will protect the investment you've made in good knives.
4. The Basics
A list of basic utensils for a gourmet kitchen could get long, but you'll want to make sure you have an adequate supply of wooden spoons, spatulas, stainless steel mixing bowls, and tongs, along with a set of measuring cups and spoons that are clearly marked, making them easy to use.
5. A Great Design
One thing you'll notice is that even if you have all the equipment and utensils you need, a great gourmet kitchen begins with great design. As a design-build remodeler, we're completely committed to the importance of starting with a design that meets your specific needs.
To help you create the perfect kitchen for your Portland home, we'd encourage you to download our free Designing the Ideal Kitchen eBook. You'll discover how to design a kitchen to fit your personal style, tips for creating a functional kitchen, different kitchen styles and design elements to consider, and how to work with a designer to bring your dream to reality.
8. Luxury Appliances
Why should you splurge on high-end appliances for your kitchen remodel? There are a number of reasons: They work better than lower-level appliances, they look great, they last longer and are more reliable, and they eventually can help you sell your home. If the way your kitchen looks to visitors and the way it feels and performs for you are important, and if you can work it into your remodeling budget, include these luxury brands in your research for your new kitchen.
Sub-Zero- For more than 70 years, this American company has been selling top-quality refrigerators and freezers. The Sub-Zero name has earned its reputation, with its dual compressors, air and water purification systems, and vacuum-seal drawer. Sub-Zero makes built-in refrigerators, several under-counter options, and wine coolers with two temperature zones.
Miele- Sub-Zero isn't the only refrigeration company that produces a luxury product worthy of the name. Miele is a Germany company, and its appliances live up to the reputation earned by German engineers and manufacturers. Miele makes one of the best, and fastest, dishwashers around, as well as refrigerators and freezers, vacuum cleaners, clothes washers and dryers, steam and convection ovens, wine fridges, coffee systems, ventilation hoods, and professional ranges.
Thermador- This California company, now owned by Bosch's parent company, was founded in 1916 and has been known as an appliance innovator for decades. Thermador has the Liberty induction cooktop line, the Star Sapphire dishwasher with a 20-minute wash and dry cycle, Wi-Fi-enabled wall ovens, pro ranges, gas cooktops with the patented Star Burner, warming drawers, steam ovens, and integrated refrigerators.

Gaggenau- Here's another luxury brand owned by Bosch's parent company, and it's more than 300 years old. Gaggenau makes wall-mounted convection and convection-steam ovens, warming drawers, gas and induction cooktops, microwaves, ventilation hoods, coffee machines, refrigerators and freezers, wine coolers, and dishwashers. Its commercial-grade products for the home are high on style—leaning toward an industrial look—and quality. Its classic wall ovens are hand-built in France, and other products are made in Germany.
Wolf- This American manufacturer of commercial kitchen cooking equipment was purchased by Sub-Zero in 2000 and shares its parent company's reputation for top-of-the-line quality. Wolf's convection wall ovens boost their heating capacity by using a blower instead of the standard convection fan technology. Its modular cooktops allow for customization: an induction burner, gas grill, fryer, steamer module, and teppanyaki griddle are available. Wolf also makes ventilation hoods, warming drawers, microwaves, and built-in coffee systems with cup-warming drawers.
Jennair- This American company started out in the 1940s making industrial fans and used that expertise to introduce the first range with downdraft ventilation in 1961. JennAir has been known for years for its luxury kitchen appliances with high style. It makes integrated refrigerators, wall ovens, pro ranges, gas, induction and radiant cooktops, and dishwashers.
There are more luxury brands out there that bear consideration. You can go with a matched set of all one brand, or mix and match with your favorite piece from each maker. Here are some other prestige options:
Aga
Best
Dacor Modernist
Faber
GE Monogram
Hostaria
Ilve
Lacanche
La Cornue
Liebherr
Molteni
Officine Gullo
Smeg
Viking
9. Kitchen Floor plans
If you're planning a major remodel of your home, including the kitchen, the variety of commonly used kitchen floor plans opens up a world of possibilities.
As you begin to formulate ideas, stop and think about how your kitchen fits into your lifestyle, how much space you have, and how much you can afford to spend. Take a look at these five common kitchen floor plans and the benefits of each one. Keep in mind that the old "work triangle" of refrigerator, stove, and sink within easy reach has evolved into a concept of multiple work zones in a kitchen, where certain types of tasks such as baking and cleanup can take place while work continues in other zones.
Horshoe- The U-shaped, or horseshoe, kitchen features three walls containing cabinets and appliances. This design, popular in older homes but still incorporated into new houses, can have an abundant counter and cabinet space, and all appliances are within reach. The horseshoe kitchen works well for homeowners who like to keep the kitchen separate from other parts of the house. This limited accessibility can be opened up by converting one of the walls into an island or peninsula with a counter or bar.
L-Shaped- Perfect for an open-concept home, the L-shaped kitchen has its countertops and cabinets on two adjoining walls, leaving the kitchen open to adjoining spaces where entertaining and socializing are going on. To provide enough work surfaces, the L-shaped kitchen often has an island.
Galley- The galley kitchen — basically a corridor between two walls of counters and cabinets — can be highly efficient, especially for one cook. Appliances and tools usually are within close reach, depending on how long the galley is. This type of kitchen can be opened up by removing one of the walls and replacing it with a long counter or a pass-through space with cabinets above. Click here for design advice on a galley kitchen remodel.
Pullman- The one-wall kitchen often is referred to as a Pullman because it calls to mind the long, narrow Pullman rail cars of past centuries. This kitchen puts everything along one wall and is most common in studio apartments and lofts where space is at a premium. Adding an island across from the kitchen can add usable space by making it more of a galley kitchen. Because of its typically small size, a Pullman kitchen could be the perfect choice if you're adding a second living space in your home.
11. Surviving a Kitchen Remodel
Before you start that long-awaited kitchen remodel in your Portland home, spend some time drawing up a battle plan to help you deal with the months-long loss of this most important of spaces. And lest you despair when you realize how much disruption is about to occur, remember that the end product will be worth the pain!

When your kitchen becomes a construction zone, you could try to take the easy way out — leave town for the duration, eat most of your meals at restaurants, or impose on friends and family members for home-cooked meals. But for most people, those solutions are limited, and you're going to have to set up a makeshift kitchen where you can prepare food for yourself and your family. Here are some suggestions to make the process easier.

1. Create a Temporary Kitchen
Find a place that is out of the way of construction traffic that you can convert to a kitchen. Your temporary kitchen will need to provide a place to cook, a way to wash dishes, and room to store food and kitchen implements. It might be the dining or living room, utility room, spare bedroom, or basement space. Don't count on the garage, though, because it often becomes a staging area, storage space, and workroom for the many contractors who will be involved in your remodeling project.

Before you pack up your kitchen, think through the essential things you'll need. Organize them for easy access. If you decide to pack them in a box, label the box (or type up a list of the contents and tape it to the outside of the box). This will make it so much easier to find the can opener or a spatula—instead of having to rummage through all your kitchen boxes to find what you really need.

Find a place that is out of the way of construction traffic that you can convert to a kitchen. Your temporary kitchen will need to provide a place to cook, a way to wash dishes, and room to store food and kitchen implements. It might be the dining or living room, utility room, spare bedroom, or basement space. Don't count on the garage, though, because it often becomes a staging area, storage space, and workroom for the many contractors who will be involved in your remodeling project.

2. Simplify
First, it's worth noting that you may need to lower your expectations. You can get by with simpler meals for a few months. Salads and fresh fruits are easy to prepare. So are sandwiches, toast, cereal, and yogurt. Instant coffee packets dispense with the need for a coffeemaker and the messy used grounds. If you're organized, you can cook ahead and freeze single-meal portions to be heated in the microwave — same idea as TV dinners, but healthier and tastier!

3. Lean on Appliances
You will be simplifying your menu, but you still will be able to prepare meals during the construction disruption, albeit with a little more effort. If you can, equip the makeshift kitchen with as many appliances as is practicable, such as a microwave, toaster oven, refrigerator (maybe a mini), crockpot, electric kettle, hot plate, electric skillet, or electric grill.

4. Lean on the BBQ
If the weather cooperates, you can shift the majority of your cooking to your barbecue grill. Homeowners who already have outdoor kitchens will be in good shape, but even a simple propane grill can do a lot — roast meats and vegetables, bake pizza, cook foil-packet meals, and bake pans of biscuits and pies.


Plan ahead. Before your kitchen remodel begins, go online and find half a dozen (or more) recipes for meals you can fix on the grill. You may be surprised by what you can find on the sites of grill manufacturers! For instance, the site for Weber grills has a whole section devoted to recipes created specifically for grilling. And they don't just have recipes for hamburgers or steaks. They have ideas for pork, poultry, seafood, veggies, appetizers, and even desserts! Check out the recipes here.

5. Storage
Clear plastic bins work well for food storage. You can see what's inside, and the lids keep out the dust. A shallow under-bed box with a hinged lid can hold your silverware and pared-down supply of dishes. To keep your dishwashing to a minimum, buy paper plates and cups and disposable flatware.

6. Washing Up
You'll still need to have a way to wash some dishes and pots and pans. Be creative: People displaced from their kitchens have reported success with utility sinks (the best scenario), bathroom sinks, bathtubs, garden hoses, and large pots or tubs of heated water.

7. Rethink Your Grocery List
You may want to rethink the way you go grocery shopping. We've trained ourselves to get everything we need for the next week or so all at once. However, if you don't have access to your refrigerator or freezer (or are using smaller appliances) you may have to adjust your buying habits. That means buying smaller quantities at a time—maybe even only enough to get you through the next day or two.

8. Get Away
Explore a few new restaurants. Maybe even expose your kids (and yourself) to food trucks! They're generally not expensive. You don't have to clean up afterward. And you may just discover a few new kinds of food that you've never tried before. And don't just limit your time away to mealtime. There may be times when you just want to get away from the (apparent) chaos of what used to be your kitchen. Put it out of your mind for a while. Go see a play or a movie together. Check out a local art gallery. Or just take an evening hike together as a family. Your kitchen will still be there when you get back—and eventually, it will be better than ever (and worth the wait).

9. Communicate With Your Contractor
Your contractor can help ease the pain during the remodel. Before any work begins, get a solid estimate of how long the project will take. Figure out if you'll need to be at home to let workers in. Establish work and storage areas for the contractors and subcontractors and come to an understanding of workers' traffic patterns inside your home. Communicate often — even every day — with your contractor.
---
We hope you've found these examples useful as you continue your research. For more on designing the ideal kitchen, we encourage you to download our eBook: