Do you know that scene in Cinderella — the one where the Fairy Godmother taps her wand and turns Cindy's dress from pink ruins to a perfect ballgown? With a capable designer and builder, that's what a good remodel can be like: a transformation, the shedding of an old skin for something new and better suited for your life as it is now. In this case, we're talking about a remodel designed to match your lifestyle and personal style.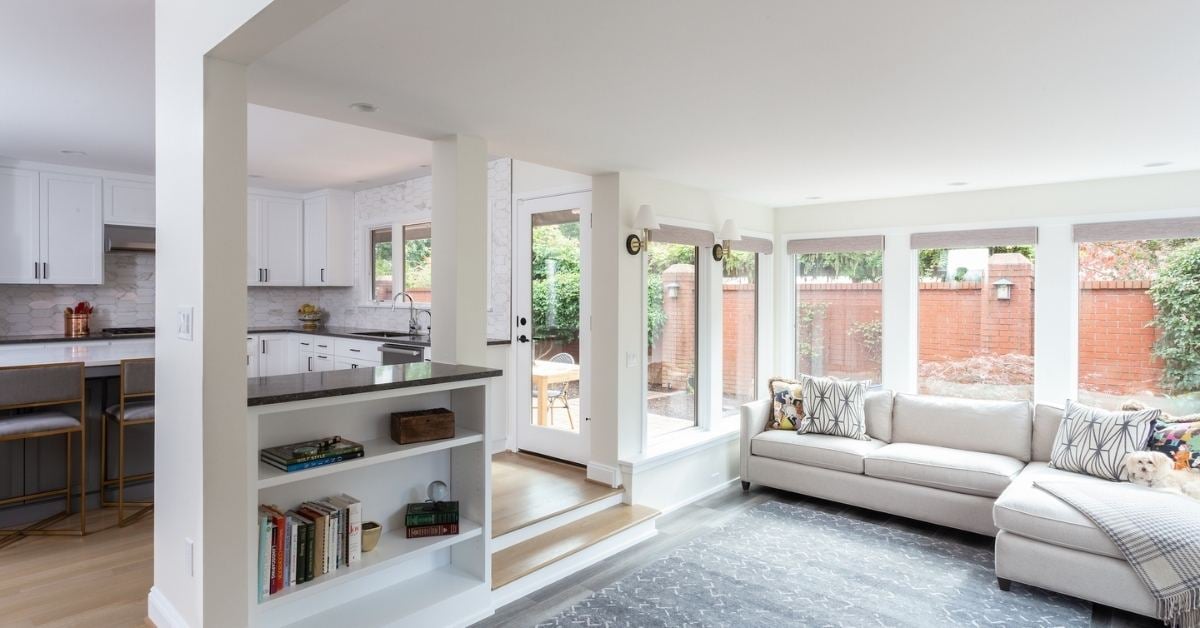 But in order for your builder to work their magic, you need to be able to communicate what you want. That may sound simple, but it can be more complicated than you think — especially when it comes to navigating industry terms, standards, and expectations you might not be aware of. As design-build remodelers, we know how you can effectively communicate your vision — so keep reading for our tips!


#1 MAKE A FIRST IMPRESSION
First impressions are important, especially when you're meeting with a remodeler or design-build company that could be working inside your home. That's why we recommend initiating contact with a potential builder by phone, not email. Talking over the phone will give you a better idea of how well you and your prospective builder mesh. Are they listening to your input and desires? Do they make you feel heard, then expand on your ideas?
On your first call, there are a couple of questions you should ask a home builder before signing a contract or making any official decisions. First, ask what their communication style is. Will they be readily available by phone throughout the project? And how thoroughly will they communicate with you about any challenges that might pop up during construction? Next, ask some questions that will give you a feel for whether this builder is right for your project. Ask how long they've been in business, how often have they worked on projects like yours, and can they handle the scope of your project? Then, before choosing a home builder, make sure you've taken some time to explain your vision for the project. The builder you choose should be excited about your ideas!
#2 BRING YOUR VISION
If you're planning a home remodel, chances are you already have a Houzz Ideabook or Pinterest board full of "neutral kitchen ideas" and the like. Or maybe you keep clippings from magazines that serve as inspiration for your remodeling project. If you don't happen to keep visual references, spend time searching the internet to find some. It's also a good idea to keep an idea notebook while you're in the process of conceptualizing your remodel. Jot down words to describe your interior design style, quick sketches, and notes.
Make sure you bring those images and notes with you to your first face-to-face meeting with your potential builder. Your notes can act as a reference for you while you explain your vision, and your images can go a long way in communicating design style when words might fail.
When COOPER Design Build does an initial consultation, we'll walk through your home while you explain your vision for each room. Then we can assess pricing and figure out how to make your vision come to life!
#3 SPECIFY A BUDGET
Your budget will help determine the scope and scale of your remodel. So, before you start designing, you should know how much you're willing to spend. Be upfront with your remodeler about your finances— they can help you refine your budget and get the most of your money.
If you want to get an estimate of how much remodeling will cost, check out Remodeling Magazine's 2021 Cost Vs Value report. You can look up comparable price estimates for various remodeling projects based on your location.
#4 KNOW YOUR PURPOSE
Remodeling your home is about more than just updating the style and design; it's about making your home more functional for you and the rest of your household. The great thing is that design-builders are trained to help you find the layout that will best suit your needs. But in order for them to do that, they need to know the purpose of each room and how it will be used.
Start by telling your builder how frequently each room of the house is used and what for. Be sure to note any features that make the room less enjoyable to use — your designer can figure out solutions. Next, express how you'd like to use each room. It can be helpful to imagine what you want your daily routine in your remodeled home to look like. Communicating that will give your remodeler a holistic idea of how the home needs to flow to match your day-to-day.
#5 NOTE YOUR PREFERENCES
There are a lot of choices involved in remodeling a home. You'll be asked to make decisions on different types of cabinets, window frames, flooring, doors, and so on. That's why it can be beneficial to create a list of your personal preferences and share them with your builder before and during the remodeling process.
If there's a specific element that's a must-have for your remodel — perhaps antique reclaimed hardwood flooring — be sure to tell your remodeler at the very beginning of the design process. While you're at it, note the things you don't want to see your remodel. That will give them a much clearer idea of what you like and dislike.
If you feel overwhelmed by all the different options out there, don't worry! Remodelers love working with a homeowner who has some flexibility. With their industry expertise, they can walk you through your options and advise on what works and looks best.
#6 LEARN THE LINGO
Do you know the difference between art deco, mid-century modern, Victorian, industrial, and farmhouse style? Unless you work in the building or design industry, there are probably some industry terms out there you don't understand. So, surf the web and get comfortable with different design terms, especially the ones that apply to your project. Search things like "popular interior design styles" or "common remodeling terms" to get started. Being able to utilize and understand industry terms will help prevent miscommunications between you and your remodeler!
That being said, in order to effectively communicate with design clients, your remodeler should already know how to talk to someone who isn't overly familiar with industry terms. That's a client communication best practice — and one we pride ourselves on!
#7 STAY ENGAGED & DON'T STOP COMMUNICATING
Between work, personal life, and other obligations, you may be tempted to check out after the beginning phase and hand everything over to your builder architect and remodeling team. While the urge is understandable, it's important that you stay involved throughout the design and construct process. That ensures you'll be available to consult on design, which is helpful for your remodeler; and it allows you to make sure the final product is exactly as you'd hoped it'd be.
If at any time, the remodel doesn't seem to be reaching your goals, be sure to talk to your builder. It's better to clarify things as soon as you notice them before you end up with something you don't want.
If you want to learn more about what the remodeling process looks like, check out ours! While our process as design-builders is streamlined compared to traditional processes, it'll give you a good idea of what the remodeling process entails.
Our process consists of three main phases: design, define, and build; this is different from traditional processes because all of the design and construction services come from the same source. Normally, you would work with a designer or architect to plan your remodel, then put out bids to find someone to build it. With a design-build company, like COOPER Design Build, you get a one-stop shop for both those things. That makes communicating a heck of a lot easier, and ultimately leads to better customer satisfaction — check out our customer testimonials to see the proof!