Thinking about turning your basement from a dark, shabby afterthought of a space into a valuable, cheery part of your home? Here are some important factors to keep in mind as you plan your Portland basement remodel.
Who Is it For?
Your impulse to remodel your basement might be driven by your family's need for space, or by a desire to add value to your home for a resale in the near future, or by a plan to create an accessory dwelling unit that you can rent out for additional income. Each motivation carries with it different approaches to the remodel.
Let's assume we're talking about a major conversion of the lowest level of your home, not just the spiffing up of the space. The possibilities are almost endless and could include any combination of:
Bedrooms and bathrooms for your growing family

Guest suite for visiting family and friends

Playroom for the kids, little or big

Man cave for the biggest kids

Craft room

Exercise room

Home office

Laundry room

Family room

Home theater

Bar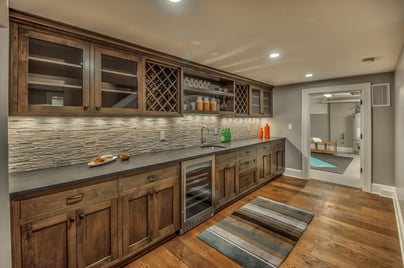 If the project would be for your immediate use, you don't need to be as concerned about the payback when you sell the home; you're making it more valuable for your family right now. But if you expect to put your house on the market in the near future and want to spend your money wisely, you should do some research into what types of remodel projects increase the resale value of homes in your market.
If your plan is to create an accessory dwelling unit, you should be aware that Portland has regulations to encourage such projects. But creating a new living unit, complete with bathroom and kitchen, also will trigger certain requirements that you wouldn't need to meet if you were just finishing the space for your use.
But whatever your motivation, keeping these factors in mind will help you make smarter decisions about your basement remodel. Many of these issues are mandated by Portland's building codes, and your Portland design-build company will be familiar with the law.
Let in the Light
Think about ways to bring in natural light through new or enlarged windows and plentiful light fixtures. Using warm paint colors can add the feel of sunlight to an underground space.
A Way of Escape
To be considered living space, your basement needs at least one egress window or door through which people could escape in the event of an emergency. Portland's city code details the dimensions of such a window or door.
Stand up Straight
Be sure your ceilings are high enough. Your ceiling must be 6 feet, 8 inches high, with certain exceptions. Assuming your remodel is a major project, you might consider raising your ceiling by lowering the floor — digging your basement deeper.
Take the Right Steps
The existing stairway to your basement might be inadequate — too narrow, steep, or constricted in other ways. Your project would be an opportunity to make major improvements.
Minimize Moisture
If you live in a flood hazard area, the city might not even allow you to remodel your basement. But if you're clear on that score, you'll still need to make sure the design of your project takes into account the moisture that comes with basements. Make sure your builder incorporates the proper precautions, including insulation, ventilation, moisture barriers, drains, and sump pumps. A good contractor will provide a warranty against flood damage.
Get Comfortable
Your designer will have experience dealing with retrofitting a basement with heating, ventilation, and air conditioning. Keep in mind, as you lay out the rooms, that it's better to put beds against interior walls because exterior walls can be colder, even with insulation.
Health and Safety
As you work with your design professional, be sure to talk about radon and earthquakes. It's a lot easier to install radon mitigation measures and to bolt your house to its foundation when your basement is pulled apart.