Few building materials cover as much ground as tiles. Easy to clean and versatile (pun intended), tiles are an excellent solution for many design quandaries and a perfect fit for many more spaces than you expect. Don't miss the opportunity for a personalized, durable, and trendy finish by finding the right tile for your Portland home remodel.
COOPER Design Build has the in-house expertise to take your dated house and create your dream home right where you are. Our team has developed time-tested and seamless processes that maximize your project's potential.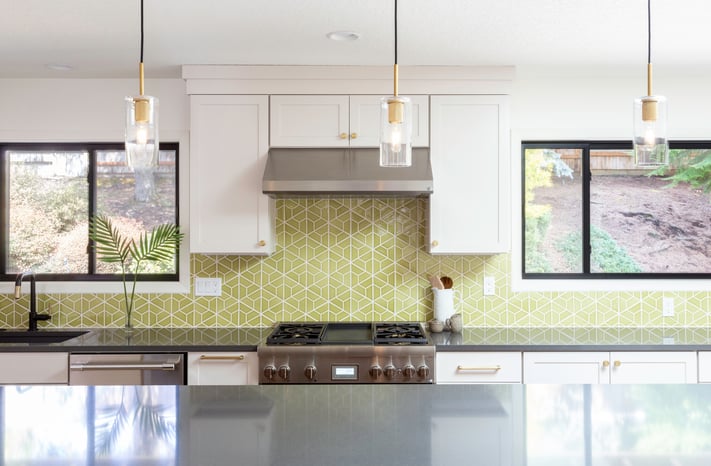 Types of Tile for Your Portland Remodel
Tile is not a one-size-fits-all proposition. The size, shape, colors, textures, and materials you choose for your tiles create vastly different looks, from sleek, modern, and dramatic to warm, rustic, and perhaps whimsical!
Tile Materials
Ceramic Tile
Made from a combination of water, ceramic, and clay, ceramic tile has ancient roots and a wide range of modern purposes. Ceramic tile features in just about any conversation about your top options for an area to tile. Ceramic tiles are often glazed to increase durability and water resistance.


Glass Tile
Glass tiles don't absorb any water and are easy to clean, making them popular for bathrooms and backsplashes. Their uniformity and the options for varying degrees of translucence give glass tiles a unique edge for creating a gleaming look.


Metallic Tiles
Made from metals such as copper, stainless steel, or tin, metallic tiles give a sophisticated shine. Depending on the material they are made from, metallic tiles could rust or require extra care if they get wet.


Porcelain Tile
Made from a finer-grain clay than ceramic, porcelain tiles are also highly durable and scratch and water-resistant. Porcelain tiles can mimic many other tile materials and are prevalent in bathrooms and other spaces prone to get wet.


Stone Tile
Porous natural stone often requires sealing after installation, adding an extra step during your remodel to preserve your premium selection and influencing their suitability for bacteria-prone spaces like kitchen countertops. Marble, granite, slate, limestone, and travertine are common natural stone tile options. The rich and subtle variations that natural products like stone tiles offer make them a popular splurge for high-end remodels.
Tile Shapes
The shape you select for your tile influences your final product more than many other aspects of the tile you choose. With almost all shapes, there are countless additional ways to lay them out, creating patterns that can make tile selection all more fun and perhaps a bit more complicated, too.

Square Tile
Many people picture squares when they imagine tiles. Square tiles come in the widest variety of sizes and materials available as options for tile for your remodel.


Rectangle Tile
Rectangular tiles have different names depending on their size and layout. This is not an exhaustive list of options for laying out your rectangular tiles, but we've covered this year's classic and trending tile patterns.
Herringbone - This popular tile pattern abuts successive right angles of thin, rectangular tile.

Basket-weave - This textured pattern requires both rectangular and square tiles for a lattice effect.

Subway - Sometimes called 1/2 offset, these brick-shaped tiles are arranged in a traditional pattern where each row is shifted by half the size of the brick.

Parquet - Two rectangular tiles create squares, installed in an alternating vertical and horizontal orientation.

Grid - Sometimes called straight-stack, rectangular tiles are stacked in rows and columns without any offset, like a tile spreadsheet.

Chevron Tile
Like herringbone tiles, A chevron pattern is also successive tiles joining to form a 90-degree angle. The difference is that chevron tiles are shaped to create a 45-degree seam rather than head-on. For chevron patterns, tiles are shaped like a rhombus, not a rectangle.

Hexagonal Tile
Hexagonal tiles can be uniform or have a variety of colors to form an abstract or secondary pattern. Though hexagonal tiles are extremely popular now, they have also ascended to the pinnacle of fashion in enough bygone eras to lend a vintage vibe when done right.


Round Tile
Because they can't fit together in a seamless mosaic, round tiles require a little more grout. This is an excellent opportunity to choose an edgy grout color or opt for a pattern with multiple-sized round tiles to cut down on negative space.

Unique Tile Shapes
Arabesque - These curvy, Moroccan-inspired shapes are rounded in the middle and created with ornate tops and bottoms meant to interlock.

Fan - Sometimes called fish scales, these curvy tiles often interlock for a mesmerizing layered look.

Star and Cross - X-shaped tiles and eight-pointed stars alternate and interlock for a cheery mosaic.

What Surfaces Should I Tile?
When it comes to tile, no surface is truly off-limits. Tiles can present a unifying theme that ties spaces together or a unique feature that differentiates your space. There's no reason all the tile in your home needs to be cohesive, but tile provides an excellent opportunity for this. Floor tiles, tiles for bathroom walls, kitchen backsplash tiles, and shower tiles need to be durable and water-resistant. Other areas, such as mosaic wall tiles, have fewer limitations and expand your options for materials to use during your remodeling project.
Tile forecasting
Our extensive experience in home remodeling in Portland positions us in a unique position to watch trends rise and fall. We're happy to use our broad overview to highlight the tile trends we see for 2023.

Best ALL-AROUND Tile: Porcelain
Porcelain is durable, versatile, water-resistant, and offers endless attractive options. If you're opting for floor tiles for your entire house, porcelain gets our pick.


2023's TOP Tile TrendS
First Place: Terrazzo - A mosaic style where various custom materials are set into concrete. Terrazzo is durable, easy to maintain, and suitable for any surface you might opt to tile. It provides a bespoke and classic look that has recently surged in popularity.
Second Place: Glossy Backsplashes - Shiny finishes will be on the rise in 2023. Adding texture and cheer, glazed porcelain, ceramic, and gleaming glass tiles are becoming more popular as the style pendulum swings away from matte finishes.
Third Place: Unexpected Tile Orientation - Flip a classic tile layout on its head by offering an unexpected perspective, like rectangular tiles on a diagonal.
Honorable Mention: Large Format Tiles - Any tile with a dimension over 12'' is a large format tile. These sleek, clean slab-style surfaces were on the rise in 2022 and will continue to augment modern, minimalist design in 2023.