No one wants to build a kitchen so "of the moment" that it looks dated within a few short years. You want to love your new kitchen for many years to come. Our expert designers offer their insight into kitchen trends to avoid so that you design a kitchen that ages gracefully.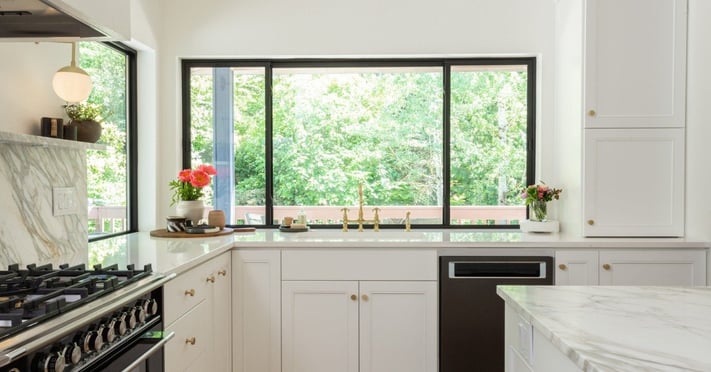 COOPER Design Build elevates tired kitchen workspaces with artfully executed remodels. Partnering with us for your remodel gives you access to our expert design team. Working one-on-one with a dedicated designer provides personalized insight so that you pick the perfect elements for your vision without falling into the traps of the trend of the moment.


Cabinet Trends that Date Your Kitchen
Black Cabinets with Gold Hardware
Black cabinets show wear and dirt. Dark cabinets are still trending, but we are seeing fewer and fewer black cabinets in favor of other moody hues. Consider deep greens or playful earth tones for some color in your kitchen cabinets. Balance the intensity with two-toned kitchen cabinets and offset them with a more neutral second cabinet color.
High Gloss Kitchen Cabinets
High gloss kitchen cabinets may reflect more light intensity and show more wear than you expect. Glossy surfaces may quickly look dirty and fall out of style as we build fewer and fewer modern-themed kitchens.
Floating Shelves
As the design pendulum swings away from minimalism and welcomes more personalized decor, open shelves may quickly clutter. Floating shelves have limited storage utility and are frequently replaced in favor of custom cabinets with doors.


Countertop Options Headed Out of Style for 2023
Waterfall Countertops
While most countertops feature a different material on the side perpendicular to the work surface, waterfall countertops extend the countertop material by using the same material to form the side of the cabinetry or island. This creates a sleek look but adds to your price tag. Cold stone is falling out of favor, with aesthetics trending towards warmer and softer elements.
Outdated Granite Colors
Granite has been popular for decades. It's been such a common choice that it has begun to date your space. Dark granite or granite with large dark flecks is especially reminiscent of a bygone time in kitchen design.
Square Corners
Rounded countertop edges are returning to favor. Square corners can invite an unnaturally boxy element to an otherwise fluid kitchen design. Arches and curves are trending in many spaces where right angles once dominated.


Backsplash Trends Decreasing in 2023
Subway Tile
Though classic for a reason, subway tile has seen a meteoric rise in popularity. What goes up must come down. Plain white subway tile is falling out of the spotlight for 2023, though twists on the basic layout, like an alternate offset or glaze, may enjoy a popularity surge.
Busy Backsplashes
Draw color elsewhere. Busy backsplashes with colorful or ornate tile work are out of style this year. There are plenty of opportunities to build a creative kitchen backsplash without overdoing it.
Herringbone
Herringbone was everywhere a few years ago, and this pattern will date your space in a few short years. This complex subway tile layout creates odd angles and is notoriously time-consuming to install, and we have to admit, we're not going to miss it.

Plumbing and Fixtures ARE Losing Popularity
Brass
Brass kitchen faucets and light fixtures continued to appear in 2022 kitchens. As a throwback to vintage kitchen plumbing of the past, we wouldn't be surprised to see brass faucets rise to popularity again after a few trend cycles, but its current shining moment has passed.
Gold on Bold
We are ordering fewer gold cabinet pulls than we have in recent years. Gold is a classic color and will always have its place adorning kitchen cabinets, but its recent resurgence is starting to calm. We often see gold cabinet pulls paired with neutral and warm colors, but deep-colored cabinets like navy and black will be paired with gold cabinet handles less often in 2023.
Undersized Lights
Unassuming lights have their place in a kitchen remodel. Every workspace needs to be well-lit and offer customizable options for every mood. A kitchen remodeled without oversized statement lighting is a wasted opportunity for expression.
Kitchen Color Trends Falling Out of Style
All White
2023's foray into color in all areas of design is very welcome. Even when clients opt for mostly-white kitchens, we are building fewer sterile kitchens devoid of any color. Pantone's 2023 color of the year, Viva Magenta, is an excellent example of the warm and optimistic colors seeping into the decor and other kitchen design elements.
Gray
We are still seeing plenty of neutral cabinets, but all gray cabinets are not appearing as frequently in kitchen remodels in 2023. Trends toward warmer neutrals, like Sherwin Williams' Redend Point, will dominate kitchen color schemes for 2023.
COOPER Design Build Creates Personalized and TImeless Remodels
Our seamless design-build process takes you from start to finish with one easy point of contact. Our gorgeous portfolio speaks for itself. We'd love to hear more about your Portland, OR, renovation project.