As every Portlander knows, this city has its own style. But that doesn't mean that its new and remodeled kitchens won't borrow some ideas from designers in other parts of the world. Here are some kitchen design trends that have been showing up in 2019.
Borrowing from Nature
Using natural materials in the kitchen never goes out of style in the Pacific Northwest, but many designers elsewhere are leaving the sleek, utilitarian look behind in favor of wood and natural stone—even river rock for backsplashes.
White's Fading
The all-white kitchen is leaving the scene, and even if the cabinets still are white, designers are adding splashes of color in bold backsplashes, stools, blinds, and pendant lights.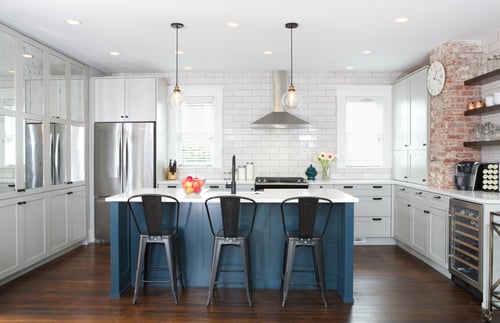 Photo by Copper Sky Renovations
Cabinets in Color
Another place where color is replacing white in the kitchen is the cabinet itself. Green is showing up all over—hunter, olive, and pewter green. Designers are mixing and matching, too, with some cabinets in natural-wood tone and others painted a color.
Textures
Different textures are co-existing in the latest kitchens. Some examples: mirrored backsplashes, natural stone, glossy stone countertops, sandblasted timbers, beaded board, and shiplap.
Technology
The tech just keeps coming. We've already been seeing tablets embedded in refrigerator doors and countertops, and now kitchens have Wi-Fi-enabled dishwashers, coffee makers, and ovens that you can control from across town.
Pendant Lights
These aren't brand-new for 2019, but designers seem to be loving them. Pendant lights add visual interest in a kitchen. They provide task lighting over an island or peninsula. They can be dimmed to mood lighting. They define a space in the wide-open world of an open-plan house. And because they come in so many interesting styles, shapes, and colors, they're not going to get boring anytime soon if they're not overused.
Black Attack
Matte black is, apparently, where it's at in 2019. KitchenAid's cast-iron-finished stand mixer has it. So do farmhouse sinks, faucets, dishwashers, and cabinet faces. Some designers are trading in all-white kitchens for all-black, but you don't have to go that far. A black appliance or cabinet can be used as a dramatic accent in your otherwise light-colored kitchen.
Ditch the Uppers
Designers continue to create a feeling of openness in kitchens by eschewing upper cabinets on some walls. Sometimes they make up for the loss of storage space by filling another wall, floor to ceiling, with cabinets, either built-in or freestanding. Another trend in evidence is the use of open shelving, which also opens up the space and allows you to display your more attractive kitchenware.
Bold Backsplashes
In some kitchens, the backsplash reaches all the way to the ceiling. The designs on the tiles can be quite exotic and bold, too, and even the grout colors can make a statement.
Mixed Metals
Mixing metal finishes on the kitchen's faucets, light fixtures, cabinet handles and pulls is still a thing. Nickel goes better than chrome with brass and gold, and black goes with everything, some designers say. And rather than throwing everything in the pot, choose one dominant finish and strategically add a contrasting finish for variety.
What's Out?
Designers, being designers, have to keep the fashions flowing. So some are saying these particular trends have run their course and are out for 2019. Do you agree?
Rose gold.
Mason jars.
Browns in granite countertops.
Graphic signs.
Tuscan design.
Barn doors.
Subway tiles
Nautical motifs.
Edison light bulbs.