Isn't it the serious cook's dream to have a kitchen designed around him or her? If you consider yourself a gourmet cook and are planning a new or remodeled kitchen, here are some ideas to keep in mind that will help you choose the kinds of cabinetry that will work best for you.
First, start with the style of cooking that you enjoy most. If you're a master baker or a lover of slow-cooked meats or a pizza aficionado, the tools of your trade will drive the design of your kitchen. As you decide which work center is most important, you will know how to design the cabinetry around it.
Usually, a kitchen that's considered a gourmet kitchen is equipped with professional-grade appliances and work surfaces. That often means a six-burner gas range, a couple of wall ovens, stainless steel or other durable countertops, a powerful range hood, and storage galore.
The Pantry
Decide whether a walk-in pantry or a creatively designed cabinet pantry fits best with your cooking style. Walk-in pantries have more storage space, and you can organize all those shelves as you see fit. But they're farther away from the action, so you'll have to carry your supplies to your work centers.
Cabinet pantries are close at hand, but they have limited space, even if you choose one with roll-out or swing-out sections. They also take away from counter space in the kitchen and can be quite expensive.
For the Baker
Having a separate center for designated tasks allows several people to work at the same time on different projects such as food prep, cooking, food presentation and serving, and cleanup. If baking is important to you, you'll want to incorporate a baking center into your kitchen design.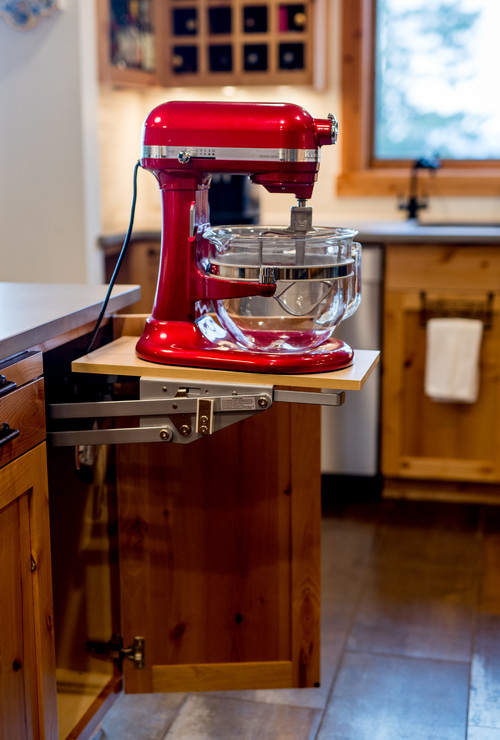 Your baking center should have cabinets and shelves to keep all the important supplies close at hand: flour and other ingredients, spices, measuring and mixing utensils, and pans.


Drawers or roll-out shelves with slots to store baking pans vertically allow you to pull out the pan you want, without having to rummage through a stack of them in a drawer.


A marble countertop set several inches lower than your other counters will keep your kneading at a comfortable level.


A slide-out, or even adjustable-height, shelf for your stand mixer keeps it out of the way but always at the ready.


Electrical outlets aplenty, in locations that won't put cords in the way of drawers or doors, will make life easier.
For the Cook
Consider storage solutions right within reach of your stove or main work surface, such as wall-mounted magneticor slotted knife holders, a shelf for your spices, and a rack for hanging cooking utensils.


Appliances that could be considered luxuries can be built into your cabinetry and give you the tools to do something special in the kitchen, such as a built-in salamander infrared boiler, an indoor smoker, or a frying station.


You may also c

onsider a warming drawer to keep food at the right temperature while freeing up oven space and avoiding the need to reheat dishes in the microwave, which is never the best option.
Out of the Way
Other important tools can be kept out of the way until they're needed, such as a drawer dishwasher for quick cleaning, in addition to your main dishwasher.


Drawer microwaves put the appliance at a level that could be more convenient than hung over a stove or taking up space on a counter.


Roll-out containers for trash, recycling, and compost can stay handy, but out of sight until needed.
On the Island
In keeping with the strategy of designating separate work spaces for different kitchen functions, you can design an island with a second sink and its own cabinets and drawers for specific needs.
Keeping Company
Do you like to visit with family members and friends while you're creating your culinary masterpieces? Work into your plan a counter where they can sit and sip or sample as you cook, or include some other close-in seating area.