As you design a custom home for your family or a major remodel, it's hard not to think about how the house will sell when it's time to move on. But we think you should keep your own needs at the front of your mind, design a knockout house that fits your needs, and trust that the quality and attractiveness of the home that you build will appeal to buyers down the road.
As
Remodeling
magazine's
Cost vs. Value Report
demonstrates every year, almost no remodeling project will return 100 percent or more of what you spend, so it really doesn't make sense to invest in a major project solely for the purpose of increasing your home's resale value. Of course, in the shorter term, you should fix what's broken and refresh what's outdated so that prospective buyers won't be turned off.
---
YOUR LIFESTYLE
At COOPER Design Builders, we believe that the projects we undertake with our clients should be to fit a home to the family's way of living. Investing in an upgrade to your lifestyle, making your home easier to live in and more fun to invite friends over to, will pay back non-monetary dividends for years.
So if your kitchen is the hub around which your family's day turns, design it to work that way for you. And if you can't imagine living in Portland without incorporating the outdoors into your lifestyle at home, go ahead and invest in that outdoor kitchen and living space.
THERE ARE BUYERS FOR THAT
We believe you will find that when you finally do decide to move out of your house, there will be buyers out there who can envision living their lives in the home that you designed for your own family, and they will be willing to pay handsomely if you invested in high-quality materials and workmanship in the first place.
All that having been said, let's talk about the areas where it makes sense to spend a bit more, both for your own enjoyment and quality of life as well as for a future buyer's.
GOING GREEN
Building a home that consumes less is becoming easier all the time, with the proliferation of energy-saving large and small appliances, light bulbs, thermostats, and water fixtures. Also, smart design can make the most of solar heat in the winter (on those days when the sun peeks through) and shading of the sun in the summer. Additionally, high-quality windows and high levels of insulation save energy, and something as simple as making sure the joints in the ducts that carry air through your home are fully sealed can lead to significant savings. Finally, building products made of recycled and nontoxic materials contribute to the making of a green home. In the Pacific Northwest, more and more new homes are being built "green," and in January 2018, the city of Portland started requiring every home going on the market to have a certified energy score to let buyers know what they were getting.
In addition to any essential upgrades that should be included in your remodeling plans for safety reasons (water leaks, electrical or plumbing issues, etc.) the following remodeling projects are each thoughtfully crafted and designed to provide the best functionality while providing the highest return on your investment.
1. KITCHEN RENOVATION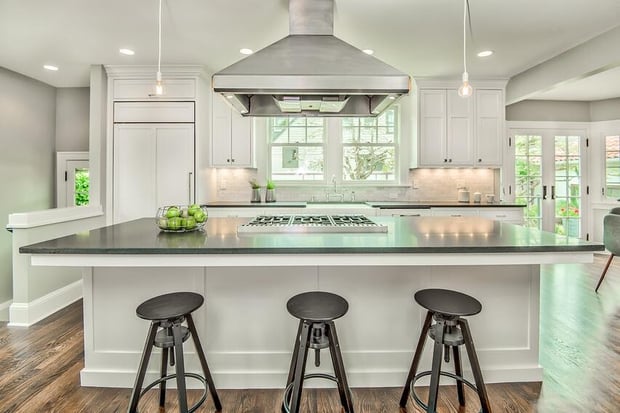 As you may already know, a kitchen renovation provides the highest ROI compared to any other remodeling project. The kitchen, a place to cook, gather, and entertain, should function as well as it looks. Take time to consider what you require from your kitchen. Do you like to cook? Do you cook often? Is your kitchen more about cooking or more about congregating?
Since the kitchen is both an essential part of your existing home and a room that is likely to make or break a potential sale, it is important to consider the type of kitchen remodel you wish to embark on. To renovate your kitchen for resale means to renovate for the masses. Choose high-end appliances, and spend money on functional features. Features such as pull-out spice racks, waste-recycling cabinetry, or soft-close cabinets often fare much better than the trendy features of that moment.
When it is all said and done, a well-thought-out, up-scale kitchen remodel should earn an average of a 78.3% ROI in the Portland market.
2. BATHROOM UPDATES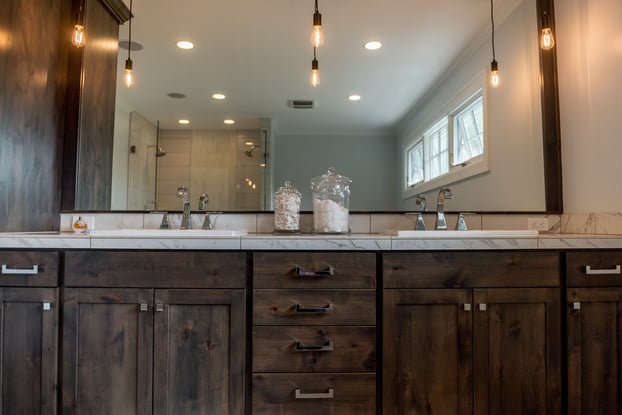 On par with the kitchen for its usage, the bathroom (particularly the master bathroom) is another great opportunity to increase ROI when it comes time to sell your home.
Potential buyers often take into consideration the number of bathrooms in a home, so take into consideration how many bathrooms your home has. Is the number of bathrooms appropriate for the square footage? Is there a bathroom for guests? Do the bathrooms have "Universal Design" features?
In the end, the ROI of a bathroom remodel is well worth the cost. Here are a few numbers for the Portland area.
3. CURB APPEAL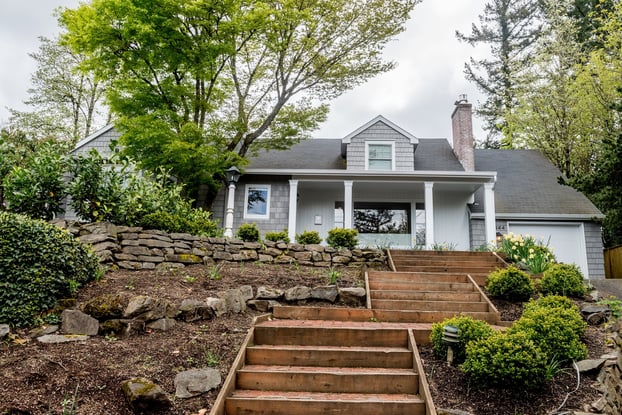 Curb appeal is a huge factor in determining the value of your home, and an even larger factor in increasing the value of your home. There are quite a few exterior remodeling projects that can be leveraged to increase ROI. Begin with upgraded landscaping, adding flowers, new trees, planters, and fresh mulch can go a long way. For more extensive exterior upgrades, consider replacing the roof if it's nearly the end of its usability, or installing a patio or deck. Click here to read more on exterior remodeling for curb appeal.
Expect to see an ROI of 106% for a patio or deck update. Other factors to consider? A new garage door, vinyl siding, or a coat of fresh paint. Not sure where to start? Here are a few facts and figures to guide you:
4. BUMPING UP, OUT, AND ADDING ON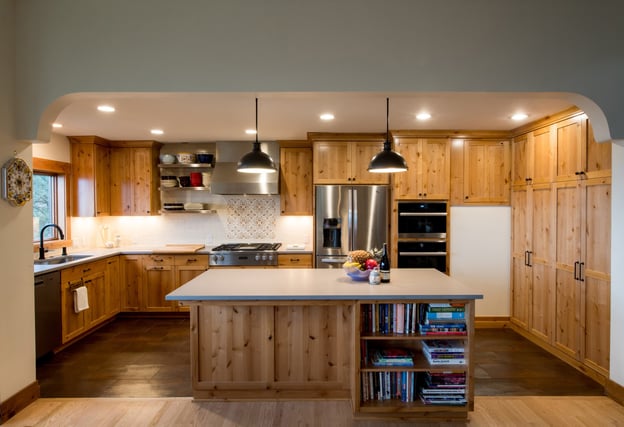 Creating additional space, whether you add square footage to the ground floor, or build up to create additional second-story space, is always a good investment in today's hot real estate market. According to a 2005 study by the National Association of Realtors, every 1,000 square feet of additional space boosts the sale price by more than 30%, a fact that still holds true nearly 12 years later.
According to Remodeling Magazine, "the addition of attic bedrooms, family rooms, and sunrooms returned anywhere from 70-80% of the money spent- and that doesn't factor in the value of your own enjoyment of all that new space."
Finally, a master suite addition in Portland can increase your value and have an average ROI of 67.9%.
5. INSULATION
While insulation is not a visually-driven aesthetic, it is one of the highest ROI's in home improvement. In Remodeling Magazine's annual 'Cost v. Value Report' insulation, specifically fiberglass attic insulation, had an average ROI of 145.6%, topping the list in 2017.
Adding insulation not only saves energy, but also adds value to your home. In addition to monetary savings on utility bills and a high ROI, living in a well-insulated home allows for comfort and satisfaction year-round.
AND THERE'S MORE
Other home features that might be important to you, and will attract buyers in the future, include:
A luxurious

master suite with a spa-like bathroom

: Such a suite will be an oasis for you and can include features such as a fireplace, sitting area, bar, spacious walk-in closet with built-in cabinetry, double vanities, quality fixtures, heated floor, separate water closet, soaking tub, steam shower, and a luxury-tiled shower enclosure with rainshower or multiple shower heads.

Outdoor living space

: You're in the Pacific Northwest; enjoy the natural beauty. Your living space outdoors will reflect your priorities. It could be a cozy place to gather with friends around a fire pit, a lush landscaped yard, a flower and vegetable gardener's paradise, a gourmet outdoor kitchen, or a covered outdoor living room with all the amenities including fireplace, TV, sound system and lighting.

A

finished basement

for what's important in your life: With insulation, moisture-control measures, flooring, walls, and egress windows, that unused space can be turned into a home theater, second family room, guest suite, game room, home gym, wine cellar, or any combination of the above.

Quality landscaping.

An entryway that makes your guests happy they have walked up to your front door: This could be a simple front porch or portico that will shelter guests from the weather or a grand entryway that ushers visitors into a grander front room with vaulted ceiling and a showcase stairway.

An open floor plan, if it makes sense for you.

High-quality lighting, designed attractively and intelligently.

Universal design: The concept here is to make a house easier for

aging and mobility-limited people

to live in while also improving the quality of life for visitors and family members with all types of physical abilities. Some examples of universal design include wide doorways and halls, augmented but dimmable lighting, rocker light switches, lever door handles, no-threshold shower entries, and doorways, countertops and vanities of varying heights, and no-touch faucets.
When you start the process of deciding what kinds of upgrades you will tackle, you'll need to decide which of those factors is your main motivator. The types of changes you make to your home will be driven by your motivation.
RESALE VALUE
As illustrated by Remodeling magazine's annual Cost vs. Value Report, not many major upgrades will return more than the amount of money you put into them. Does that mean you'll skip projects such as a major kitchen remodel or addition of a master suite because the return on investment for such upgrades is calculated at less than 70 percent? Not necessarily. If your family needs the extra living space that the suite would provide or the lifestyle improvements that come with a redesigned kitchen, then your spending should be considered an investment in an improved lifestyle. Along with that immediate benefit, your home also will increase in value upon resale — just not by as many dollars as you spent on the work.
To learn more about our approach to remodeling a home, download our eBook.
But if you're planning to move soon and want to make changes that will directly affect how much a buyer will pay, there are many projects, both little and large, that you could consider. Start first by talking with a real estate agent for input on the kinds of upgrades the buyers in your area are looking for. You also should consider hiring a home inspector to point out hidden problems such as a failing roof or shifting foundation that a prospective buyer might ask you to correct. In general, the kitchen still heads the list of spaces that buyers want to see in top shape. Bathrooms also are important, as is the curb appeal of your house. A buyer will pay more for a home that feels move-in-ready.
SMALLER FIXES
Here's a list of lower-cost improvements that would boost the resale value of your home without a large investment of money.
Give a room a fresh coat of paint. It's a quick and inexpensive way of improving its look. Whatever your own taste in colors, stick to a neutral palette to avoid turning off a buyer.

Remove any popcorn ceiling texture that survived from the '70s. This is another job that a do-it-yourselfer can handle. Just be sure to first submit samples to a testing company to make sure the "popcorn" doesn't contain asbestos, as it might have even after the 1978 Clean Air Act banned asbestos in ceiling treatments.

Replace the backsplash tile in your kitchen or regrout around the tiles in your kitchen and bathroom. This will definitely freshen things up.

Keep your house clean and embark on a serious dejunking campaign. Your real estate agent — and buyers — will thank you.

Pull out old carpeting — which can get worn-looking and stale-smelling — and install hardwood, laminate, or tile flooring that's easier to keep clean.

Focus on your home's curb appeal by planting flowers or a well-placed tree and making cosmetic improvements to the exterior of the house.
BIGGER PROJECTS
The 2018 Cost vs. Value Report for the Portland area actually does contain some larger home improvements that are calculated to give you close to or more than a 100 percent return on your investment.
Upscale garage door replacement: average cost of $3,504, resale value of $4,581, for a 130.7 percent return on investment.

Manufactured stone veneer added to the exterior: $8,203 cost, $10,540 resale value, 128.5 percent return.

New siding: $15,577 cost, $15,344 resale value, 98.5 percent return.

Conversion of a bathroom to universal design: $17,257 cost, $16,951 resale value, 98.2 percent return.